December 9, 2017
Lower Division students, families, and teachers participated in Caring in Action Day by visiting the Riverdale Senior Center and the Morgan Stanley Children's Hospital and holding a drive for donations to those affected...
December 9, 2017
This week, students and faculty dropped by the annual Middle Division & Upper Division Book Fair to peruse and purchase from shelves of gently used books and toys donated by community members. With this year's theme...
December 9, 2017
Six students discussed issues of race and diversity and listened to Ta-Nehisi Coates and Kimberle Crenshaw speak at the Student Diversity Leadership Conference (SDLC) while 18 teachers across the divisions served as chaperones...
View All »
December 9, 2017 • No Comments
I think the green bananas are a kind of street sign, and that the wind behind the lens is misleading. Polka dots are classy, in a way only salt crystals could understand, and this striped world could learn by not hanging...
December 9, 2017 • No Comments
To Spencer Kahn (10), comedy is no laughing matter. "Ever since I was young, I always liked watching comedy movies with my parents," Kahn said. When Kahn was 11, he started taking classes with the organization Kids...
View All »
December 9, 2017 • No Comments
I recently completed Horace Mann Orientation (HMO), a required first trimester class for ninth graders. One teacher and multiple upperclassmen mentors lead HMO class discussions in a variety of different...
December 3, 2017 • No Comments
Serving meals at a food pantry, visiting a nursing home to talk with elderly residents, sprucing up a local park, joining Habitat for Humanity to build homes for displaced families--these are a few of...
Reflecting on a trimester of the athletic attendance policy
December 3, 2017
From the Olympics to Prettyman: a case for varsity ping pong
December 3, 2017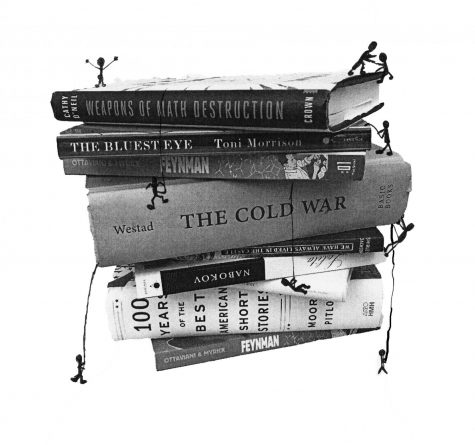 Navigating ADHD: in and out of the classroom
December 3, 2017
View All »
Get a weekly email newsletter with every new issue of The Record.
Jude Herwitz and Steve Borodkin
December 9, 2017
Coming off two big wins against Fieldston and Riverdale, the Varsity Squash team heads confidently into its match today against Dalton, co-Captain Siddharth Tripathi (12)...
Becca Siegel and Isabella Zhang
December 9, 2017
After winning three out of its four games, including a win in the Peg Duggan Tournament, the Girls' Varsity Basketball team is on track for a successful run in the Ivy League...
Leonora Gogos and Natasha Stange
December 9, 2017
The Boys' Varsity Basketball team defeated York Prep, 74-44, to advance to the championship game of the Peg Duggan tournament. Although they were disappointed by their 74-87...
A "fresh" experience on varsity athletics
December 3, 2017
Members of Girls Varsity Volleyball support Chichi Ikwuazom '16
November 18, 2017
Making the transition from fall to winter sports
November 18, 2017
View All »