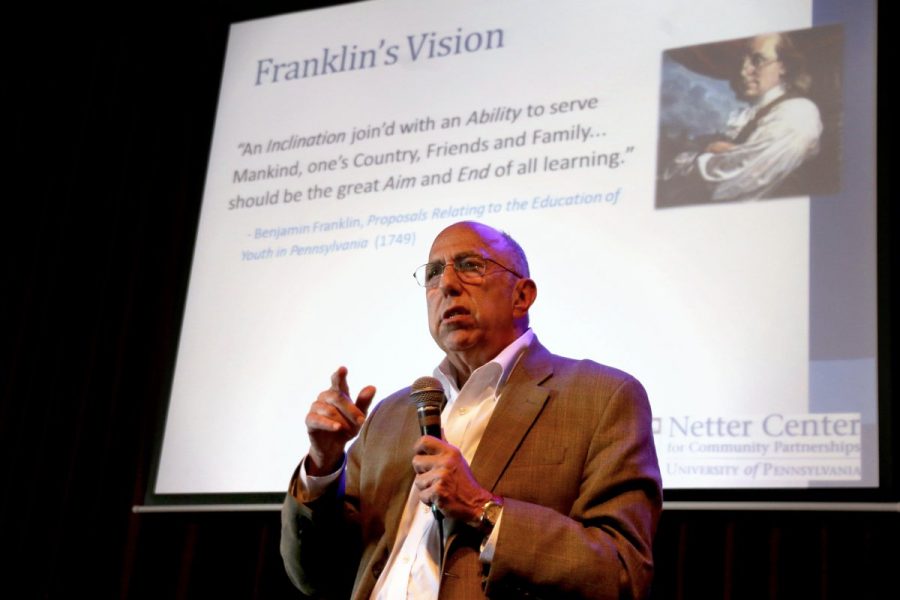 Dr. Ira Harkavy, the Founding Director of the Netter Center for Community Partnerships at the University of Pennsylvania, came to school last Friday, October 13th to speak about reflecting on service learning. He spoke three times, once during B period, once during C period, as well as on a panel during E and F periods.
Harkavy's visit was the first of a group of guest speakers scheduled to come to school this year as part of an expanded reflection program run by Center for Community Values and Actions (CCVA) fellow Kimberly Joyce-Bernard. "Helping to really expand that concept of what reflection can look like is a portion that we continue to reimagine here," Joyce-Bernard said.
During B period, Harkavy talked to the Ethics in School and Society class about the mission of higher education.
During C period, Harkavy facilitated an open discussion about service learning, specifically about the projects individual students were undertaking. According to Ava Merker (10), who attended the talk, the students shared their experiences with service learning while Harkavy shared his opinion on their projects.
Having Harkavy respond to and discuss students' projects helped her to reflect on her work with the Service Learning Team, Merker said.
Members of the faculty, student body, administration, College Counseling Office, Parents Association, Board of Trustees panel, and visitors from the Kingsbridge Heights Community Center and the Riverdale Neighborhood House attended the E and F period panel.
On the panel, Harkavy spoke with William Sassower (11) and Sarah Finley (12), who worked with Harkavy at the Netter Center this past summer. There, Finley and Sassower helped organize and teach the classes for students and worked with the teachers in schools in Philadephia to give their students the best possible experience.
"I feel like I've made a strong impact on [the students'] lives," Sassower said.
Malhaar Agrawal (10) felt that learning about the experiences of Finley and Sassower was inspiring and made him want to be more involved in service, Malhaar said.
On the panel, Harkavy talked about the Netter Center, which he established twenty-five years ago. The center provides aid and educational activities to 20 schools in West Philadelphia and also sponsors and organizes 70+ service-based classes and hundreds of student projects.
The Netter Center was founded as a university center to improve quality of life in the community and the city and to improve research teaching service learning, Harkavy said.
According to Harkavy, the program primarily focuses on "academically-based service learning," where the goal is to get the students out in the community. This allows students to learn through action, rather than by research.
The Netter Center's focus on the immediate community has shaped the service programs at schools across the country, such as UCLA, Tulsa, Indiana, and many more, Harkavy said.
"We model a lot of what we do after what Ira did," Leeds said.