How the school is addressing climate change and reducing its carbon footprint
Hang on for a minute...we're trying to find some more stories you might like.
Over the years, the school has undertaken many initiatives to help increase sustainability and awareness about becoming more environmentally friendly. Some of these initiatives are ongoing, while others have been disbanded for the time being.
Two weeks ago, during an Upper Division (UD) assembly, Dr. Ben Strauss '90 gave a presentation about climate change and how scientists know that global warming is a manmade issue.
Strauss mentioned that as a student at the school, he created a recycling system using cardboard boxes as paper recycling bins. The recycling bins have since been modernized, but this was an early push for sustainability at the school.
Strauss spoke about helping with an issue of The Record that was devoted to sustainability. In the October 27, 1989 edition of the Record, pages were filled with articles about sustainability, including the headline "How does HM teach us about the environment?" The editorial for the week spoke of Strauss' recycling program, stating that "The Record strongly encourages all members of the HM community to look for the cardboard boxes which are steadily being placed around campus."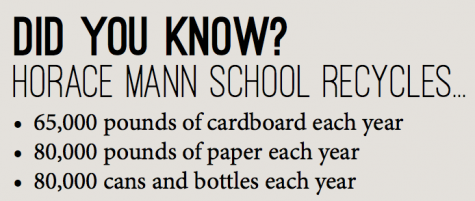 WATER BOTTLES
In the past, the school's disposable water bottle usage has been a flashpoint for sustainability discussions and initiatives.
Over the past ten years, there have been four instances when the school has given the student body and every employee the opportunity to pick up a free, reusable water bottle, Head of School Dr. Tom Kelly said.
This was unsuccessful because most students either lost them or did not bring them to school, GreenHM co-President Jada Yang (12) said.
Former photography teacher Karen Johnson and Assistant Director of Dorr and Co-Chair of the Sustainability Committee Nick DePreter came up with the idea of a water bottle "embargo" in the school cafeteria where students were unable to purchase water bottles every other Friday.
Water bottles had become a symbol of the school's commitment to sustainability. There is a large impact of everyone using plastic water bottles and it is not very difficult to use a reusable water bottle, Johnson said.
Kelly's role in the embargo was to support the idea and work with FLIK to make it happen, he said.
Johnson took on the responsibility of communicating to the student body and the faculty what the reasons behind the embargo were and how often it would be happening, Johnson said. Students created posters that brought awareness to the negative impact of using plastic water bottles, some of which are still up in Fisher Hall, she said.
The embargo succeeded in raising awareness about the need to reduce disposable bottles at school. However, students began purchasing unhealthy beverages instead of water, and in hindsight, the embargo should have included all bottled drinks, Kelly said.
The embargo had major flaws: students who didn't care about the cause would buy a different drink, empty it out, and fill it with water, Eliza Bender (10) said. A better way to solve this problem would be for the school to provide reusable water bottles that they can drop off in the cafeteria after use, she said.
"If we made a larger effort to recycle plastic bottles it would have the same effect as the embargo. Also, plastic utensils in the cafeteria seem to be harmful," Nicky Rile (12) said.
"I don't fault those students and employees who found the embargo to be an inconvenience," Kelly said. "That said, I do think it makes sense for HM to continue to do things that make people think about the environment and the reality of a growing number of limited resources," he said.
Students are often not aware of the adverse impact that purchasing water bottles creates, Mayanka Dhingra (10) said. One way to raise awareness about this issue might be to talk to Head of Cafeteria Brenda Cohn and see how many water bottles are purchased by students daily, and then show students how big of an impact their collective actions have, she said.
Given the increase in the sale of soda and sports drinks, Kelly asked for an end to the embargo until the school can put a program in place that does not result in students simply purchasing an alternative beverage in a plastic bottle, he said.
In a survey taken by The Record, 16 percent of students believed that a ban on water bottles on certain days would be effective. 44 percent believed that a ban on all other bottled drinks besides water would be more effective.
CAFETERIA INITIATIVES
There are many steps that the cafeteria has taken to become environmentally friendly, Cohn said. Napkins are made from recycled materials, the kitchen uses reusable pan liners, left over scraps are used for chicken and vegetable stocks, takeout containers are made with cornstarch, and bowls are made without petroleum, she said.
The cafeteria recycles its oil in order for it to become biofuel and works with the school to recycle cardboard and other materials, Cohn said.
Cohn is starting to speak to each grade about how to be more conscious of their environmental impact in the cafeteria, she said.
Sometimes students choose not to use reusable utensils in the cafeteria because they believe that the silverware is not sanitary, but they should not be concerned about this because "everything is sanitized," Cohn said. Students also should be using the reusable plates in the dining room as opposed to the paper plates, she said.
FLIK works to teach Lower Division (LD) students about food waste, Cohn said.  LD students scrape their leftover food into a bin to see how much waste there is each day and each week the goal is to reduce the amount of waste. They also post flyers in the lunchroom about food waste, she said.
The cafeteria keeps production records to get an idea of how much food they will need each day so that they waste less, Cohn said. If there are leftovers that cannot be repurposed, then the food is sent to the night staff and cleaners, she said.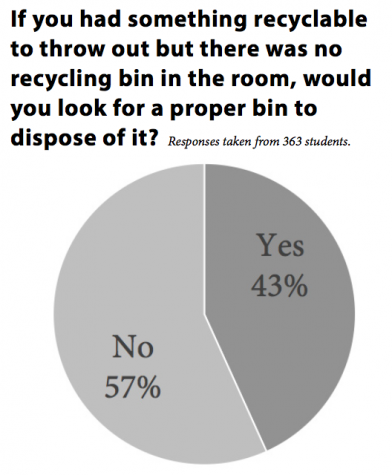 OTHER SCHOOL INITIATIVES         
The school has a Sustainability Committee consisting of faculty representatives from each division. They meet once per trimester to discuss how to improve sustainability at the school, Middle Division (MD) Science Teacher and Sustainability Committee member Roselle Yang said.
"We look at how we can encourage certain behaviors to increase student activity in sustainability. We're trying to find these little things that add up to improve sustainability overall," Roselle Yang said. "We look at it schoolwide but we also look at what are appropriate actions to approach the issue from different ages," she said.
Multiple students were invited to the first meeting of the Sustainability Committee this year, DePreter said. Any worthy cause needs individuals that are committed to the larger picture, so it was great to have students come to the meeting and share their ideas, he said.
Three years ago, the Sustainability Committee implemented three-section trash cans to encourage recycling of plastic bottles and paper, Head of UD Dr. Jessica Levenstein said.
Last year, a former student donated solar panels to provide energy for Rose Hall, AP Environmental Science teacher Dora Barlaz said. There are 174 solar panels and they provide 53 kilowatts of energy, Director of Facilities Management Gordon Jensen said.
As fluorescent light bulbs die out, Jensen replaces them with LED bulbs. The change from fluorescent to LED amounts to around a 75 percent energy reduction, DePreter said.
As water coolers begin to malfunction, the maintenance department changes them to water fountains with bottle fillers, Jensen said.
The Community Council (CC) also has its own Sustainability Committee.
Recently, the CC has passed two initiatives: trash cans for batteries in the computer science department and sleeves for coffee cups in the cafeteria.
"When people put batteries in standard trash cans, the lithium nickel in the batteries seeps out and it's bad for the environment," CC Chair Amir Moazami (12) said. "When people get coffee, they use two cups. This is terrible for the environment and unnecessary," he said.
However, the CC has reversed past sustainability initiatives, such as the replacement of paper towels with electric hand dryers in bathrooms. Several years ago, former Community Council Chair Adam Resheff '15 brought paper towels back to the bathrooms at school. For several years, hand dryers were the only option for students, Resheff said.
The school has held TedX conferences and other assemblies focusing on renewables, installed worm bins in kindergarten classrooms to help with compost, integrated recycling games as part of the curriculum, and sent teachers to workshops about sustainability, DePreter said.
GreenHM Vice President Jamie Berg (11) will be focusing on increasing student participation in the club. This year, the club is modeling itself after successful grassroots activist campaigns by speaking to students about the importance of sustainability. The club will also be using student support and influence to effect policy and create impactful changes at the school, he said.
It is a problem that so many students are aware of climate change and the fact that action needs to be taken against it, but that they either don't know what steps to take to help or they are unwilling to take these steps, Berg said.
In a survey taken by The Record, 56.7% of students said that if they had something recyclable to throw away and there was no recycling bin in the room, they would not look for a proper bin to dispose of it.
"Students need to become comfortable with the concept that change requires a degree of self-sacrifice," Berg said.
"I just couldn't imagine taking a plastic bottle and putting it in the garbage can," DePreter said. "And eventually, the goal would be that nobody could imagine doing that, and that would be a cultural shift," he said.
"If we want to create a general culture of being aware, we need to think about [sustainability] more than just five times a year, but rather on a daily basis," Roselle Yang said.
The AP Environmental Science course teaches students to understand the significance of sustainability, Jane Frankel (12) said.
The course shows how important it is to be conscious of one's impact on the environment and how an action as small as turning off classroom lights can make a big difference, Zaie Nursey (12) said.
"I think [AP Environmental Science students'] understanding of these topics is important knowledge for them to lead sustainable lives in the future," Barlaz said.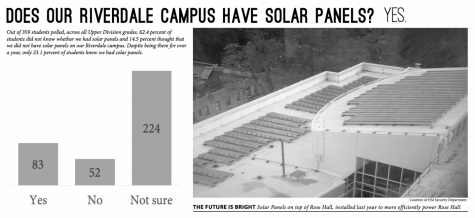 OTHER SCHOOLS
The school is a member of the Green School Alliance, which is a group of schools that work towards becoming more sustainable, DePreter said. In the past, the UD has taken part in a competition that challenges schools to use the least amount of energy possible and become more aware of their energy usage, he said.
Other New York City high schools have also undertaken different initiatives to help combat climate change.
At the Spence School, there are four different types of recycling bins. One is for old whiteboard markers in order to be recycled in a manner specifically tailored to markers, Spence sophomore Dora Usdan said.
At the Riverdale Country Day School, along with Spence, all plastic utensils and plates have been switched to metal, Riverdale sophomore Andrew Bank said.
At Columbia Grammar and Preparatory School, there is a "big focus on recycling and being environmentally conscious," Columbia Grammar '15 member Daniel Martin said. There are several classes and clubs that focus on sustainability and the environment, he said.
"I find it hard to believe that there is another independent school out there with the commitment to do something substantial and sustainable every year," Kelly said in an email.
FUTURE PLANS
While a concerted effort to be sustainable is already being made, the school plans to implement many more initiatives.
To encourage the school body to take part in the effort towards greater sustainability, GreenHM is developing a service learning project which will include participating in climate conferences and climate change rallies in New York City, in addition to students helping the maintenance staff sort through recycling at school, Berg said.
During club meetings, GreenHM will be approaching the issue of global warming from a scientific perspective and having discussions where students analyze what they can do to make an impact, Ari Moscona-Skolnik (11) said.
GreenHM also wants to set up compost bins so people can see sustainability in action and compost their food as well as organize a day of action which would involve multiple clubs, Jada Yang said.
"We want to look at activism. Instead of signing up for clubs, students would be signing petitions or signing up for actions. Having a day where you can sign up for these all at once would be a great community bonding experience and great way students can be involved in their communities and take political action," Jada Yang said.
Concurrently, the CC is thinking of ways to diminish the usage of mini water bottles in the library during break as well as migrating from using plastic to reusable water bottles, Moazami said.
"In the not-so-distant future, drinks in the cafeteria will be dispensed through fountain-type devices and not sold in individual bottles," Kelly said.
Dhingra is a founder and head of the student committee for the "Sustainability Through Student Voices" conference. She will be taking a group of students to the conference at Calhoun for the first time this year, she said.
"At the end of the day, we want people to reconvene with members of their own school community to discuss what they have learned and how they can implement new forms of sustainability to their own school communities," Dhingra said.
According to Jensen, there will be many sustainable advancements in the new science and athletics buildings.
Some of these will include motor sensors in hallways for after-hours, which will turn on the lights when a security guard walks down the hallway so they are not running all night, daylight harvesting, which controls the amount of light emitted from a bulb depending of the amount of sunlight in a given day, low water-consumption faucets and toilets, and charging stations for cars, he said. The pool building is being built to support the weight of solar panels so that if there is a time where money is available to add them, they will be added, he said.
The School is "investigating buying options for power that could potentially mean [the school] gets 100% of its energy from renewable sources," DePreter said.
"Just be more aware of what you're using, what you're disposing of, and how it's going to affect the future. Reducing the amount of waste is the first step and then try to recycle so that it can be reused," Jensen said.
Levenstein hopes that if the student body becomes aware of the direct impact on their own personal future, then they might alter their behavior. From her experience, if the student body is passionate about something, they will make change, she said.
"Members of our community have a right to feel good about the progress we're making in marginalizing our carbon footprint," Kelly said.