From the NYC streets to Tillinghast Hall
The experiences of the HM Security Department in the NYPD and FDNY
Hang on for a minute...we're trying to find some more stories you might like.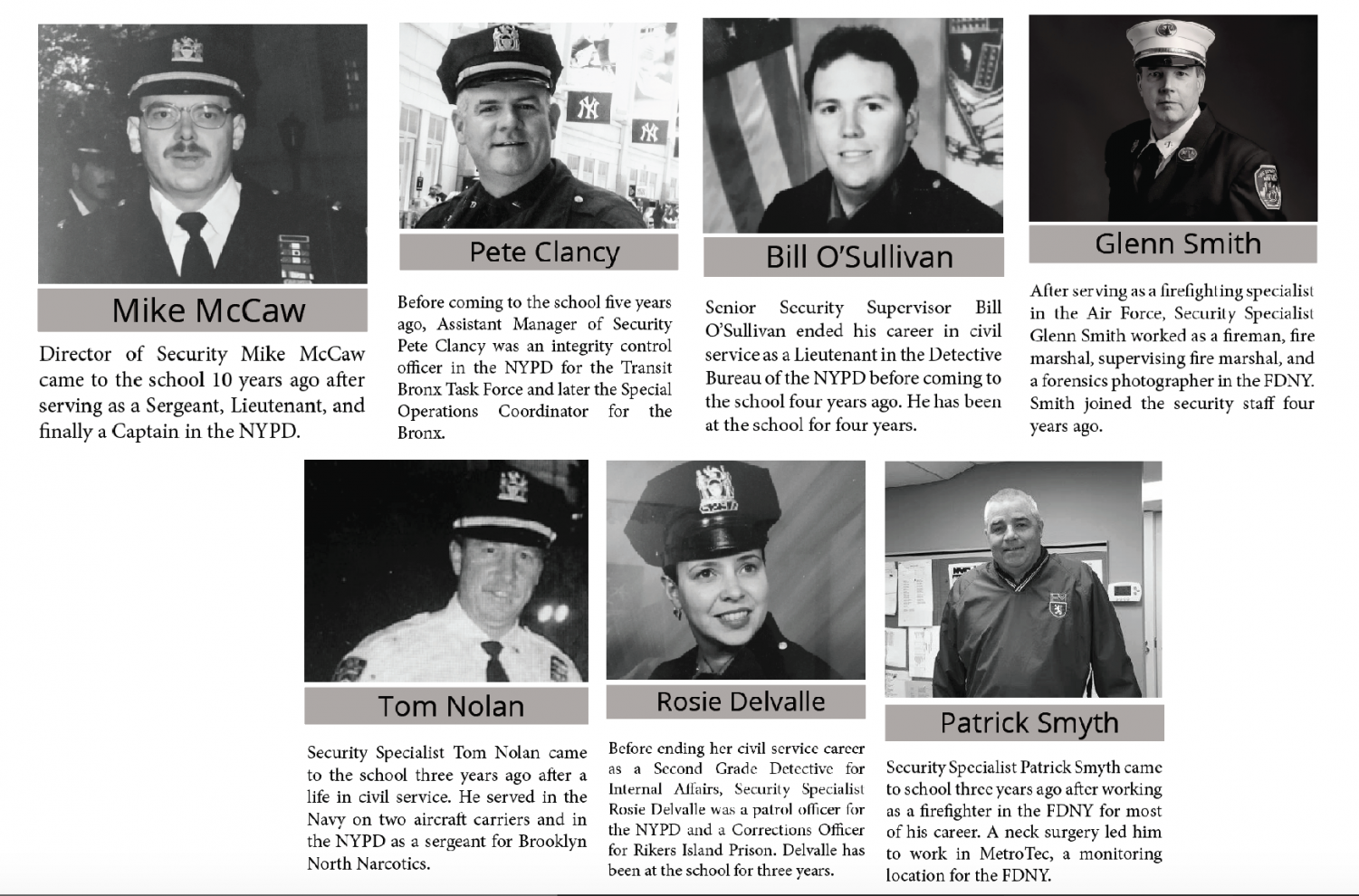 As a young police officer, Director of Security Mike McCaw was patrolling the 96th Street Lexington Avenue station when he saw a pregnant woman at the edge of the subway platform, a place where many people looking to commit suicide situate themselves.
McCaw walked to the edge of the platform and engaged the woman in conversation. The woman kept looking into the tracks, waiting for the subway to come. Once it neared the platform, McCaw moved her away from the tracks to prevent her from jumping in front of the train.
The woman was brought to a psychiatric hospital. Two years later, McCaw saw the woman in East Harlem holding the hands of young boys that each looked about two years old, he said.
Throughout their years of service, civil service members have witnessed remarkable changes in the dynamics of New York City.
The "heyday" of crime was in the late 1980's and the early 1990's, McCaw said.
Crack cocaine became prevalent in the late 80's and hit the most vulnerable neighborhoods the hardest, Security Specialist Pat Smyth said. When drug dealers took over buildings, the tenants would leave and landlords would put less money into the upkeep of their buildings. Because of this neglect, buildings had high rates of burning down, Smyth said.
"One of the older guys would say, 'see that building? That's the next one to go,'" Smyth said. "The firehouse was the only building still left standing on [its block]; everything else was burned down," Smyth said.
Security Specialist Tom Nolan's first job in the NYPD was as a transit cop in 1988. During this time, he was part of the so-called "vandals squad," he said. Nolan and his fellow officers would stop people from painting on trains that were stationed in the train yards, he said.
A new unit created during the crack epidemic within the vandal's squad, was called the "cable taskforce," Nolan said. In this taskforce, Nolan and his fellow officers would stop drug addicts from stealing copper wire from train tracks, an act that could lead to train derailments in the subway system, he said.
During the crack epidemic, "police couldn't concentrate on low level offenses because we were so busy with violent crimes," McCaw said. "And when you don't address low level offenses, quality of life offenses, it's like anything can go," he said.
Once the NYPD started to target low level crimes, the number of violent crimes in New York decreased because people committing less serious offenses were often the ones committing the more egregious offenses, McCaw said.
"That's why we have the historic low levels of crime in NYC today; it's from the work that guys like us did many decades ago," McCaw said.
About a decade after the peak of the crack epidemic came arguably the most trying day that the NYPD and FDNY had ever faced.
Everybody that was alive on September 11, 2001 has a different story to tell. The members of the NYPD and NYFD had especially hands-on experiences with helping in the aftermath of the terrorist attack.
"My first tour of duty down there was at Rector Street," Senior Security Supervisor Bill O'Sullivan said. "I was a supervisor in charge of ten cops in a frozen area there to make sure nobody came into the site. But it only took a little while to realize that we were going to be helping out with the bucket brigades," he said.
"I came in the next day and days to follow and helped dig out the scene probably for two weeks. Then I stopped going to the scene and started going to the funerals," Security Specialist Glenn Smith said.
Everyone in the NYPD stopped their normal duties and started doing whatever they could to help out with 9/11, Security Specialist Rosie Delvalle said. Delvalle was part of a missing persons hotline, she said.
"The firehouse was always a jovial place, and after 9/11 it was not because everyone knew guys who passed away," Smith said. All the firefighters came "together and supported each other tremendously" after the attack, and the firehouse has since been able to regain its former jovialness, Smith said.
Everyone has a reason for eventually leaving the force, whether because they can no longer handle the hard physical labor, to make space for the next person to be promoted, or to change the pace of their work.
Smith retired because he wanted to allow the next person in line to be promoted and his wife wanted him to leave the danger of being in the fire department, he said.
As Clancy got older, he starting taking on more familial responsibilities and recognizing the danger of his work, he said. He had been a sergeant for Captain McCaw, so he came to the school through his connection with McCaw, Clancy said.
McCaw wanted to have a former lieutenant with a four year college degree on the security team at school and O'Sullivan fit the description, O'Sullivan said.
There are times that Clancy misses being in the NYPD, especially being with the people he used to work with, he said. But he does not miss the stress of being a civil servant or having to run around so much, he said.
"On occasion, something happens [at school] and the stress level rises," Smith said. But overall, being in the FDNY was much more stressful than working at school, he said.
Some of the daily tasks of security guards include helping to ensure the safety of students near the buses during dismissal, monitoring cameras, and checking that epipens are in their correct locations.
"There is enough activity to keep us challenged and engaged," McCaw said. "There's no boring time. There's always something going on," he said.
In the fire department, there was always a fear that any day might be his last, Smyth said. But at the school, there is not the constant fear that he might not make it home, he said.
Days in the NYPD could go slowly because they were filled with negative interactions with civilians, but the interactions with members of the school community are very positive, so school days go by quickly, McCaw said.
"I enjoy working here. The people are all great and the kids are very respectful," Nolan said.
Head of School Dr. Tom Kelly makes sure to thank the security staff's hard work, especially when security works on a weekend or covers a big event, Nolan said. This is different from the NYPD where superiors rarely thank their officers for their work, he said.
"It was a wonderful opportunity when I came here, and each day that goes by just gets better and better," McCaw said.
When you put the skill sets of both police and firefighters together, you can do anything, McCaw said.
As a fire marshal, Smith had to communicate well with everyone he was working with and he is able to use these communication skills at school if there are ever emergencies, he said. From his time in the fire department, he can now calm people down during an emergency while aiding the person in distress, he said.
As a former firefighter, Smyth has worked with or at least knows many of the current firemen in the area and is able to communicate with them well, he said.
Clancy was a sergeant in the NYPD, which allowed him to build managerial experience and learn to plan for large scale events, he said.
McCaw also had to learn how to manage both people and events as a captain in the NYPD and is now able to manage events with an eye for safety, he said.
Being a fireman allowed Smyth to learn how to stay calm during new situations and prioritize what is important, he said. He also learned how to take and give advice in a gracious manner, Smyth said.
Along with the experiences that service members took away from the force, they also came away with many life lessons.
"Surround yourself with good people. It helps," Clancy said.
"You have to communicate and you have to be able to understand," Delvalle said. "If you don't understand, you have to ask questions," she said.
Delvalle treated the inmates that she worked with on Rikers Island "like human beings" and unlike many other officers, she allowed the inmates to call her "Ms. D" instead of CO (Corrections Officer), she said. She spoke Spanish in her home growing up, so she used Spanish to communicate with people who were native Spanish speakers themselves, she said.
"Your decisions have consequences," O'Sullivan said. "That one decision that you make could really dictate the outcome of many years to come in your life," he said.
As McCaw moved up the ranks from police officer to Captain, he was able to learn how to be a better leader from people that he respected, he said. He incorporated aspects of other people's leadership styles into his own, and made sure not to make the same mistakes as leaders that he did not respect, he said.
Clancy believes in treating people with respect, and finds that being respectful makes interactions with other people easier, he said. "If you're decent to people, they'll be decent back for the most part," he said.