Investigating the phenomenon of students applying Early Decision
Hang on for a minute...we're trying to find some more stories you might like.
The number of students applying to early action and early decision schools has increased significantly over the years, according to Executive Director of College Counseling Canh Oxelson. 
Around 90 percent of seniors apply to a college before December 1st each year, Oxelson said. And additionally, in a recent anonymous poll conducted by The Record, 97.3 percent of 113 seniors who responded, reported applying to one or more schools under an early admissions plan. 
Almost half of all respondents applied to more than one school early, with 48.2 percent of seniors applying to one early decision school and one or more early action schools. 
"Kids are thinking it would be nice to have this over with, and one of the ways to do that is to be admitted to an early school, early action or early decision," Oxelson said. 
Brooke Hailey (12) had this in mind when applying early to Washington University in St. Louis. 
"I think just the idea of being done early was really, really nice," Hailey said. "I think I could've gone for a harder school and given it a shot, even if it was a shot in the dark, but then I knew that I would've had to go through all of the other applications." 
33 percent of seniors polled said that they decided to apply early decision to get the process over with. 
According to Oxelson, applying early does not mean that your GPA or test scores can be lower, despite the misconceptions of some students. 
"The difference between regular and early decision is just the size of the applicant pool," Oxelson said. "You just have a smaller group of applications, so it's easier to stand out." 
Parul Sharma (12), who was accepted in the early decision round at Emory, paid close attention to this difference in application pool size. 
"Early decision for any school definitely does increase your chances and for me that definitely played a role in my decision to apply early," Sharma said. "I knew that if I applied regular like a lot of students, I might not have gotten in."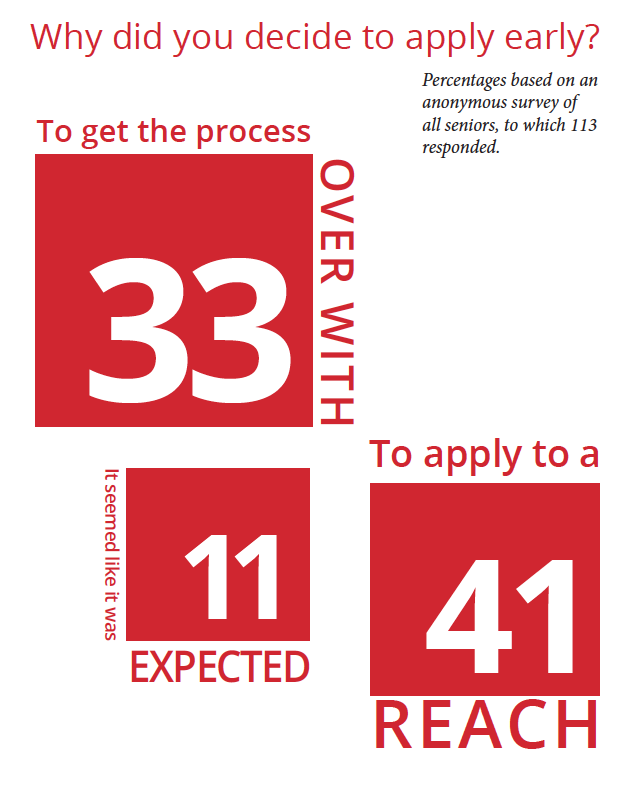 According to Oxelson, the number of early action applications has increased dramatically. 
"For early action, kids used to apply to a couple of early action schools, but now we see kids applying to five early action schools sometimes," Oxelson said. 
Jazmine Smith (12) chose to apply to her first choice school, Harvard, via their restrictive early action program. 
Smith also applied to two state schools through early action. 
"UNC and UVA were two schools that I liked, so I figured I could find out about some colleges early rather than wait," Smith said. 
This increase in early applications is happening on a national scale. 
An article published in the New York Times on April 10th revealed that some colleges accept nearly half of their freshman class through early decision programs. For example, Duke University reported last year that they accepted just under 51% of their freshman class in the early decision pool. 
"That's one of the reasons we say that you have to make a good decision early, because if you do end up in regular decision, you have to know that it's going to be more competitive, more applications for fewer spots," Oxelson said. "And that's why it's okay if kids go into regular decision, but they have to understand what that means, that their chances at a school that they really like could have actually gone down." 
Among the seniors polled, which may differ from the official college matriculation statistics, 60 percent reported that they plan to attend a school that they applied to early. 
According to Smith, there was pressure from the school community to apply early. 
"I didn't even think twice whether it was an option or not or whether to apply early," Smith said. "It's just something that you do, it's what people have done in the past, that's what I'm going to do too and I didn't give it a second thought." 
Chloe Bown (12) had similar motivations when applying to her early decision school. 
"I'd love to say that it was just purely because I was obsessed with the school that I applied to, but I definitely think knowing everyone else applies early i n f l u e n c e d me, especially because I am the oldest sibling and didn't have much to base off of," Bown said. 
The early decision process incited competitiveness between some students, Smith said. 
"Early on there were rumors of people making lists of where other people were applying early and things like that," Smith said. "People wanted to know who else applied to their school and how many kids and what their information was." 
The regular decision round created a more relaxed atmosphere between students because many students had gotten in somewhere, Smith said. 
Some students would like to change the culture of the school community surrounding the early application process. 
"I think that the emphasis ED has gotten has made it kind of a tricky subject at school, because everyone here is aware that people have gotten in early and no one realizes that most people don't get in early," Hailey said. "It created this climate that is kind of dangerous for the community, and people don't know how to act." 
Rahmin wishes that students would minimize the buzz around the subject and instead focus on what is best for them, she said. 
"I think that in the few months leading up to early decision, it's really all people talk about: it's in the library, it's in the hallways, it's in the locker rooms," Rahmin said. "I think it's important to try to minimize that buzz and view the process for what it is: you are thinking about what educational institution will best fit you in the next chapter of your life." 
Bown and Smith, both of whom did not get accepted to their first choice schools, felt some disappointment in the winter, especially surrounded by many students who were admitted. 
"Everyone is going through it at the same time so you can't really escape it, everyone's talking about it," Bown said. "The week that decisions come out, it can be really tough if you don't get positive news and a lot of people around you did." 
According to Oxelson, some students have regrets about where they applied early. 
"It's almost a fear of missing out regret," Oxelson said. "Are you really disappointed? No, but I think you're wondering what would have happened had you decided not to apply early decision to this school and apply regular decision to some of these other schools." 
Sharma, for example, had doubts initially about her early acceptance to Emory. 
"Some people would question it and be like 'oh but you're so smart, why didn't you apply here?' or 'you could have applied to an Ivy' or something like that," Sharma said. "I got that from a lot of people, so it definitely made me question my decision, but now that I've gotten in and it's been a couple of months I definitely don't regret it at all." 
In the end, Sharma was happy to be done with the process early, she said. 
Armand Dang (12) had a similar experience after being accepted early to the University of Chicago. 
"Definitely after ED I thought about 'maybe I could have applied to other places,' but I think that UChicago is a pretty good fit for me so no regrets really," Dang said. 
From a developmental standpoint, forcing students to make a choice in November about where they will be spending their next four years is unreasonable, Oxelson said. However, he understands why colleges offer the choice. 
"It's not like the process is built around the development of teenagers, it's built on what the institutional needs of the colleges really are," Oxelson said. "It's not because they think kids at that age are best equipped to make the decision, it's because colleges want some certainty." 
According to Gettysburg College Senior Associate Director of Admissions Darryl Jones, early decision is very beneficial for colleges. 
"The yield on acceptances to enrollees is one to one, admitted early decision students build enthusiasm for colleges at their schools and on social media, and we love admitting students who are competitive and who love us," Jones said. 
Another important factor that many students must consider when deciding where to apply early is financial aid. According to Gabi Sheybani '17, applying early requires you to lock yourself into the financial aid package at one school before seeing how much aid other schools can offer you. 
Sheybani was accepted in Early Decision II to the University of Chicago, but she had to back out of her commitment after discovering that the financial aid package the school was offering her was not enough for her and her family. 
"What you can do regular decision that you cannot necessarily do early is that you can compare financial aid packages amongst schools, which is really important," Sheybani said. "I had a few other options and I ended up choosing the school that was both the best fit for me and had a relatively good package." 
Sheybani wishes that she had had more access to information about financial aid earlier on in the process and that she had understood the important role that financial aid would play in her college decisions. 
"I think the College Counseling Office is really good with financial aid once you reach out to those resources, but that's not something that's necessarily talked about from the get-go, which is kind of a problem," Sheybani said. "I think that then some students don't necessarily understand the magnitude that it can have on the decisions that they are making."