Larry Grafstein becomes the new Chairman of Board of Trustees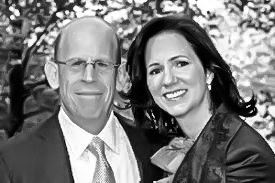 Hang on for a minute...we're trying to find some more stories you might like.
Chairman of the school's Board of Trustees Michael Colacino '75 P'22 announced not only his departure from the board, but also his replacement: Board of Trustees member Larry Grafstein P'11 P'12 P'15, at the annual Faculty and Trustee Dinner, last Thursday, much to the surprise of the attendees.
Colacino is stepping down from the position after 11 years of dedicated service on the board, including four years as Board Chair, Head of School Dr. Tom Kelly said. Grafstein, who has been on the board for 11 years, has served as the Co-Chair of the annual fund among other positions, some of which involve the school's legal scandals over the past decade, Grafstein said.
Colacino, who described the dinner as his favorite night of the year as Board Chair, retired from the board primarily because he had accomplished two of his key goals this year, he said. "We had completed the new buildings, and we had hit our first major goal in the capital campaign," he said. "It seemed like an appropriate endpoint."
Under Colacino's tenure on the board, the board raised three-quarters of the money needed for Friedman Hall and the other renovations necessary in the gym facilities such as the pool, he said. 
Grafstein believes that Michael's accomplishments as the chairman were extremely impressive, especially HM in Motion, he said. "Sometimes construction projects don't happen in a timely fashion, but Michael was able to finish the ambitious fundraising aspect and made the facilities ready for people to use," he said.
Since the construction consisted of 100,000 square feet of new instructional space, Kelly thinks that Colacino's experience in areas of real estate and development were a blessing, he said.
"As the project nears completion, the fact that we are projecting a budget over run of less than one percent is nothing short of miraculous," Kelly said. "That's an accomplishment almost unheard of in the construction industry."
Additionally, through this major project, Colacino was able to bring together many of the school's families in supporting the campaign, Board of Trustees member Justin Lerer '[insert] P'[insert] said. "Michael was really just perfectly suited to this project, and he pulled it off phenomenally well."
"From handling issues large and small, everyone admires his leadership for being communicative and decisive," Board of Trustees member Samantha Cooper Brand said. She believes that Colacino left an incredible impression on the board and the future generations of Horace Mann, she said.
According to Colacino and Lerer, the board's Committee on Trustees and Governance unanimously selected Grafstein through a series of interviews and discussions with the other Board members.
"Larry has been on the board for a long time, and he was kind of a consensus choice," Colacino said. "There was nobody really who thought he wasn't the best guy for the job."
Lerer hopes that Grafstein has "the opportunity to meet as many people in the school's community as he can, so that they can see what a kind, thoughtful, and highly intelligent person he is," he said.
"Mr. Grafstein has the breadth of experience to lead HM into the future as we absorb the many changes to the physical structures and academic programs that have happened recently," said Brand.
According to Kelly, similar to previous board chairs, Grafstein's responsibilities include "the oversight of the school's operations in conjunction with the Head of School, the School's finances, and ensuring the School's compliance with applicable state and federal laws," he said.
Grafstein himself is looking forward to building on the tremendous tradition of leadership and education that the school has, he said. He believes that "the urgent cannot eclipse the important," a phrase that he and Dr. Kelly thinks fits the school well, he said.
"Now that we've finished HM in Motion, there's an opportunity to take a pause to think about types of next generation educational innovation that enables us to continue to differentiate ourselves as one of the top schools in the country," Grafstein said.
Moving forward, Colacino hopes that Grafstein will continue the work that he started on finding a way to endow financial aid, he said. Colacino thinks that financial aid benefits students on many different levels as well as "improving the diversity of the student body," he said.
However, Colacino thinks that raising money just for financial aid as opposed to a more tangible thing as a building is especially difficult, he said.
"A natural goal of the school should be to make it so that it's easier to admit more students who don't have the money," Colacino said. "Some of our best and brightest kids receive financial aid."
Fortunately, as Board Chair, Grafstein aims to keep the school dynamic and forward looking, while simultaneously keeping critical "tried and true" values of the school, he said. These values include facilitating diversity, staying ahead on intellectual trends, and providing the most holistic range of extracurricular activities for students, he said.
"With every new Board Chair, there comes a renewed enthusiasm in the work that needs to be done on behalf of a great school always looking to be even greater," Kelly said.