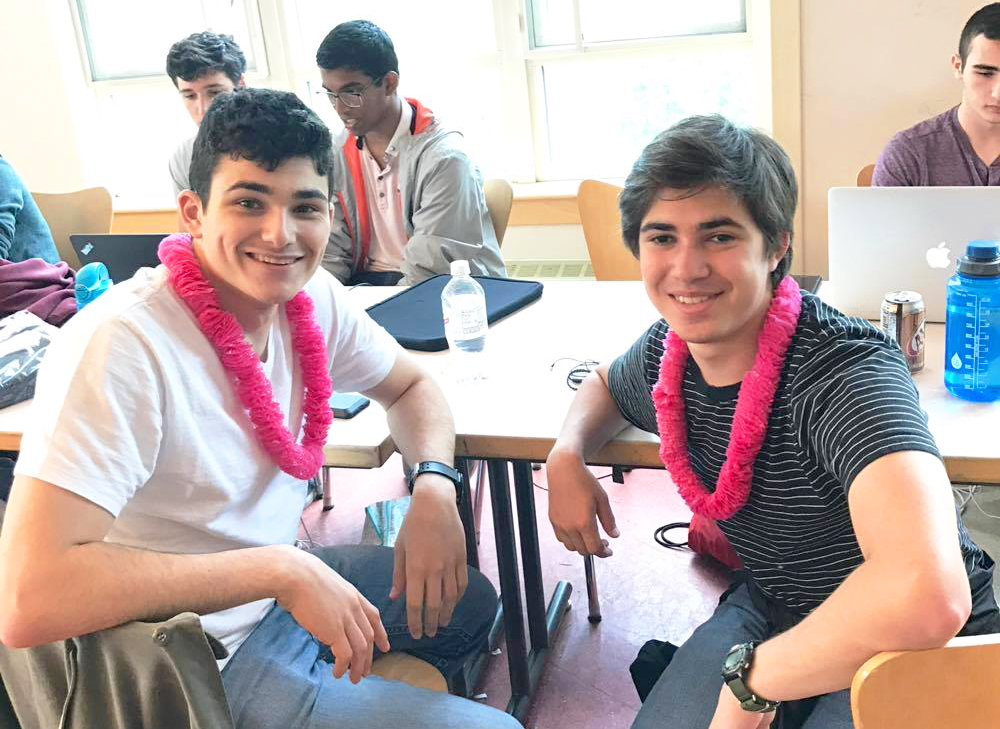 As a countdown for the end of the year, Jessie Millman (12) and Will Scherr (12) organized a grade wide senior spirit week for the graduating Class of 2017, consisting of different themes for the each of the last five days left of school.
The themes for each day were "Twin Tuesday", "On Wednesdays We Wear Pink", "PJs and Ping Pong" for Thursday, "Nerds" for Friday, and finally, "LEGEN17S NEVER DIE!" on Monday. Seniors had the choice to participate on any day they wanted.
The inspiration for the idea came from a similar activity that was started by Class of 2015 Class President Jake Millman '15, who started the tradition for the first time, Millman said. It is supposed to be a unifying week that brings the senior class together during their last days at the school, she said.
"It is not only to celebrate the last days of school, but also about celebrating the lead up," Millman said.
She collaborated with the Community Council (CC) to make the week not only for the seniors but to also help "ease the stress of the entire school," she said.
Scherr believes that it is a nice way to remember the school with photos that people might take while participating in the festivities.
"It's a great way to cap off the year. It's a way to let everyone know that we are the seniors and that our time is now," he said.
Leo Humber-Henriquez (12) did not think the week would bring together the 12th grade because it is the end of the year.
"I don't think now is the time to try and bond as a senior class. I don't see spirit week as leaving [the school] with a bang," Humber-Henriquez said.
Tali Benchimol (12) participated in "Twin Tuesday" and "PJs and Ping Pong." "The week definitely does promote more of a sense of community," she said.
Ailee Mendoza (12) thought it was a really fun and cute idea, she said.
"Especially now that we're about to go our separate ways. It's kind of like a celebration," she said.
Emily Weinstein (12), along with others, believes that the week is something more sentimental.
"I'm now fully realizing that these last couple of weeks will be the last time the senior class will all be together which is pretty crazy to think about," she said.
Mendoza said that the last week has been very busy and that she is "swamped with work," but the spirit helps.
"It all ends with Senior Dorr on Friday so there's something for us to be spirited about," she said.
Millman believes that the week will bring her grade together even though students have had "varied experiences at [the school], some positive and some negative," she said. She wanted to give people something positive that they can remember, she said.