Summer spotlight: voluntourism
Hang on for a minute...we're trying to find some more stories you might like.
Grace Hill (12) woke up early in the morning, drove to an underprivileged city near where she was staying in Nicaragua, and helped families sell goods in the outdoor market, then she finished the day off by teaching the family English for two hours.
Hill spent her summer volunteering in a foreign country, a choice that only a handful of other students made.
Hill had a lot to learn about the issues facing the people of Nicaragua. Learning about them in person where she could help made her become a more capable and well versed leader, she said.
Teaching English proved difficult for many volunteering in a foreign country who did not speak the native language of that country.
Sean Koons (11) spent his summer in Tanzania, but knowing no Swahili, used the aid of dictionaries and translators, he said.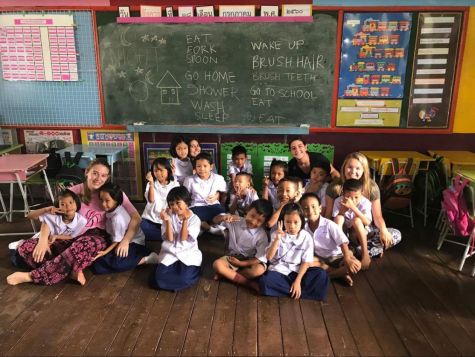 Isabelle St. Jean (11), who spent her summer in Thailand, found herself "communicating in other ways, which involved a lot of hand gestures," she said.
"I taught both high school students and kids as young as the fourth grade, but they were all so eager to learn and to be working with us that it made teaching them easy, even though we spoke different languages," St. Jean said.
Teaching was not the only service work that students did on their trips. St. Jean also took care of baby elephants, she said.
"We had as much responsibility over them as we would if we were their owners, from fetching buckets of water to picking pineapple leaves for them," St. Jean said.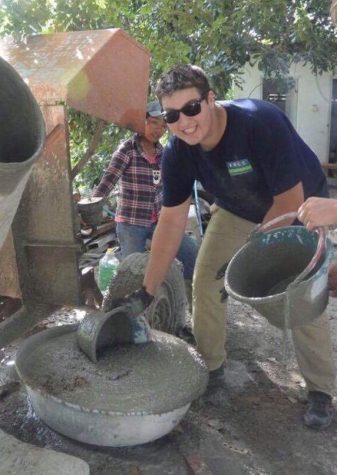 Heath Bluestein (12) spent his summer in Cambodia building biosand water filters that would last the surrounding communities 45 years.
Project Clean Water taught villagers about the harmful bacteria in the water they were drinking, Bluestein said.
Bluestein applied for and received the Lembo-Sperling Summer Travel Grant, which covered all of the trip's expenses including airfare. The application required him to explain why he wanted to go on the trip. The donors will also require him to share his experience with others in the school by writing or speaking about it at an assembly, he said.
"When I was younger, I went to India and saw kids even younger than me drinking from dirty water spouts. Thinking about how bad the problem of finding clean water is made me want to help," Bluestein said.
These trips had an effect on each of the volunteers that has changed their perspective when coming back home.
"When you're in a place where everyone has a relatively low economic status, the fact that they're still such happy kids is really humbling," Koons said.
"Now that I've taught kids who speak a different language than me, I feel confident in my ability to teach kids back home," St. Jean said.
"Every day I'm able to go to an amazing school and every day I come home to a place where I can drink unlimited clean water and take food out of a refrigerator. I know how lucky I am, and I won't forget about those who don't have that same luck," Bluestein said.