FLIK hosts farmers market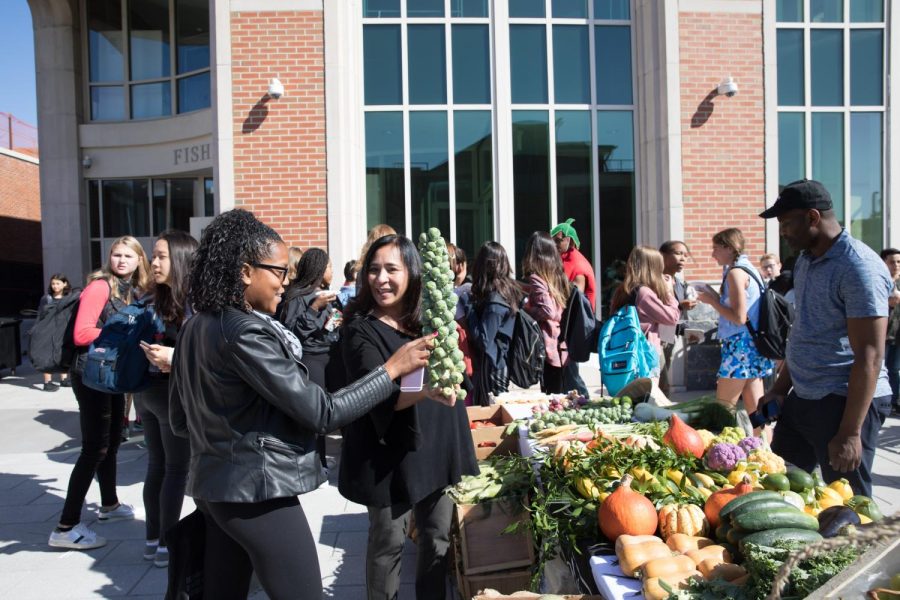 Megha Nelivigi, Staff Writer
October 6, 2017
As she walked through Fisher Hall after lunch this Wednesday, Nina Gaither (9) could be seen carrying a basketball-sized squash in one hand and an enormous bag full of fresh produce in the other.
Gaither took advantage of the farmer's market held on Fisher Patio, organized and run by Senior Director of Dining Service Brenda Cohn. The event is exactly like a typical farmer's market, except that the food is free for members of the school community, Cohn said.
Throughout the ten years that she has worked here, the event has taken place at least five times, the most recent time being in 2015, Cohn said.
"The Farmer's Market is an opportunity to bring in some unique, exciting produce, and students, faculty, and staff alike can come and experience something new that they may not have known existed before this," Cohn said.
In addition to squash, which Gaither plans on baking with maple syrup and butter, Gaither's bag was filled with mushrooms, figs, cherry tomatoes, scallions, and various other fruits and vegetables.
Some of the more unique food at the market included raisins on a vine, brussel sprouts on the stalk, and edible flowers.
The purpose of bringing all this produce to school, Cohn said, is to bring the school together in a celebration of fall.
Sofia Gonzalez (12) did not get the chance to visit the market the last time it was held, but was excited to be there on Wednesday, Gonzalez said. "I loved that even the kindergarteners were there‑- the whole community has a chance to enjoy the food," she said.
Not only does the event foster a sense of community, but it encourages the idea of healthy living, Taussiah Boadi (10) said.
Cohn works with local farms and the specialty food company Baldor.
Chaka Wilson, who works for Baldor, described the company as the "to" in the phrase "farm to table."
"We serve as a middle-person, working with local farms in New York, New Jersey, and Pennsylvania, but also all over the country and the world," he said.
Wilson said he was "pleasantly surprised" by how knowledgeable the students were about some of the more unique items, and by how open-minded they were to trying new foods.
Gaither believes that this type of event is important for the school community to have every so often: "I was stressed before I came to the market, but now I have good food. I'm really happy," she said.999
"This is an event that brings so much joy to everyone," Cohn said. "The beginning of the school year is hectic, everyone's getting acclimated. The Farmer's Market is a reprieve from it all."