Avenging last year's loss to Dalton with a 7-0 win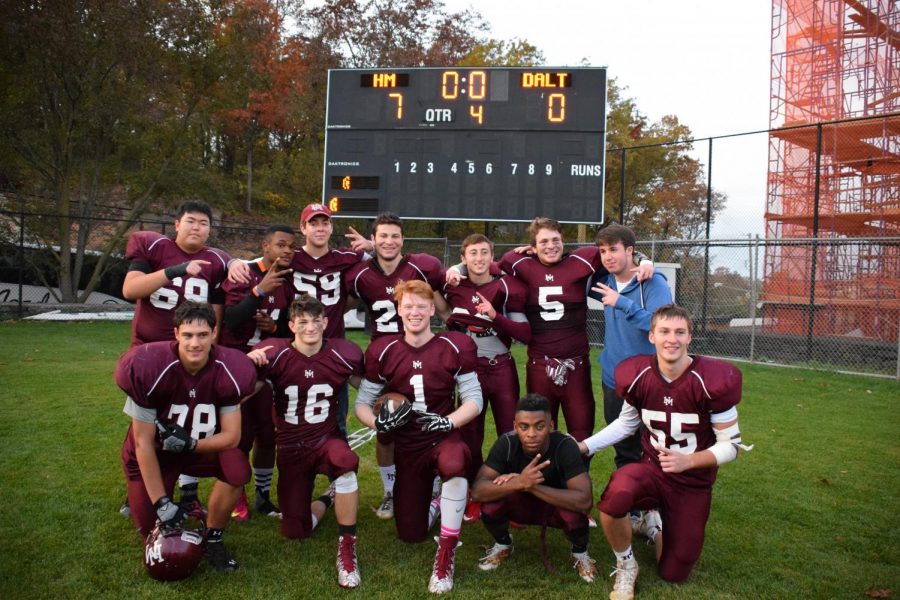 Connor Morris
November 10, 2017
On Saturday, Varsity Football capped an in-league undefeated season with a 7-0 win over Dalton in the championship. After an intense final game, tears flowed as the seniors rang the bell on Alumni Field for the last time.
The Lions had beaten Dalton the weekend before, but this week, Dalton came back with a new game plan on defense that presented more of a challenge for the Lions' offense. As it has all season, the team responded with stout defense, Russo said, shutting out an opponent who was previously undefeated in championship games.
Several players, including William He (12) and co-Captain Michael Sun-Huang (11), agreed that defense was the key to the game. "Our defense really did a great job as always, throughout this season our defense really has been one of our strong points," Sun-Huang (11) said.
In the past six games, and all the league games, the Lions' defense has allowed just one touchdown. Sun-Huang, who plays safety, had a monstrous five interceptions in the past three games, including one of the Lions' three picks Saturday along with ones from Ben Parker (12) and Charlie Silberstein (11).
On the other side of the ball, quarterback Marc Murphy (12) started the game, and rushed for the decisive touchdown in the end of the second quarter. In the second half, Brody McGuinn (11) filled in and performed well, according to co-Captain Teddy Keegan (12). "The best part about [Brody's stepping in] was that nobody questioned it, we were like 'Brody's in, he can step up,' and he did," Keegan said.
This was the matchup the Lions had been preparing for since losing to Dalton in the championship game last year by just two points on a decisive two-point conversion play at the end of the game. "That one play was my motivation. All offseason, that pushed me and everyone else that was on the field a lot harder," Keegan said. Since then, the team had prepared for this rematch throughout the preseason and with every game. "Our preparation for this game really began back in August at camp," McGuinn said. "I think Coach Russo and Coach Beller had an idea that our season was eventually going to come down to us versus Dalton, and they have been steering us that way all season."
The chance to avenge that loss only added to the emotion of the championship game. The players felt they were playing for their former teammates as well, Sun-Huang said. "Before every league game this year, I would always remember Conrad [Skala '17] looking at me crying after last year's loss and saying 'Lead this team like I couldn't,' and that always sticks with you, seeing the seniors last year not being able to win the championship, it was for us and them too," Sun-Huang said.
Another key difference this year was that the Lions had home-field advantage, with fans cheering loudly and bullhorns blaring for them. "They get us hyped up and help keep us that way, especially in a game where the outcome wasn't decided until the final play," McGuinn said. "Our fans helped us win that game, and I want to make sure that they know that."
This year, the Lions got to ring the victory bell on Alumni Field and all their emotions poured out. Football is self-proclaimed by its players as a family of brothers, one of the closest-knit HM sports teams. After Saturday's victory, that special team bond was evident: "I was full of emotions, it was very emotional for all the seniors, everyone was crying," Keegan said.
Even though he played just one year on the team, Charlie Wallach (12) was overcome by the moment. "I went in to football thinking it was kind of just a check off my bucket list and then by the end of the final whistle I was crying out of happiness honestly, out of the entire experience," Wallach said.
Saturday's victory was an emotional and triumphant finish for the seniors. "You're always gonna remember HM football, so it's nice to end the season on such a high note, ending with a 6-0 record, winning the championship," Keegan said.