Girls' Varsity Basketball loses to Maria Regina despite valiant effort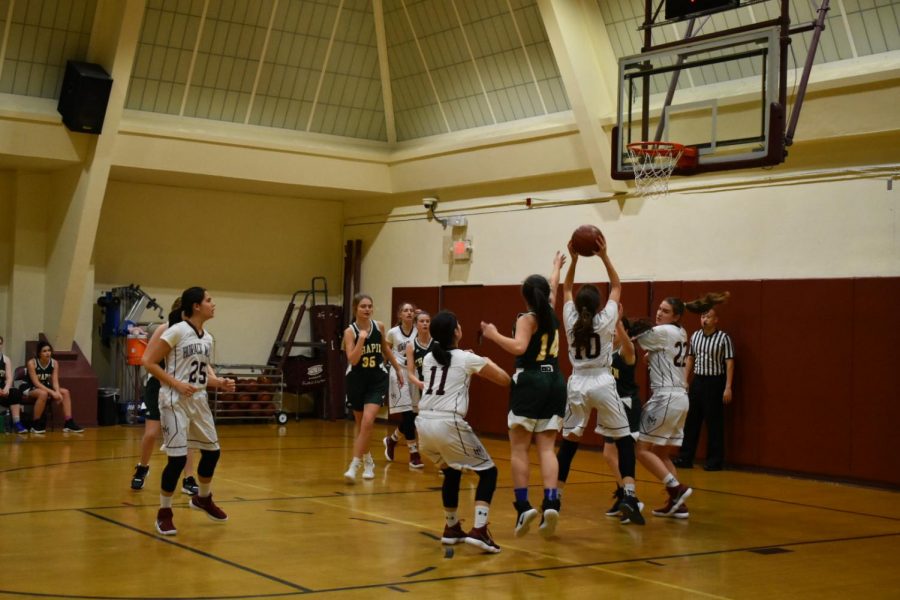 After winning three out of its four games, including a win in the Peg Duggan Tournament, the Girls' Varsity Basketball team is on track for a successful run in the Ivy League this season.
The Lions have played one scrimmage and four games so far, winning 55-14 against Berkeley Carroll and 62-25 against Inwood Academy in the earlier rounds of the Peg Duggan Tournament, and losing to Maria Regina in the finals, 46-54.
The team this year consists of nine players, which is small in comparison to the teams of the other Ivy League schools, Natalie Sweet (9) said.
Despite the team's small size, many players believe that the skills each member brings will lead them to a successful season. Each player's skill set comes from an understanding of the game that developed over years of practice, co-Captain Zaie Nursey (12) said.
Halley Robbins (10) acts as the main three point shooter. Ella Anthony (10) navigates the game well, adding her ball-handling and finishing to the team, Head Coach Ray Barile said.
Nursey can play in all five positions on the court, and alongside Olivia Kester (11), they dominate opposing players, Barile said.
Additionally, Anthony, Halley, and Julia Robbins (10) score many points for the team, each of them averaging about 200 points each during last year's season, Barile said.
Barile has also noticed the talent of this year's team. "I feel very confident. We are way ahead of where we were last year," Barile said. However, the team members will still have to work hard to become a championship-winning team, he said.
In his attempts to push the team, Barile runs physically demanding practices, enforcing conditioning and stamina through sprint repeats, Kester said. The nature of these exercises is different from last year, when the girls were mainly learning the plays and focusing less on conditioning, she said.
The girls practice everyday, so they have plenty of time to bond, which helps them play better as a unit, Kester said.
"The team is really welcoming, especially to Natalie and I. They seem much more like family than the previous teams I played on," Vivien Sweet (9) said.
"We are going to be really good this year, and I encourage everyone to come to our games and cheer us on because they are going to be exciting, fast-paced, and hopefully we will win," Nursey said. The team's next game is on Monday against Dalton at home.