Renowned historian speaks at assembly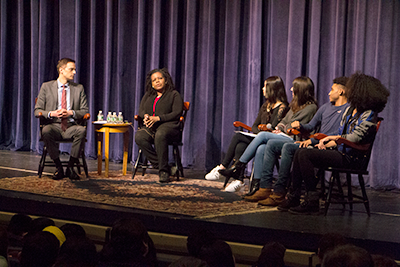 This past Tuesday, Charles Warren Professor of American Legal History at Harvard University and Pulitzer Prize winner Dr. Annette Gordon-Reed answered student and faculty questions in a moderated, interactive assembly. The following period, Dr. Gordon-Reed spoke in further detail during a catered lunch in History Department Chair Dr. Daniel Link's AP US History class.
Gordon-Reed has earned the National Humanities Medal, published essays and articles for publications such as The New York Times, and written six books, including The Hemingses of Monticello: An American Family, for which she won the Pulitzer Prize in history.
The assembly featured a moderated Q&A format, in which four students posed questions to Gordon-Reed. Link moderated the panel, while Comparative Race and Ethnicity students Emily Yu (11), Kyle Gaillard (11), Elizabeth Raab (12), and Yasmin McLamb (11) asked Gordon-Reed one questions on the panel. Students in the class have all read Dr. Gordon-Reed's book, The Hemingses of Monticello: An American Family.
McLamb asked Gordon-Reed how her research on Thomas Jefferson has shaped her view on Charlottesville. "It's really interesting because it's not something that most people cover, and the narrative for Jefferson by historians is really just one-sided," McLamb said. "I was really curious as to why she wanted to bridge that gap and break the binary," she said.
McLamb described speaking to an author whose works she'd analyzed in class to be an "out-of-body experience," since doing reading for homework is very different than speaking to the author in person. "You don't normally put a face to the topic, you read about it to learn the historical information," McLamb said.
In response, Gordon-Reed discussed the South's history of racism and how it has not been properly dealt with, which causes people to stand around Jefferson and claim him as what America should be.
Jefferson made disparaging remarks towards African Americans, but also signed the Declaration of Independence and advocated against slavery, which makes him the quintessential "American dilemma," Gordon-Reed said.   
Yu found speaking to an author whose works she read in class to be fascinating, she said. "I just think she's a really great historian," Yu said. "She has a huge range of things she's interested in and writes about."
History teacher Barry Bienstock hoped that students would be able to learn from Gordon-Reed's wide range of knowledge, both in terms of history and law, which she could apply to any discussion about race or gender, he said. "I would certainly be very happy if more students read her books," Bienstock said.
The interactive format of the assembly helped keep everyone engaged, Diana Shaari (10) said.
Ella Anthony (10) also found the assembly to be very informative. "I could tell Dr. Gordon-Reed was very passionate about her writing because of how informed her answers were," Anthony said.