Flash fiction writer and translator Lydia Davis visits school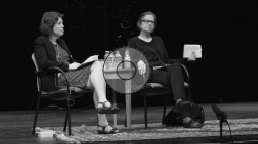 Hang on for a minute...we're trying to find some more stories you might like.
Renowned writer and translator Lydia Davis spoke to students and faculty last Tuesday about her work with language and flash fiction.
Davis, the recipient of accolades such as the 2013 Man Booker International Prize and the 2013 Philolexian Society Award for Distinguished Literary Achievement, is "a crafter of this new genre which some people have defined as flash fiction," English teacher Dr. Deborah Kassel said.
Davis discussed how she began both her translating and writing careers and acquired her affinity for learning languages. She also read aloud several of her short stories ranging from several lines to multiple paragraphs in length, such as "Circular Story", "The Dog Hair", and "A Story of Stolen Salamis."
"She's very capable of provoking thought with very little words, which is what I think makes her so special," Peter Chi (10) said. Davis' works included clever word play, political commentary, and a dissection of human thought, he said.
Kassel organized the event and has been in communication with Davis for the past two years to schedule a potential visit, she said. Kassel connected with the writer through Visual Arts Department Chair Mr. Kim Do, whose wife has worked with Davis, she said.
It is not often that students are able to hear somebody so distinguished in their field talk about their work process, so that was one of the appeals of having Davis come to the school, Head of the English Department Vernon Wilson said.
To prepare for Davis' visit, English teachers were encouraged to share her stories with students, Kassel said.
Each teacher who talked to their students about Davis's work presented her material in different ways during class, Wilson said. It was important for students to have some familiarity with her work before hearing her speak, he said.
English teacher Dr. Wendy Steiner's students really enjoyed reading Davis' short stories in class, she said. Steiner talked with her class about components of short stories in general and discussed whether these components are apparent in Davis's stories, she said.
"Having her there to read her poems and stories changed how I thought of some of her poems because she read them differently from how I had on my own," Benjamin Spector (12) said.
A unique aspect of Davis' work is that she writes in a style that combines components of prose and poetry, Andrew Cassino (10) said. "It certainly takes a talent to be able to express something in just a few lines that can spark so much discussion and lead to many different interpretations," he said.
"Her short stories are characterized by a kind of comic cynicism that encompass the universal and the particular with which so many of us struggle as citizens of the 21st century," Kassel said.
Davis' writing is not difficult to understand linguistically but challenges readers to understand what is going on in between sentences and to understand what makes the piece of writing a story, Wilson said.
"Since I also take French, I appreciated the multidisciplinary nature of the lecture," Evan Frommer (12) said. "I enjoyed hearing her discuss the connections she's found between the languages she's learned, which has enabled her to understand the roots of the English language."
It was interesting to hear Davis share her journey of becoming a writer, Priyanka Voruganti (10) said. Watching how Davis carried herself and being able to see her mannerisms revealed a lot about how Davis sees the world, she said.
Wilson hopes that from the visit, students gained an interest in Davis' works and might start reading more varied styles of writing, he said.
"She is the master of a genre that transcends categorization–not exactly poetry, not exactly prose, perhaps we could call it a "pro-em" or "pro-etry,"  the new voice of the 21st century," Kassel said.