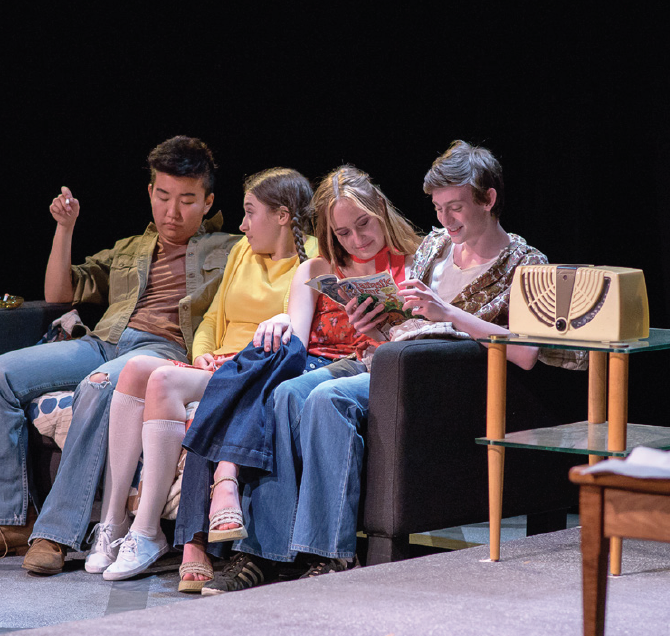 From Rappaccini Variations in the fall to Pippin in the spring and student choreographed dances throughout the year, both the Horace Mann Theatre Company (HMTC) and the Horace Mann Dance Company (HMDC) have had a year filled with diverse opportunities for students to get involved in performances. 
While both companies are distinct, many of the members overlap, Theatre, Dance & Film Studies Department Chair Alison Kolinski said. 
The theatre company has produced a variety of major shows this year. This includes the student written one acts, by the playwriting and production class, which HMTC co-President Rebecca Salzhauer really loved because it brings student work to the stage, she said. 
"The students who are involved in all the backstage work are often times then used in many other capacities for Gross Theatre because they've developed this skill-set that is very much needed. Our crew gets involved in assemblies and they run Middle Division shows as well," Theater Arts Teacher Alexis Dahl said. 
"Even though we have many advisors and teachers, there is that student-run aspect of it," HMTC co-president Benjamin Rosenbaum (11) said. 
Members of the HMDC can choreograph and dance in pieces. "The HMDC is an environment in which people are really able to participate in dance in any sort of way," HMDC co-president Lauren Smith (12) said. 
Once every four years, there is a faculty dance concert and for the other three years, there is a student choreographed dance concert. This year was the student choreographed dance concert. Members of the HMDC also performed during Homecoming, Buzzell, and various assemblies this year, Smith said. 
A typical rehearsal day or practice consists of a group warm up, a work list from the director, and then actually starting to rehearse, Dahl said. 
In preparation for their shows, members of the HMTC rehearse on Mondays, Wednesdays, and Fridays after school. Before they start their scene work, they do fun warm ups that include playing games and bonding, Rosenbaum said. 
Yana Gitelman (9), who has been dancing for most of her life, just joined the HMDC this year. 
"HMDC is where I've made some of my closest friends," Gitelman said. "Most of the members are upperclassmen, which has helped my transition to high school with less pressure on joining clubs since I knew this was what I wanted to be a part of," Gitelman said. 
The HMTC allowed Rosenbaum to express his true self and explore his artistic side, he said. 
Student voices played an important role in this particular season. Student's voices were heard through the plays they wrote and the discussions they had about performances, Dahl said. 
After the shooting that ocurred at a concert in Las Vegas this year, Salzhauer and Rosenbaum decided to prepare a staged reading of "Bang Bang You're Dead," Salzhauer said. 
In honor of "V-day" and speaking out against the abuse of women, there was a staged reading of "A Memory, A Monologue, A Rant, A Prayer" from the Vagina Monologues, Dahl said. 
Besides performances held at school, HMDC had numerous field trips where the company bonds and gets together, Kolinski said. 
"For MLK weekend, the company went to Dorr to work on choreography for the Student Choreographed Dance Concert," Kolinski said. 
During the Dorr trip, the HMDC members danced all day and watched dance related movies with no pressure, Kolinski said. In May, the company also saw "Carousel "at Lincoln Center for yet another chance to bond and become closer, she said. 
"Something that we are trying to start is a service learning component to the theatre and dance clubs on campus. I would love to see us bringing our knowledge and experience with theatre as well as the resources that we are lucky enough to have to people who might not have exposure to them," Salzhauer said. 
"Similarly to HMTC, in the future for HMDC, we hope to incorporate a service learning project where we would be able to perform for different kinds of groups and teach dance to other kids in the community, expanding HMDC outside of HM," Smith said. 
This year was unique because the HMTC reached out to the school community as a whole more frequently and tried to provide more opportunities for people to participate in the performances by spreading information about auditions and staged readings, Rosenbaum said. The company plans to do this in the future, he said.