One year in: the athletic attendance policy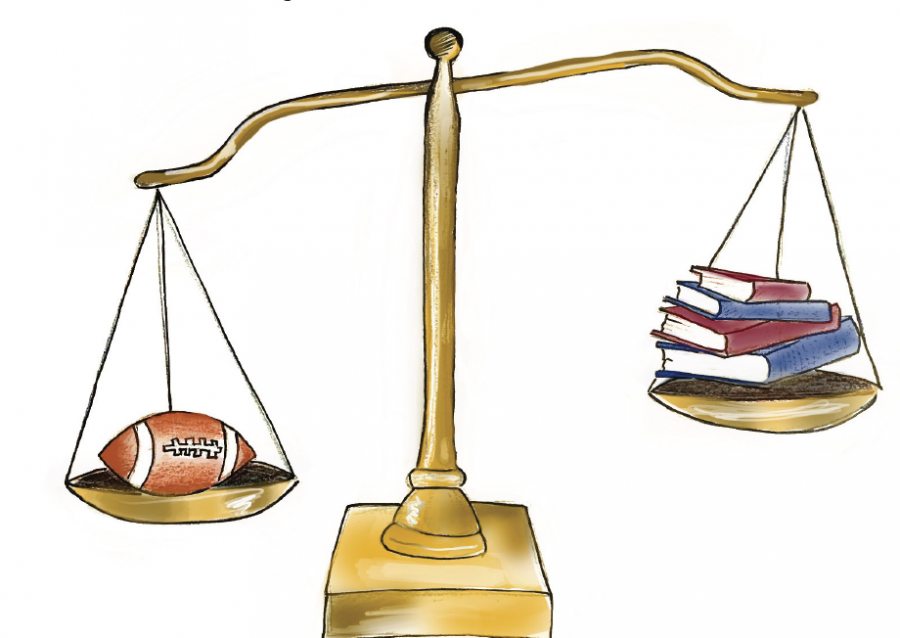 Lynne Sipprelle, Staff Writer
June 5, 2018
After one year, the athletic attendance policy remains a controversial topic among students and a source of debate for members of the Athletic Department. 
"The policy was originally created to address what we thought was a significant number of absences that we were seeing at the practice and contest level for athletes," Director of Athletics, Health & Physical Education Robert Annunziata said. 
According to Head of the Upper Division Dr. Jessica Levenstein, "the administration supports holding students accountable for the obligations they take on, particularly when their participation has an impact on their fellow students." 
"As a general idea, I appreciated Horace Mann cracking down and saying, 'We're taking sports more seriously,'" Kyra Kwok (11) said. 
Many students were more critical of the policy. "The policy makes students have to go through leaps and bounds to attend the athletic events and practices," Joshua Doolan (12) said. 
"
As a general idea, I appreciated Horace Mann cracking down and saying, 'We're taking sports more seriously."
— Kyra Kwok (11)
Levenstein is aware of student concerns about the policy. "Given that students are pulled in many directions, I understand that there are times when they need to make a decision to prioritize one obligation over another," Levenstein said. 
Student athletes saw mixed results from the policy in terms of attendance. 
Elizabeth Raab (12) believes that attendance at Girls Varsity Tennis practices improved; they had more time to practice together and bond, she said. 
However, Girls Softball and Girls Volleyball never had attendance issues to begin with so their practices were not affected, Kwok said. 
Boys Cross Country also never had attendance issues, so the only effect was increased stress about missing practice, Doolan said. 
As the Athletic Department never collected all the information on each team's attendance before this year, they cannot compare this year's attendance to attendance in years past, Annunziata said.
The athletic attendance policy was originally built to mirror the academic attendance policy, Annunziata said. 
"To me, athletics are just as important as the classroom because they teach you how to work hard and be committed, showing up when you have to show up," Fall Associate Athletic Director Rawlins Troop said. 
"Our feeling is at the athletic level, no absence is really acceptable except the one that the student athlete communicates with the coach about," Annunziata said. 
"They're stricter with sports teams than they are with actual academic classes," Jordan Kinard (12) said. 
The policy puts pressure on sick students to come to school just for sports practice, worsening the school culture and potentially creating more need for the sick days in both of the past two years, Doolan said. 
Eunice Bae (11) thinks it makes student athletes consider their commitment to their teams more seriously because of the tougher consequences for missing practices or games, she said. 
Alternatively, it can discourage students from participating in sports because the time commitment is exaggerated by the new policy, Kinard said. 
For example, Raab was discouraged from going to Debate tournaments. 
"Having such a strict attendance policy may dissuade students from discovering new extracurriculars, and I think high school should be a time to explore many different interests," Raab said. 
After being on the Track team for four years, Arjun Voruganti (12) was kicked off the team near the end of the season, he said. He had prioritized his last Model Congress conference over the team, he said. 
James Chang (12), who also does Model Congress with Voruganti, quit the Track team before winter break because he was unable to resolve the conflicts created by Model Congress conferences, Voruganti said. 
For Helena Yang (9), the policy limited how many Debate tournaments she could attend because either she had to fence or her partner had to attend Girls Varsity Basketball practice, she said.
The attendance policy makes the spring particularly difficult for seniors because of frequent field trips and college visits, Doolan said. "While at first each one of these seems small and is perfectly excused by the Upper Division office, from the perspective of the athletic department each one of these would have required them to take action." 
85 students missed practices in the spring this year, Spring Associate Athletic Director Ray Barile said. Out of the 85, 30 students missed three or more practices, he said. 
Student athletes disagreed about whether the new attendance policy improved their respective teams or not. 
Yang believes that the policy helps to make teams fairer at school, she said. In the past, some fencing team members missed lots of practices but were still made captains, which wasn't fair to fencers who worked harder, she said. 
However, Bae thinks the attendance policy makes suspending athletes easier, which hurts the team more, she said. 
Since Voruganti specialized in the 600 meter on the Track Team, an uncommon event, it was difficult for the team to find anyone to fill his spot after he left, he said. 
The swim team was also affected because many out-of-school swimmers could not attend both school and club practices and were suspended from meets, Malka Krijestorac (11) said. 
These outside-of-school swimmers normally contribute a great deal to the team at meets, Swim Team Coach Michael Duffy said. 
Colin Mark (11), who swims outside of school, had to attend five practices on the school swim team in addition to seven outside of school practices each week of the winter season, he said. 
"One sport we looked at closely was the swim team," Annunziata said "They had disproportionate commitment expectations compared to all the other teams." 
Students' varied reactions to the policy are also due to the fact that coaches on different teams enforced the athletic attendance policy to lesser or greater extents. 
"For softball, if you miss a game without having let Barile know really far in advance, then you miss the next game and have to sit on the bench," Bae said. 
However, on the much larger fencing team, coaches were more lenient and more athletes missed practice, Bae said. Missing meets, however, did decrease an athlete's likelihood of starting at the next meet, she said. 
Since Girls Volleyball has an out-of-school coach, the attendance policy was not really enforced, Kwok said. 
In contrast, Girls' Varsity Field Hockey followed the policy strictly; missing a practice meant not playing in the next meet, Krijestorac said. 
Ultimately the attendance policy created more communication between student athletes, coaches, and the associate athletic directors, which was a positive outcome, Annunziata said. 
Kwok believes team coaches still have significant control over team management because they decide the consequences athletes receive, she said. 
Doolan believes that some coaches were frustrated by the new system. "I know that for some of the coaches it could feel a bit overreaching that the control of their sports and how they manage their teams was being taken away from them and placed into the hands of members of the Athletics Department who were not members of their teams," Doolan said. 
On the swim team especially, Mark believes coaches were discouraged with their lack of control. "They tried to do what they could overall to work with it, but it was just a frustrating experience," he said. 
Krijestorac hopes that the Athletic Department will return to the old attendance policy next year, she said. "I feel like it drags you down so much, and it is just not that reasonable," she said.
There will probably be a simplified attendance system that creates less paperwork in the future, Barile said. 
There should be different consequences for excused and unexcused absences, and students excused from school should also be excused from practice, Doolan said. 
The policy will be re-examined based on the feedback the Athletic Department receives, Annunziata said.