Girls Soccer — End of Year Recap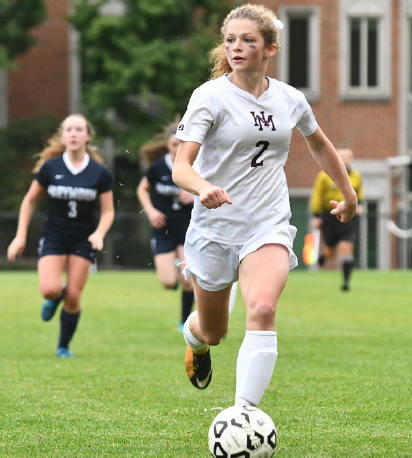 This year, the Girls' Varsity Soccer team won the Ivy League Championship for the third year in a row and finished with a winning record of 11 wins and three losses. 
After losing six seniors last year, the Lions were able to "bounce back" and succeed again, Kiara Royer (10) said. 
The teams' most exciting accomplishment was winning the Ivy League Championship after beating Riverdale, co-Captain Maya Scholnick (12) said. 
At the New York State Association of Independent Schools (NYSAIS) tournament, the team won the quarterfinals game against Marymount in overtime, which was significant because the team lost to Marymount in the NYSAIS tournament the year before, Royer said. 
All of the members of the team were motivated to win, Scholnick said. "We all had a really big passion for the game and an energy to beat every team," she said. 
The seniors worked together to run practices and lead the team, Royer said. 
"There wasn't just one star player. We really all thrived off our team dynamic…that's what made this season really unique to others," Frankel said. 
Since 10 members of the team this year were seniors, the lineup next year for Girls Varsity Soccer will be completely different, Becker said. 
"We're confident that the juniors and seniors next year will step up and continue the legacy of GVS, even if that doesn't mean winning," Frankel said.