Students discuss Refugee with senior citizens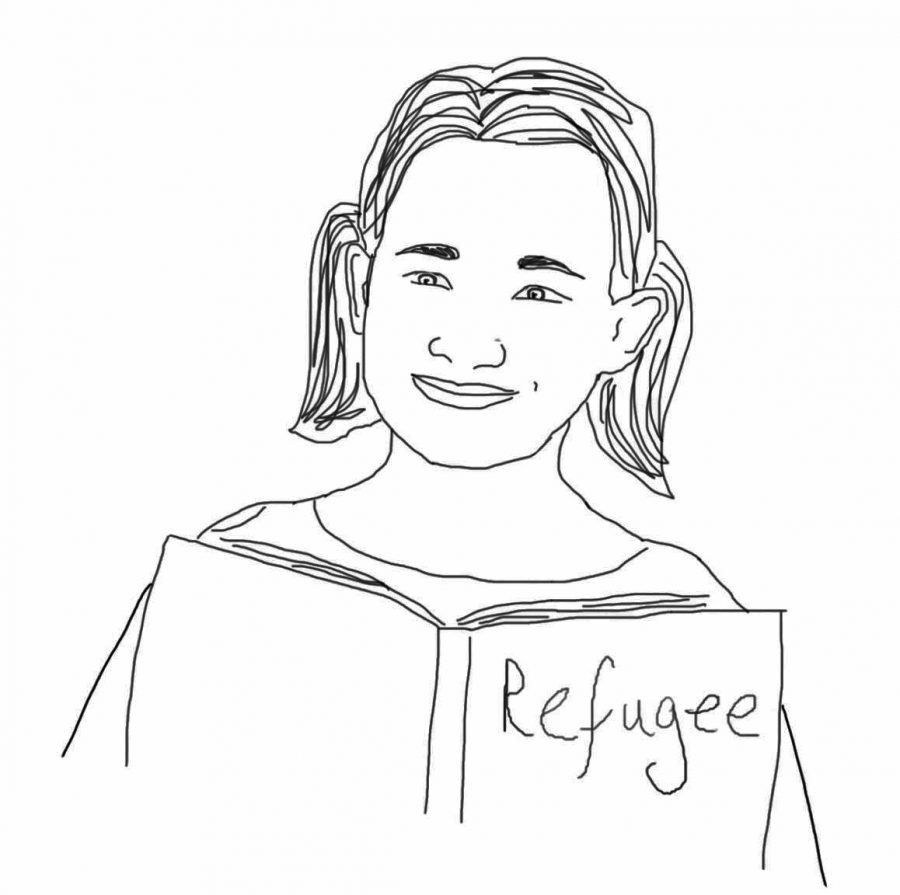 Last Wednesday, Middle Division (MD) Service Learning Coordinator Caitlin Hickerson offered eighth graders the opportunity to discuss the book Refugee by Alan Gratz with residents from the Bronx Jewish Community Center (BJCC).
Although the trip was optional, the seven eighth graders that attended fulfilled their off-campus service learning requirement.
Hickerson found Refugee "wonderfully constructed, incredibly moving, and totally age appropriate," and "hoped the trip to the BJCC could provide a chance to talk about personal stories of migration across generations," she said.
When the eighth graders arrived, they met four of the residents of the BJCC, all of whom were senior citizens. "We all sat down together to discuss the book, the writing, and each person's personal reflection," Louise Kim (8) said.
Kim thought it was fascinating to talk about the connections between Refugee and current events, such as the Syrian Civil War and improper media coverage of refugees and immigrants, she said."I found it really interesting to hear the ideas of people that have such a different perspective than I do."
Sylvie Seo (8), who also went on the trip, was enthusiastic about spending time with others who relate to Refugee differently, she said. Before going, she anticipated "a very stimulating conversation" and was not disappointed, she said.
Each resident shared where their families BJCC were from, and told stories that connected to Refugee, Seo said.
"We also discussed the most frightening scenes, our favorite parts of the book, symbolism, and other characteristics that make the book so special," Avi Kumar (8) said.
The HM Newbury Committee, led by librarian Rachael Ricker, had selected Refugee previously for the entire MD to read. Every year, the committee, comprised of sixth, seventh, and eighth graders, works on finding one book they think the entire division would enjoy. They begin with a list of upwards of 30 books and slowly narrow the list down.
"Refugee was so good, most of us knew it would win,"  Kimsaid. "The storyline was intriguing and intense, the plot twists were unexpected, and the ending was phenomenal."
The book intertwines three stories, all centered around escape: Josef, a Jewish boy living in 1930s Nazi Germany, Isabel, a Cuban girl in 1994, and Mahmoud, a Syrian boy in 2015.
"I've never seen a book resonate so well with sixth, seventh, and eighth graders," Ricker said. "It truly offered something for everyone," she said.
"No one really knows what it's like to be a refugee except for refugees themselves, so this book helps us learn and understand all they've been through," Seo said.
On September 20th, the author of Refugee, Alan Gratz, visited a C period assembly and hosted a Q&A with the Newbery Committee.
Kim thought Gratz's assembly was especially creative and original, she said. "It was similar to that of a 'Choose Your Own Adventure' type story; the audience was able to choose their own path with a raise of hands," she said.
"I thought it was really interesting the way Alan Gratz wrote Refugee, and as a writer myself I appreciate how much time, effort and research he put into one book. He is truly an inspiration to all readers and writers," she said.