The apple doesn't fall far from the teacher's desk: Teacher-student families
While most students think of school as a time away from home, students whose parents work at the school share a different experience. "Although there might be a whole taboo about my mom teaching at school, I find the situation bettering my relationship with her," said Sadie Hill (10), youngest daughter of Middle Division Science Department Chair and science teacher Jodi Hill.
The traditional parent-child dynamic is different for teachers whose students attend the school as well. "Having a child with you while working at HM is a gift! That said, it does require two or more members of the family feeling comfortable with home-life and work-life being somewhat integrated!" Head of School Dr. Tom Kelly, father of Emma Kelly '18 wrote in an email.
"There are definitely more perks than bad things for having a parent at school," said Sadie Hill (10), Middle Division Science Department Chair and teacher Jodi Hill's youngest daughter.
When Jackson Feigin (10) was younger he felt a little weird having his mom, Dean of the Class of 2020 and science teacher Stephanie Feigin, work at school, but as he matured it became convenient having her there, he said.
"He often keeps his bags in my office, and comes to my office for snacks. I also come in handy when he needs money to buy something at the bake sale," Stephanie Feigin said.
Now, however, Jackson thinks the situation is quite funny, and he often makes jokes about it. "Once I saw her in the hallway, and I said 'Sup Homie' as a joke trying to embarrass her," he said.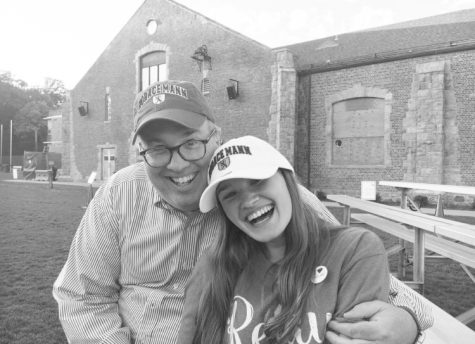 Emma Kelly

"Running into dad in the hallways is always fun," Emma Kelly '18 said. "I would give him a smile and a nod, and occasionally a hug. As I got older, I would sometimes stop to update him about my day."
"Rarely did a day go by when we wouldn't see each other, but I tried to give her privacy," Dr. Kelly wrote. "There was that one time when Emma texted me not to come down a certain hallway she was hanging out in with her friends!"
Middle Division history teacher Catherine Garrison '01, daughter of Upper Division Tutoring Center Director Lionel Garrison, would always became embarrassed and annoyed when he was on cafeteria duty, because she did not want him to go up to her friends and ask them to put their trays away, Lionel Garrison said.
Kelly Troop (10), daughter of Physical Education teacher and coach Rawlins Troop, said her father gives her the right amount of space, but is also there for her whenever she wants to talk.
"Knowing my dad is just across the field from me is very nice," Kelly said.
"Sending my five kids to the school is the best decision I ever made," Coach Troop said. "Not a lot of fathers can get to know their kids so well."
Coach Troop recalled one moment years ago when his son Max Troop '07 was in middle school. Max broke his arm swinging on a pipe, came out of the locker room with a broken arm, and walked right into his father, he said.
"I always knew what was going on," Coach Troop said.
Grace Hill ('18), Ms. Hill's eldest daughter, also liked having her mother around for middle and high school. "I left my clarinet under her desk, so when I had band I would visit her in her office and talk about my day," she said.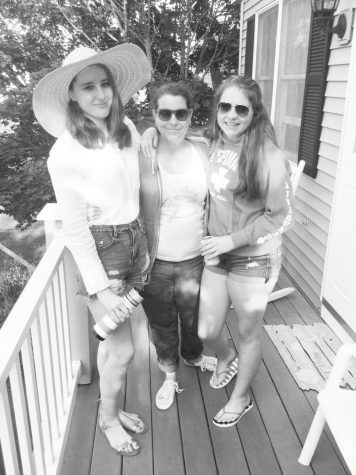 Grace Hill
Now in college, Grace said she misses having her mother around, and also misses the lifelong connections she has had with teachers ever since she was a baby.
"I am a lifer," she said. "The school, the faculties, and my mom were my biggest support."
Emma is also a "lifer." When she was young, Dr. Kelly taught her how to ride a bike through the halls of Tillinghast. Another time, when she explored the roof of Tillinghast, Dr. Kelly had one of the school's Public Safety Officers escort them home so they would know what it would feel like if they ever did it again, he said.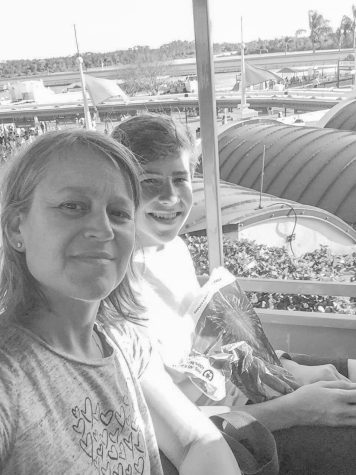 Jackson Feigin
While Dean Feigin feels teaching at the school allows her to support her son, she can also "give him the right amount of space to thrive," she said.  Because the school is big enough, they rarely see each other. She chooses not to teach Jackson's grade, and if he gets in trouble or has any issues, he can talk to his dean or advisor, she said.
Coach Troop also tries to stay out of his kids' business.
"I only got involved in things if a teacher approached me, or if they needed me," he said, "but everybody always looked out for them. It was like their second home."
Working at the school also makes it "more convenient for after school activities as well," Dean Feigin said. "Because I go to the same school as my kids, I am able to go to all of Jackson's soccer games."
"I am able to be a little more involved in their lives," Dr. Garrison said of Catherine and his son, Registrar Chris Garrison. "I went to their plays, and I would visit them in the lower school and play chess with them."
"Selfishly," Dean Feigin said, "I cherish the times with my kids in the car and these small chunks of time made possible because my kids go to the same school as me."