Family relations during the college process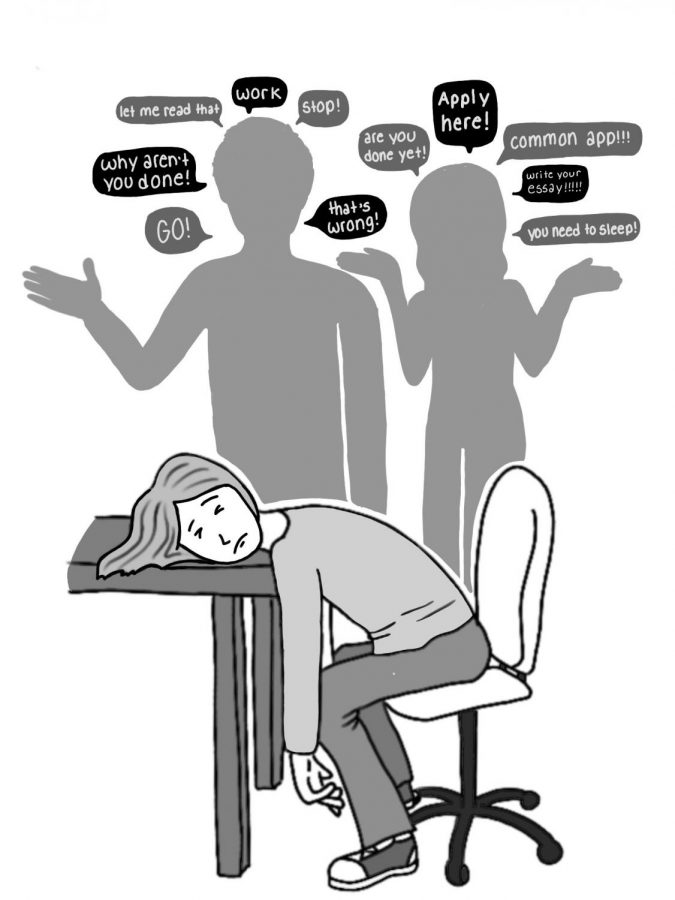 As the deadline for early applications rapidly approaches, members of the school community reflect on how students handle stress and on family dynamics throughout the college process.
Student-Parent Relationships
Applying to college is a stressful process for many, and parents can potentially contribute to or alleviate students' anxiety.
For Allen Park (12), the college process has not significantly altered his relationship with his parents, he said. Although the process has definitely given him more to handle, both Park and his parents still act the same way toward each other, he said.
"I feel just as if this were a normal school year, maybe with just a little more frenzy," Park said.
Similarly, Elizabeth Fortunato's (12) relationship with her family remains relatively unchanged due to the college process this year. Her family has talked about college, but has never forced the topic, she said.
"It feels like parents are stepping in less than they have in the past. I know that people have said otherwise, but I feel that this class has been pretty calm," Chair of the Library Department Caroline Bartels said.
Some students, such as Hannah Long (12) and Craig Murray (12), however, believe that the process has affected their family relationships, with many more conversations about college taking place in the household.
"I'm very lucky to be close with very supportive parents, and I'm glad to say that the process has not significantly changed my relationship with them," Long said. "The only significant difference is that we have a lot more discussions."
Since the beginning of the school year, Murray has had numerous conversations about college with his parents, he said.
"The conversations unfortunately lead to heated debates sometimes," Murray said. "Sometimes I stay late at school to organize my thoughts before going home to have such conversations."
Philip Shen (12) also felt that his parents have added to the amount of pressure he has experienced during the process. "My parents are the type of parents who were very hands-off in a lot of school stuff, but for college they've suddenly become very hands-on, so that's been a change," he said. "They've been helpful, but they've definitely created a lot of pressure."
On the other hand, Jeren Wei (12) has always felt like he has had "very involved parents, specifically my mom," which he believes stems from his parents' "Confucian ideals," but it has only increased through the college process.
Something that creates a lot of stress for Wei is that his mother drives him to and from school every day, and "with every opportunity we have to speak with each other, college comes up as a topic of conversation," he said. "In the morning, she'll ask about my supplements– how many I've written, how many more I have left, and so on. And at night, she asks how much progress I've made since that morning, or if I'm writing at that moment. She's the one who's really trying to push me to make deadlines."
While Wei says he appreciates the gesture, "super involved parents make the process a lot more stressful than it should be," he said.
Executive Director of College Counseling Canh Oxelson believes that the college process can bring a family closer together. "Thinking and talking about hopes, dreams, and shared values can be a wonderfully fulfilling experience for any family," he said. "Having said that, while the student is actually in the process of applying, there can also be stresses on family relationships."
Parental participation in the college process also becomes more apparent in senior year, Long said. Long shares all of the details of the process with her parents and appreciates their feedback.
"The discussions may sometimes get heated, but in the end, they are nothing but helpful, as my parents know me so well. I would consult them for every decision I make," Long said.
Eva Fortunato (12), Elizabeth's twin sister, thinks her parents are easy to talk to because they are very supportive of what she wants. "Even if I'm not making a decision that they think is correct, they'll aid me in a way to think about it differently than I usually would. They are not necessarily trying to change my opinion about anything, but they are trying to encourage me to think about it in different ways," she said.
Murray, although appreciative of how his parents are not micromanaging, finds it interruptive when his parents ask him random questions about the process, he said.
"They would sometimes ask college related questions out of nowhere, even when I am concentrated on my piano lessons or homework," Murray said.
Nicole Warszawski's (12) parents have been supportive of her and respect her decisions during this process, she said. "Since my mom grew up in Brazil, she doesn't really know much about the American college process, but she tries to help in any way she can by supporting me and making me many, many coffees," Warszawski said.
Amanda Salzhauer P '18, '20, '23 believes that her role as a parent in the process is to help her children by supporting them and making sure they have everything under control. Salzhauer has already gone through the process with her oldest daughter, Rebecca Salzhauer '18, and has developed a sense of how she can help out her children during this stressful time, she said.
"I tried to help with planning college visits, brainstorming essay ideas, providing demographic information for applications, among other things. I also tried to make sure that my daughter was staying on top of her applications and finishing things on schedule," Salzhauer said.
Veronica Oh P '17, '21 was very fortunate in that she and her daughter, Sarafina Oh '17, had a very open relationship, she said. Oh believes her role was to be there for her daughter and help her with whatever she needed, whether it be feedback on her essays, or just emotional support, she said.
Long and her parents have very similar viewpoints and desires about college, she said. "While there's not much to disagree on, there is a disagreement when both sides try to persuade the other with a strong logical argument. Yet in the end, my parents would still respect my decision the most," she said.
Murray also shares similar opinions with his parents regarding the process, but he and his parents have very different ways of navigating through it, he said. "My parents' stance is that they've already been through the college process, and that they know what's best, but that kind of mindset sometimes neglects my needs, and how comfortable I am with their decisions," he said.
When Expectations Differ
Parul Sharma '18 initially had differing opinions with her parents, she said. "My parents were initially apprehensive about my choice, but at the end of the day, they recognized it all worked out," she said.
When the interests of the parents and students differ, college counselors try to help students understand the perspective of their parents and vice versa, Oxelson said. Counselors try not to take sides, but do encourage students to take the lead on decision making and help parents understand why that is so important, he said. The College Counseling office requires two student meetings for this very reason, he said.
When Wei made his initial college list at the end of junior year, his mom was very unhappy with it, thinking he was "aiming too low," even though he believes he is a person with very high expectations for himself, he said.
"I think she just believes that I have gone to HM for almost seven years and worked so hard, so putting it all to waste is really disappointing. My mom has sacrificed so much for the sake of my education and my brothers' education, and she feels that I should work hard not only for myself,  but for whatever expectation there may be," Wei said.
"I'm very strong-willed and my parents know that. We try to communicate in order to understand each other's opinions, but ultimately it's my decision and my process," Warszawski said.
Andre Dang's (12) parents have largely given him his independence. "At the first college counseling workshop," he said, "they tell you to apply where you want to go, not where you can or should go. I think this gets through to the students more than parents– parents care more about ranking than students– but for my family, it hasn't been a huge thing."
Rishi Krishnan '17 believes that although his parents were definitely involved in the process, they mostly let him make his own decisions with his counselor.
"They were always there to help and guide me in any step of the process, but they were never involved in an overbearing way," Krishnan said.
Elizabeth's parents have never forced their opinions or expectations; they only look for what is best and realistic for her, she said. "My parents have inspired a lot of the passions that I have, but they have always wanted me to do something I am happy doing. They've never forced the choice of applying to the school."
Some households would even establish rules concerning conversations revolving around colleges. Sharma and her parents tried to make a rule of talking about college only once a week, especially after she had finished her early application, she said.
"Sometimes, when I come home, I tell my parents that I'm not having a great day and don't want to talk about college today, and they respect that," Warszawski said.
Although Long's household does not have a written rule, Long believes there is an unintentional and unspoken rule of talking about college at least once a day, every day, she said. "As an only child, all the focus right now is on my college process. I think it's only natural that it takes up the majority of our conversations," she said.
Eva doesn't mind talking about college with her family at home, she said. "It's a very open topic in my house. I don't think any restrictions need to be put on speaking about my future," she said.
Although Salzhauer does not have formal rules in her household, she does try to keep the stress to a minimum; when talking to extended family, saying something like "we're not going to talk about applications" when relatives asked questions about the college process was helpful, she said.
Likewise, Oh did not have a formal set of rules in her household, but she recognized that at times conversations about the process could be overwhelming. "When my daughter told us to back off or not to look at whatever she's doing, I would respect what she had to say and give her some time by herself," she said.
Sibling Dynamics
Having siblings go through the process can set the stage for how students handle their applications.
For Elizabeth Fortunato, her sister has been a great person to talk to because of how close the two siblings are. "I'm happy that I have a person so close to me that is going through this all at the exact same time as me because sometimes I need someone to rant with and get stuff off my chest, and I have Eva there," she said. "It's different from talking to a friend about it because it's nice to have someone there who knows me on such a personal level. I think it makes it a little bit easier to deal with everything, knowing that I have someone who is always there to reach out to."
Eva has not only turned to Elizabeth for support, but she has also found that her older brother, Thomas Fortunato '15, gives helpful advice. "My brother, who is already in college, has been really supportive and gracious. He has been giving help and an overview of how the process went for him. He's very encouraging and he tells me that it's going to be okay wherever I end up," Eva said.
Philip and his twin brother David Shen (12) are also very involved in each others' processes, Philip said. Since they are applying to most of the same schools, they have been helping each other out in editing essays and supplements, he said. However, there are times when they realize they are writing very similar answers to supplements, he said, so they must be intentional in avoiding writing the same thing.
Unlike the Fortunatos and Shens, Audrey Yu (12) does not have detailed discussions about her application with her twin sister Emily Yu (12). "We don't really talk about the colleges we are applying to. We don't go into detail about what we are writing on our applications; we haven't read each other's supplements or essays," she said.
Although some other students do share their writing, Audrey and Emily do not because "we feel it's private and we're two different people," Audrey said.
"I think now that I have gone through the process with one child, I know that I don't want talk about the college process to dominate the conversation at home–which can easily happen. Every child is different though, so what was helpful for one child may not be for another," Salzhauer said.
Bartels always tells kids that their college experience is completely different from their sibling's experience. "You not only are a different person but you're in a class with different people who may bring totally different things to the table," she said.
Reflecting on the college process one year later, Lisa Shi '18 imparted words of wisdom to seniors. "Don't forget that this is your last year of high school. Enjoy it! It's easy to get caught up in all of the drama, but it almost always works out in the end, and the last thing you want is to be graduating and to realize you've missed out on so much because of the college process," Shi said.