Advanced ensembles showcase their skills in evening performance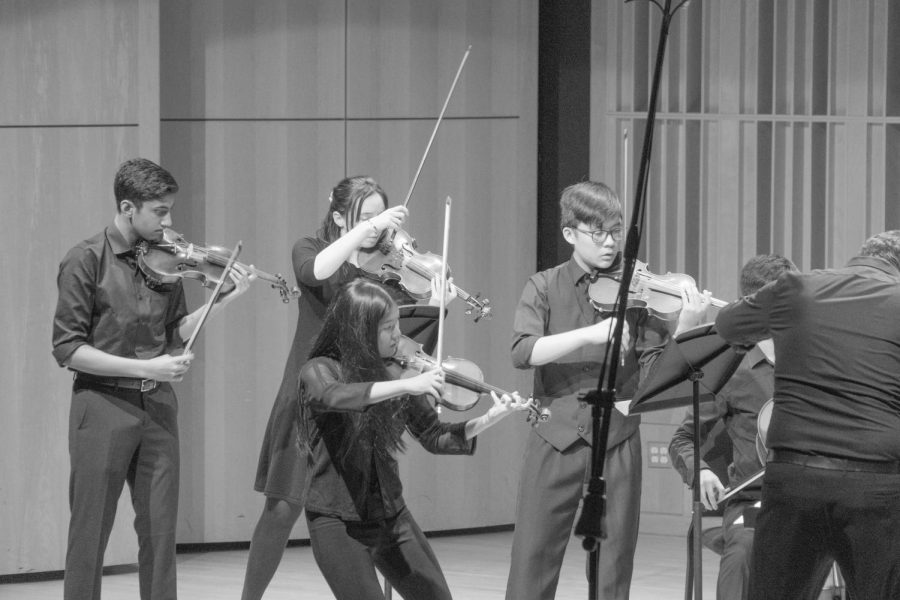 Yesterday at 7:30 p.m., long after the final departing school buses pulled away from campus and the last lingering students deserted the library, parents, teachers, and students listened to music resound from the magenta-lit Recital Hall stage as the Advanced Ensembles held their first concert.
The purpose of the concert, which featured performances by Steel Band G, Chamber Winds, String Sinfonietta, Treble Choir, Concert Glee Club, and Jazz Combos was to provide the more advanced music groups with an opportunity to perform prior to the Winter Concert, Music Program Coordinator Timothy Ho said.
"It's sort of assumed that the ensembles that are performing will actually learn music as a group faster. And so it's a chance for us to feature them with a set of pieces that we've been working on since the beginning of the year," he said.
As the first concert of the school year, the Advanced Ensemble Performance prefaced what other performances will be like in the future, Music Teacher Nathan Hetherington, who conducts the String Sinfonietta, said.
In the concert, Steel Band G played the bubbly, melodious song "The World is a Ghetto," laughing as they performed their slightly unsynchronized choreography, bouncing up and down during rests.
One of the challenges that many of the ensembles confronted in preparing for the concert was adjusting to the presence of new members, as well as the absence of former members, Ho said.
"With a new year comes a new group because all of the seniors last year graduated. We're kind of finding out how we sound as a whole right now and trying as hard as we can to sound like one unified group," Maya Freeman (12), a member of Treble Choir, said.
Treble Choir performed a vocal Jazz arrangement, as well as 'Bring Me Little Water, Sylvie,' a vocal and body percussive piece, requiring members to pound their chests, stomp their feet, and clap their hands.
In preparation for the concert, Ho focused on "making sure [members] can still sing all their parts accurately while they can still do the body percussion," he said.
Since the 16-member ensemble is small, there is more spotlight on individuals and more pressure to be "consistent," Rosy Arora (10) said.
The Concert Glee Club, which is comprised of 60 students, performed 'Beati Quorum Via,' a challenging English church piece composed by Charles Stanford. They also performed a medieval-sounding song called 'The Rose,'written by Ola Gjeilo only last year, Ho said.
For some Sopranos, these songs were challenging because they required them to hit high notes, while also restraining their volume so that their voices don't overpower the Altos, Ella Anthony (11) said.
Devin Shah (11) was excited to perform with Concert Glee in the first performance because all of the members are very enthusiastic and active, he said.
String Sinfonietta, which is comprised of violinists, violists, and cellists, swept onto the stage dressed in all black, and then performed 'Adagio and Fugue in C Minor,' by Mozart.
One focus of rehearsal for the Mozart piece was "staying together, making sure we keep tempo and kind of keeping an inner pulse as we play," cellist Alex Oh (10) said.
"The biggest thing at the beginning of the year is working on ensemble, because there are always new members coming in so it's really about getting everybody used to each other," Hetherington said.
String Sinfonietta achieved their goal, as the bows jerked over their strings in unison.
Laura Bae (11) was excited to play in the Recital Hall, which the Sinfonietta rarely gets to perform in.
"Usually, we perform in Gross [Theater] and the theater isn't meant for ensembles like Sinfonietta, so it's going to sound a lot better," she said.
Two Jazz Combos, led by Music Teacher Michael Bomwell, also performed pieces where each musician improvised their solos, a skill they have worked on since the beginning of the year, guitarist Sofia Del Gatto (11) said.
One of the fundamental skills in jazz groups is communicating visually with one another, as well as listening to each other so they can respond to improvisation, Bomwell said.
The process which musicians in Jazz ensembles prepared their pieces began with Bomwell giving out the sheet music with the chords and melody so that "everybody learns the basic tune, and then from there we figure out how to make it our own," Bomwell said.
Bassist Jacob Shaw (9) found it challenging to learn to improvise because he is new to the instrument, he said.
One ensemble played 'Killer Joe,' by Benny Golson, which is a "typical swing bebop piece with some funky influence in it," Del Gato said. The other ensemble played 'Minority,' by Gigi Gryce, a more formal 1950s bebop song, Bowell said.
Music is a vital part of Shaw's life, so the concert gave him the opportunity to take a break from the stress of school and enjoy playing, he said.
Cindy Kaiser (12), Jasper Heymann (11) and Margalit Patry-Martin (11), a trio comprised of the piccolo, clarinet, and piano, led by the school's private flute teacher Jean Wilson, performed 'Wildflowers: Dense Blazing Star' by composer Eric Ewazen, who will visit the school in March.