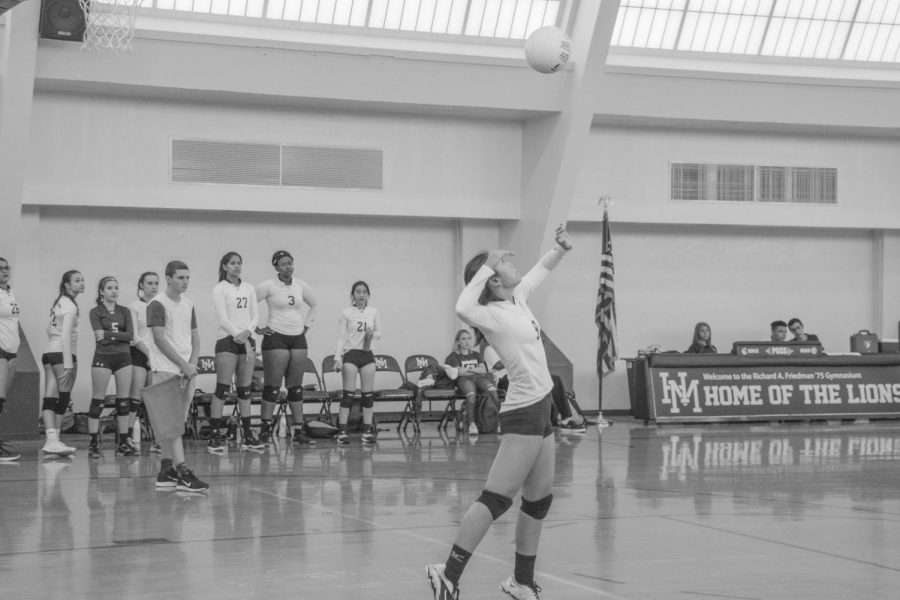 Abigail Kraus
Today, the Girls Varsity Volleyball team hopes to defeat Dalton in their final game of the year in Prettyman Gymnasium.
The team lost a game against Trinity on Wednesday, bringing their record  this  season to 4-10.
The Lions' main strength has been "working really well together," an essential component of volleyball, co-Captain Kyra Kwok (12) said.   "Volleyball, in my opinion, is the ultimate team sport," Kwok said.
However, the Lions have struggled with a lack of experience. According to Girls Varsity Volleyball Coach Lenny Foreman, one of the main problems this season has been many of the players  not practicing between seasons, he said. "That is a culture I will have to change," Foreman said.
Two specific areas that require improvement are serving and transitions between points. "We really need to work on serving and serve receiving,"  co-Captain Zoe Swift (10) said. "We have to work on moving on to the next point,"  Kwok 12) said.
Homecoming was an especially significant game for the team. Although they  lost to Fieldston, "it's one of those good losses that a coach can accept. That was a really good performance by us,"  Foreman said.
Both Co-Captain Brittney Jones (12) and Dakota Stennett-Neris (12) have  made significant contributions to the team this season. "Brittany is one of our strongest offensive players," Swift said.
"In a lot of ways, Brittany is the backbone of our team," Kwok said. Stennett-Neris "leads by example and works hard to improve,"  Kwok said.
The relationships  fostered between the players are perhaps the most significant part of the team's experience this season. "We are so much closer than we were last year as a team and as friends," Swift said. 
Most importantly, the players enjoyed both the game and their teammates. "As a senior, it's really hard for me to say goodbye, but I'm so happy that my last season playing volleyball was with this team. I wouldn't have it any other way," Kwok said.