JV SPORTS: Fall season recap
Water Polo
Two of the highlights of the JV Water Polo season came in games against Trinity, where last minute goals propelled the Lions to victory.
At the beginning of the season, the team had a hard time setting up offense and suffered from turnovers, Nina Gaither (10) said.
  Players can no longer rest by standing on the shallow end, which was a challenge that the team had to overcome, Assistant Water Polo Coach Errol Spencer '16 said.
Over time, the team became more organized and set up its offense more efficiently, Eli Scher (10) said.
"By the last game, even though we lost pretty horribly, we managed to keep possession of the ball much longer," Gaither said. Aquatics Director Thatcher Woodley was helpful in explaining why the team lost specific games and oriented practices on addressing those mistakes, she said.
"They had a purpose to each day in practice," Woodley said. Players were serious and mature and understood the need to have a productive season, especially to prepare for Varsity in the coming years, he said.
The coaches focused on giving everyone playing time which allowed all players to improve, Gaither said.
"Over this season, the JV water polo team made huge strides in becoming better teammates, players, and friends," Spencer said.
Girls Tennis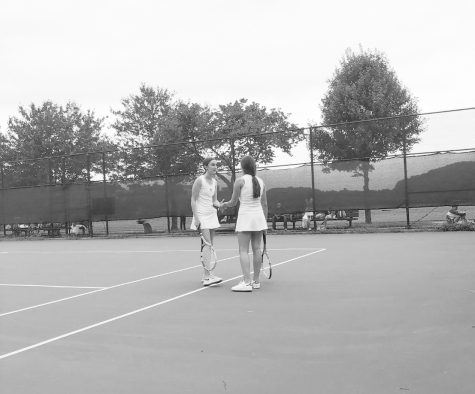 Emma Colacino
One of the most exciting matches for the JV Tennis team this season was a home game against the Hackley School, where all players won their matches. The win was part of a very successful season for the team, which only lost one match.
"People were very energetic and our team supported each other well and cheered each other on throughout the highs and lows of our matches," Amanda Mark (9) said.
The team was coachable and reliable, JV Tennis Coach Olufemi Salako said. "They listened to instructions and always worked as a team," he said.
"We were all paired up with people we enjoyed playing with which made our games much stronger and we all really enjoyed the sport which made it more fun," Samantha Blackman (9) said.
Salako explained the importance of being supportive and considerate teammates, Emma Colacino (9) said.
He required all players who had finished their matches to cheer their teammates on, Blackman said.
Over the season, players found who they worked best with and how their strengths could complement one another, Colacino said.
"I will definitely take away that having a close knit team and a team where everyone supports each other and is there for each other, can go a long way," Blackman said.
One of the lessons from this year is "to take every point as it comes" and never feel too confident or disappointed about how a game is going, Sadie Warshaw (9) said.
Girls Volleyball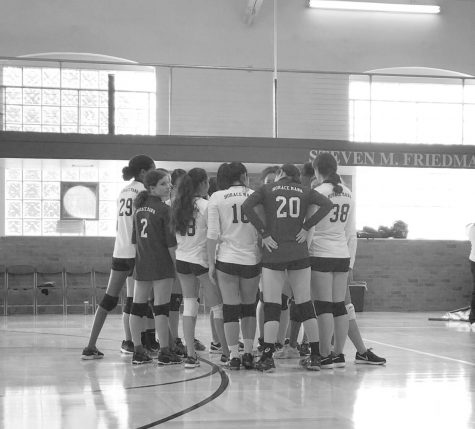 Stella Cha
The JV Volleyball team defeated Dalton in their final game ending a losing season on a high note.
"We had a pretty triumphant win," Sadie Hill (10) said. "We hadn't won many games in the season, and we wanted to win, so we were pretty pumped up."
The team was mostly comprised of freshmen, which led to a very talkative and unfocused atmosphere at first, Stella Cha (10) said.
As the team became more focused in practice and learned from its mistakes, the team members improved their playing ability, Coach Michelle Amilicia said.
"Eventually as we all got closer we grew respect for each other and listened," Cha said.
"Volleyball is a very team based sport," Gabby Fishberg (10) said. "You really can't succeed without trusting each other."
By the end of the season the team was playing more efficiently and cohesively, Fishberg said.
"Everyone played an important role, and even the people who weren't playing in games, they still felt that they were contributing which was really important," Mandy Liu (10said.
One of the highlights from the season was the game against Poly Preparatory School, the number one ranked JV volleyball team in the league. In the first set, "we absolutely demolished them," Fishberg said.
During the Poly game, Liu slammed the ball straight down on the other side of the net and the whole team became excited, Cha said.