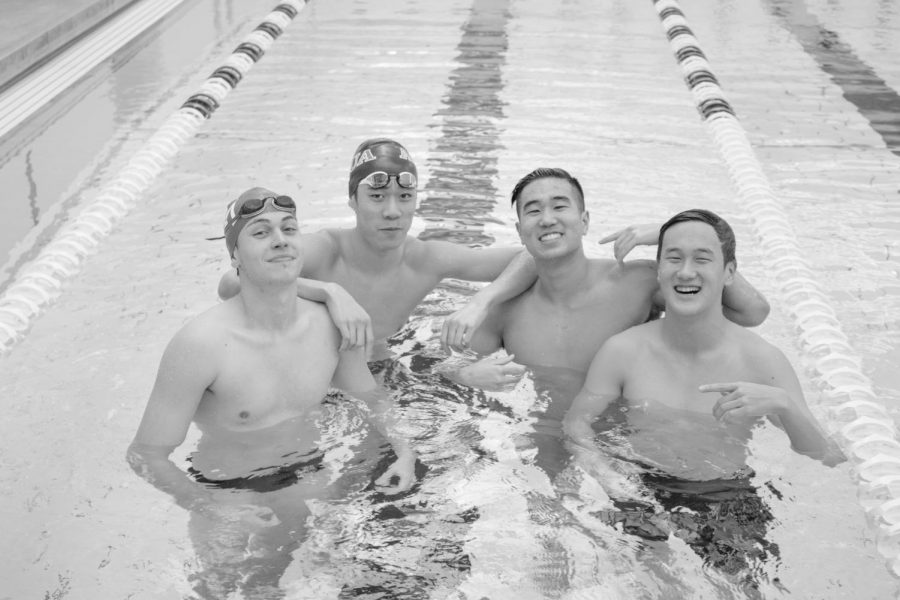 Abi Kraus
The Sea Lions are excited to dive into their winter season after successfully competing in their first relay on Wednesday and  look forward to their second one today.
The swimmers participated in the Relay Carnival and will compete in the inter-squad Maroon and White Relay, which are co-ed relays designed to test various skills against each other and other schools at the beginning of the season, Aquatics Director and Swim Coach Thatcher Woodley said.
The Relay Carnival took place at Lehman College and included all teams in the Ivy League division, Eva Fortunato (12) said.
The Ivy League is composed of many strong swim teams, so the goal for the Sea Lions throughout the season is to beat as many teams as possible, Sean Koons said (12).
"Beating Trinity will be a struggle because they have been our biggest rival for the last few years," Fortunato said. Both teams lost to Trinity during the previous season.
"We also want to beat Poly Prep this year and take back our second place title in the league," McKayla Widener (11) said.
"The relays are a great way to see the strengths and weaknesses of our team and others in addition to helping the new underclassmen understand how meets actually work," Fortunato said.
The Maroon and White Relay, which is a co-ed meet designed to test various skills against each other will take place at school today. The Sea Lions will be divided into two teams to compete against each other, Koons said. 
This meet, in particular, serves as a great opportunity for the team to bond and get comfortable in a competitive enviroment, Colin Mark (12) said.
The relay is also a good opportunity for seniors to lead their respective squads and help set team goals, Woodley said.
"Goal setting is an important part of the swim season as all members of the team are required to fill out a sheet discussing their goals and meet with the coaches to strategize," Woodley said.  
The team is not divided by age, but rather skill level, which puts players of all different grades together in the same lanes, Reina McNutt (11) said.
Madison Wu (9), Harmony Li (9) and Walker McCarthy (9) are among many of the new freshmen that are very strong swimmers in and out of school, Fortunato said.
Allen Park (12), William Han (12), and Vincent Li (9) will definitely be strong assets throughout the season as they have been putting in a lot of good work so far, Mark said.
"With a lot of positivity, diligence, and good attitudes, the team should be able to thrive during the season and achieve all their personal objectives," Woodley said.