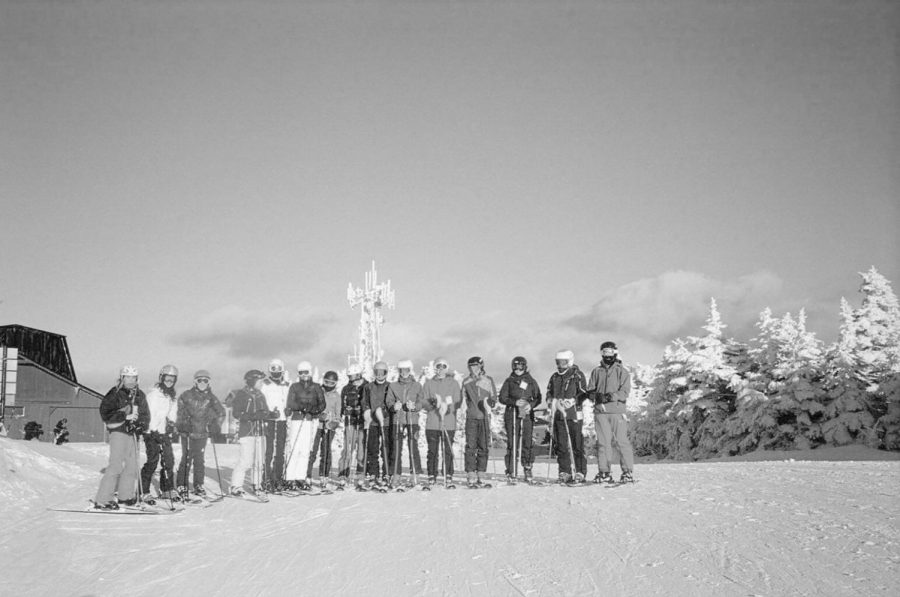 Cy Goudsmit
Last weekend, the school's Varsity Ski Team traveled to Stratton, Vermont for its annual training trip. The team left school on Thursday night and returned on Sunday afternoon.
For most of the 17 members of the team, the trip was the first chance to practice their skills on the mountain this season. Only two members, Emma Djoganopoulos (10) and Adam Frommer (10), ski every weekend. 
The trip helped to create a team identity, Frommer said. "We train on Four Acres and use the spin bikes, so to be able to stay with each other in condos for three days is very important for us to become more of a team," Frommer said.
"It's a great way for the team to unite, to connect, and to really bond," Varsity Ski Coach Morgan Yarosh said. Three days of training also gave the skiers an opportunity to trigger the muscle memory of skiing, she said.
The team skied all day on Friday and Saturday and for half of Sunday. Skiers were out on the mountain from 9 a.m. to 4 p.m. and had an hour-long lunch break at noon. In the morning, team members skied in small groups, and in the afternoon the team did more focused training with the coaches.
"The snow itself was pretty perfect," Frommer said. "There was natural snow everywhere, and it wasn't really icy until the last day."
The group training sessions in the afternoon were important practice for many skiers. "You could learn from what other people were doing to improve your skills," Jade Ciriello (9) said. During these sessions skiers worked on their turns, blocking, and conditioning with coaches.
New members of the team used the trip to see what skills they need to improve. "We were able to see how well everyone was doing and what we needed to practice most," Liliana Greyf (9) said.
"The trip will give us an edge on other teams since we have been out skiing more than they have," Ryan Leung (12) said. "Last year our first day skiing was an actual race."
Aside from skiing, team members enjoyed playing games together in their rooms and penguin sliding. "We would go down the mountain on our stomachs and hold up our skis behind us," Kelly Troop (10) said. "It was really fun."
Races usually begin in early January, but the team has not received a schedule yet. "The thing about the races is that we get the race schedule and because it is weather dependent, half of the time races get rescheduled," Yarosh said. "We can have a schedule, but it is only as good as the weather is reliable."
Barring any scheduling issues, the team hopes their practice in Stratton will help propel them to a successful season.