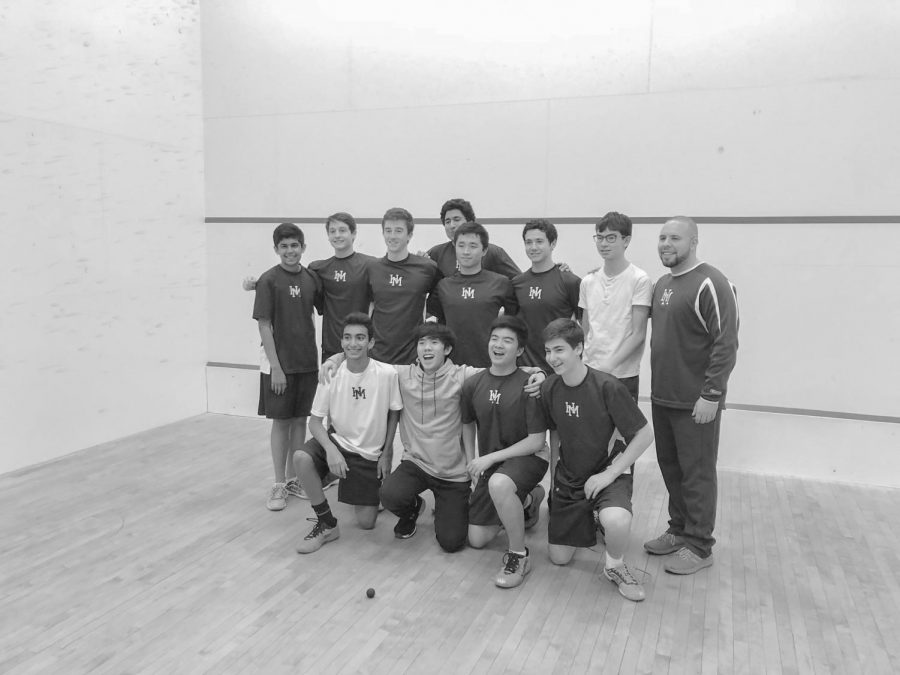 Connor Morris
Under the leadership of co-Captains Connor Morris (12) and Ryan Hoang (12), the Varsity Squash Team has made their presence felt this season with an impressive 12-4 record, placing 41st in the country at Nationals. In his first year as Varsity Squash Head Coach, Ron Beller has led the team to a second place finish in a tough Ivy League.
The boys' team includes variety of students from different grades, 10 players in all.
Perhaps because of the team's small size, the wrestlers have formed very close bonds over the past few months, which have contributed to their success. "We have a great team dynamic; everybody likes each other," Daanyal Agboatwalla (10) said.
"The underclassman can look up to the upperclassman as mentors, which has had a positive effect," Hoang said.
The squash team did suffer a significant loss with the graduation of Aman Sanger '18. Sanger is currently playing at the collegiate level for the Massachusetts Institute of Technology.  "Losing Aman Sanger makes the team a little worse, but this year we have more depth and a variety of skills," Kush Malhotra (10) said.
"A lot of people have improved and stepped up in Aman's place," Agboatwalla said.  As examples of their improvement this year, the team includes a "a top 20 ranked player, a top 100 ranked player, a top 150 ranked player and many players who play outside of school," Peter Lehv (11) said.
The variety of players this year has brought a new dynamic to the squash team. "Our team is strong from top to bottom this year unlike any year in the past," Beller said.
"By gaining depth this year, we did better at Nationals compared to last year," Lehv said.
Morris stood out at Nationals and received high praise from his teammates. "Connor Morris has done a great job all season," Lehv said.
"[He] came through in the clutch at nationals and deserves to win MVP this season," Agboatwalla said.
All season long, Beller has been preaching work ethic. "If the team as a whole can work hard, and focus on what they can control that would be a successful season," Beller said.
"Just compete and do the best that you possibly can," Agboatwalla said.
Despite their success thus far, the team still has higher goals in mind.  "We hope to win NYSAIS this year," Malhotra said. The New York State Association of Independent Schools tournament has been on the players' mind all season long. In two weeks, the team will be ripping the ball across the court, competing for a championship.