Community hosts Black History Month reading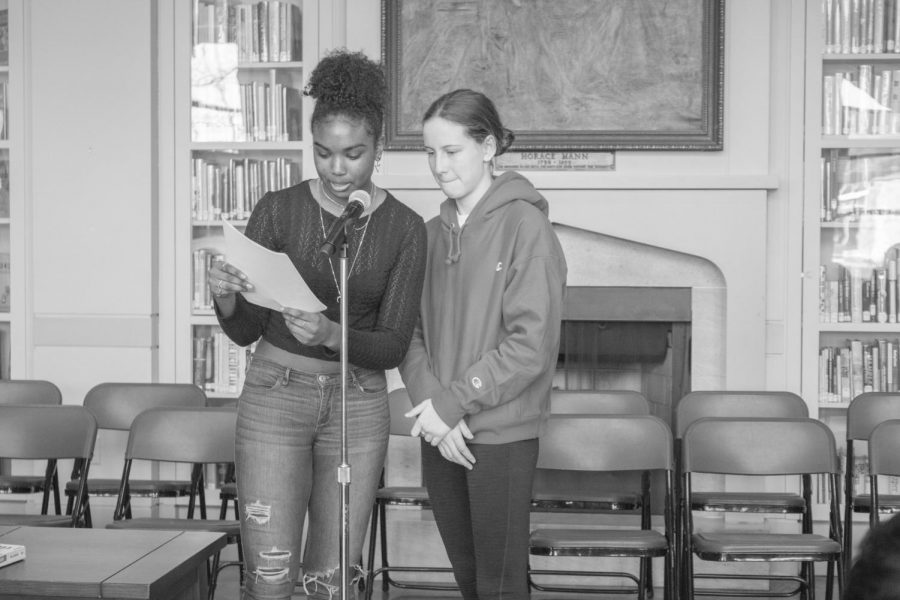 Students and faculty were invited to read and celebrate works of literature penned by black authors during the Black History Month reading held Tuesday in Olshan Lobby.
English Department Chair Vernon Wilson decided to organize the reading in February this year, as he felt that the event was a way to acknowledge the importance of black writers during Black History Month, he said. The event was previously held in the spring of 2017.
"Generally, it's always good to share literature communally," Wilson said. "Given the group to whom this month is devoted, I think it's important to share works by members of that group with the community."
Students and faculty members were permitted to bring writings of their choice, and Wilson also brought several books and anthologies through which students could browse in search of something that they wished to recite, he said.
The subjects of the material read ranged from poet Gary Jackson's imaginative take on Superman's romantic relationship with his partner in The Dilemma of Lois Lane to reflections on racial violence, such as a piece read from the book American Sonnets for My Past and Future Assassin by Terrance Hayes.
"[The pieces] may be about race, or justice, or social justice, or racial oppression," Wil-son said. "It could just be about eating breakfast, or about family, or about romantic love."
Everyone was welcomed to come to the reading but the event relied on teachers bringing their classes, Wilson said.
Director of Office for Identity, Culture and Institutional Equity Patricia Zuroski brought her Seminar on Identity (SOI) class to the reading because she felt that its purpose, to amplify black voices, was relevant to the message the class tries to transfer to students, she said.
"We talk a lot in SOI about hearing voices, that stories can only be told by the person who experiences them and lives them," she said. "African American history has been told for so long by other people that I think it's really important to think about where that voice is coming from, and who it is that we really need to be listening to."
"Stories [written by black people] are very important, and a lot of their poems have a deep and powerful message that we don't get to see everyday in media," Tiger Lily Moreno (11), who is in Zuroski's class, said. "It was a good teaching moment for all of us in the community to notice how art can portray such painful, but hopeful messages."
Although Alex Nathan (9) enjoyed the reading, she believes that the school does not devote enough time to reading the works of black authors, she said.
"[The reading] is an essential step in yielding a diverse curriculum," she said. "I think the school should do more to broaden the horizons."
Faijul Rhyan (12) believes that history classes focus mostly on slavery when discussing African American history, so the reading provided the opportunity to celebrate black culture separate from suffering, he said.
Wilson believes that the work of artists of color is generally underexposed, and as a result the English department tries to infuse the curriculum with "a multiplicity of voices," he said. A challenge to this effort is that each class has a limited number of books it can cover each year.
"We focus, as a department, more on close reading, more on really trying to understand the nuances of the text in terms of the language and structure, and that means we don't speed through books," Wilson said.
Eliza Becker (9) and Laila Farmer (9) read The Mission by Kevin Young, a poem which they had previously discussed in their English class. Becker is inspired by poetry and decided to read aloud to help inspire her peers, she said.
"Poetry can be very empowering, and when it comes to Black History Month, it can be a great way to educate others," Becker said.
For J.T. Thomas (9), the reading was eye-opening because it exposed him to the mas-sive effects black writers had on culture, he said.
"It's important to always celebrate black authors during Black History Month, as what they can do is the written equivalent of civil rights activists, and it can fly under the radar some-times," he said.
Although the reading only included literature by black artists, Wilson hoped that students could relate to aspects in the work regardless of their race.
"Especially in a time when we're surrounded by so much concern with difference, I think it's really important to see, in these works of literature, the deep links between us as people of various different backgrounds," he said.