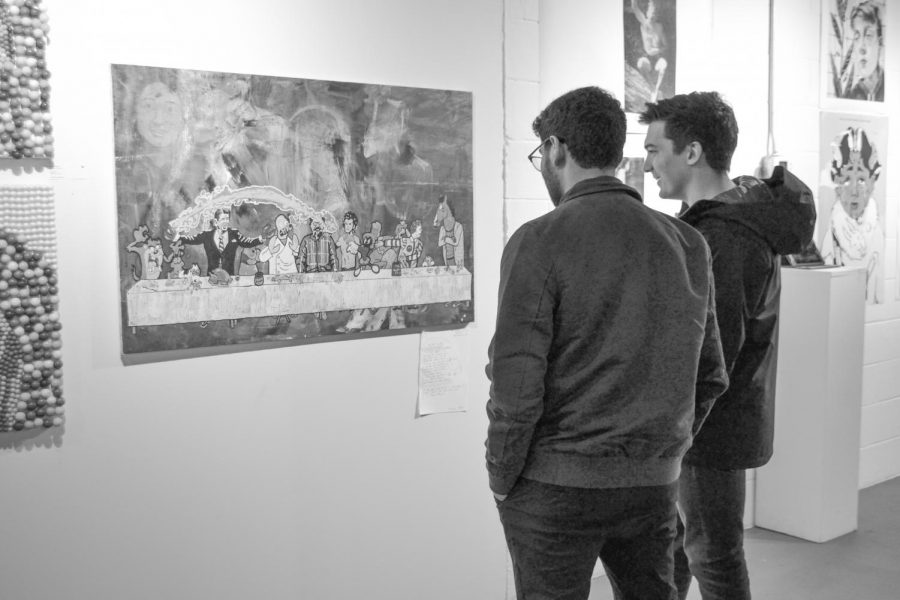 Surya Gowda
From nailing in a piece of artwork to the wall, or hand-picking submissions of artwork from 22 states and 3 continents, the Teen Art Gallery (TAG) is entirely run and curated by teenagers around the country. TAG will run from March 2nd to March 7th in lower Manhattan. The gallery's main theme is Generation Z.
While the gallery is not run by the school, it is managed by Surya Gowda (12) and Natasha Gaither (12), and members of TAG include Jaden Katz (12) and Eliza Bender (11), according to the TAG website.
TAG presents a spotlight in which aspiring teenage artists can showcase their artwork in a gallery, said Gowda.
This year's gallery is filled with mediums ranging from painting, photography, sculpture, video, and poetry, Gowda said. The theme for this year's gallery represents teenagers living in Generation Z, the first generation to be absorbed in technology, she said. 
The gallery was  founded in 2011 by Audrey Banks, a high school senior at Bard High School, Gowda said. Since then, the TAG has been managed by Gowda and Gaither, and a student from The Trevor Day School, according to the TAG website.
"The gallery is principally different from other art galleries because our entire curatorial and organizational board is run by teens from New York City, and all of artists are from ages 13-19, and they come from all over the country," Gaither said.
Approximately 30 works were selected from a pool of more than 800 submissions from teenagers  all over the country for TAG's gallery last year, TAG Yourself. In TAG's 2017 show, TAG – Do you mind?, showcased art addressing issues that many teenagers face, such as mental health and politics, according to TAG's website.
Bender hopes that the art in the gallery facilitates meaningful conversation about the struggles that teenagers face on a daily basis, including mental health, anxiety, and depression, she said.
One particular piece of work that stood out in TAG's 2018 gallery was a short series of poems documenting a teenager's life. The poems were interwoven with pictures of daily life, Bender said. "It was very much a poetic experience, as you got to read [the artist's] poems, but the art on the side really expressed visually the atmosphere he was describing, and I thought that using those two mediums was a really cool way to express it," she said.
Another piece that stood out in the gallery was an acrylic tapestry of two polar bears. "It's really impressive that teenagers have these ideas on how to portray art," Gowda said. 
TAG hosts events such as movie nights, where anyone can recommend and watch their favorite movie, Bender said. TAG also has poetry workshops, where artists and others write poetry and hang it up on the walls of the gallery, she said.
TAG validates and promotes teenage art, especially for those who have not had any prior experience, Bender said. "One of the most gratifying experiences with TAG has been meeting other like-minded teens and seeing great art. Even though I didn't create art before [TAG], I am involved in TAG because of my friends who help me and different students outside and inside the school who encouraged me to apply to TAG," she said.
TAG can give a new perspective for artists, Gowda said. "I'm usually the artist, but I thought it would be refreshing to learn from a new perspective and learn from the curators of art pieces. Since then, I've been involved in TAG, and I think that it's great to see all these different pieces of art come together. It's photography, video, sculpture, collage, poetry, it's all these amazing pieces put together, and it's really amazing to see what teens can do," she said.