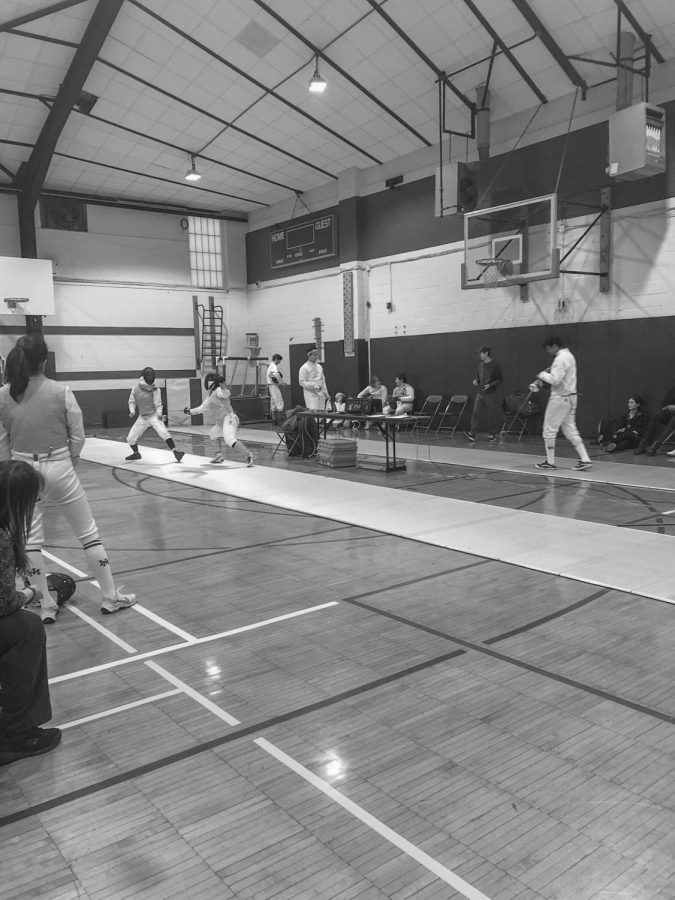 Eliza Poster
Alexia Gilioli (12) said that her goal coming into the season was to make sure that the sophomores were ready to lead the team forward in the future. "With a team as big as fencing is, it is important to stay cohesive and build bonds between teammates," Gilioli said.
Eunice Bae (12) believes that the fencing team has achieved this goal. "They [sophomores] held down the team really well during matches," Bae said. "This is definitely the most cohesive team I've seen because of efforts from the upperclassmen to welcome new members."
"It was a really fun environment," Bae said. "In years past we've been more divided by gender or weapons but this year we bonded as whole but still kept core friend groups." As a large team, there was always a lot of personality during practice and meets and the team laughed and shared a lot of jokes, Deveraux Mackey (12) said.
"Coaches were pretty flexible and approachable, we had a pretty casual relationship with them," Eddie Ahn (12) said. "Upperclassman also did a good job including the freshmen."
Ahn's favorite part of the season was the ISFL (Independent School Fencing League) championship, "It's an individual and team tournament where of schools in the Ivy Prep League duke it out," Ahn said.
Mackey's most memorable part of the season was also the ISFL championships. "Fencing is often so individualized that it really exciting to spend all day fencing as a team," Mackey said. "It was also a bonus to see that our team did very well during teams and overall during the season at the event." The only disappointing part of the season for Ahn was the fact that the season didn't last longer because of the snow days and breaks without practice.
Bae said that despite the loss of seniors next year the team will stay a close group with good leadership.