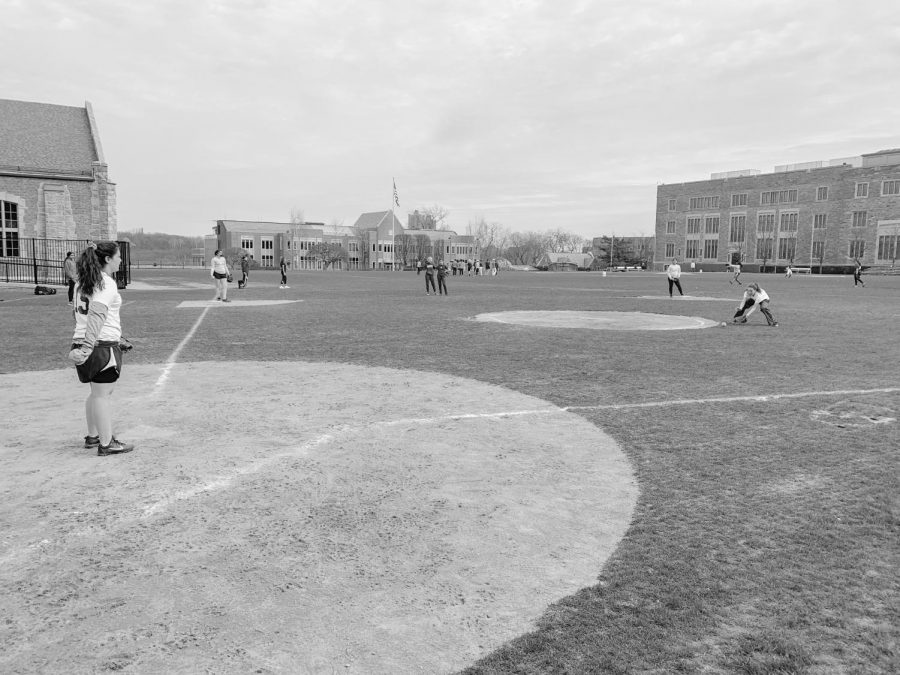 Brody McGuinn
The Varsity Softball team began its regular season facing off against Poly Prep last Monday.  Although the outcome was not in their favor, the team was encouraged by its first performance. 
"Many of younger players stepped up and played new positions. I couldn't be more proud of the way the team played yesterday," Sarah Acocelli (12) said.
This year, the softball team is comprised of eight seniors and eight freshmen, along with some juniors and sophomores. The seniors this year are trying to leave an impact on the next wave of Lions through mentorship and leadership. "We lead by example as softball players and as people exhibiting respect and sportsmanship wherever we go," Kyra Kwok (12) said.
The team is relying on that senior leadership this season. The seniors "are doing a great job showing the freshmen the ropes. Physically, they are hitting the ball well and making good plays in the field," Acocelli said.
"I think the biggest difference [from last season] is that we are now a senior led team and I think the strong leadership is going to be essential for our team moving forward," Kwok said.
Ashna Jain (12) is a prime example of a senior stepping up for the team. "She's been able to step up wherever we need to fill a position and she really performs no matter where she is on the field," Kwok said.
"I love helping to put our team in the best position to win and watching them have success," Varsity Softball Coach Ray Barile said.
One of the team's strengths is their defense, which was on display in their game against Poly Prep on April 8th.  "The fact that we held them to four runs means that we executed in the field and really stepped it up defensively," Kwok said. "We force other teams to execute and play our game."
Over spring break, the softball team traveled to Orlando, FL for spring training.  "We spent a lot of time bonding and getting to know each other and that team chemistry is essential in softball," Kwok said. "We are a really close team and are always there to pick each other up when we make a mistake or just are having a bad day," Acocelli said.
The team looks to improve on mental confidence.  "This means moving on when you make a mistake and getting up to bat or stepping out into the field with the confidence that you will learn from your mistakes and play better," Kwok said.
"We have a terrific group of girls this season and I'm so proud to call them my team. I'm so incredibly excited for what lies ahead for us this season," Kwok said. 
Cach Barile describes his team as "smart and consistent," he said. With these attributes, Barile hopes to make states. "The sky is the limit for this team," Barile said.