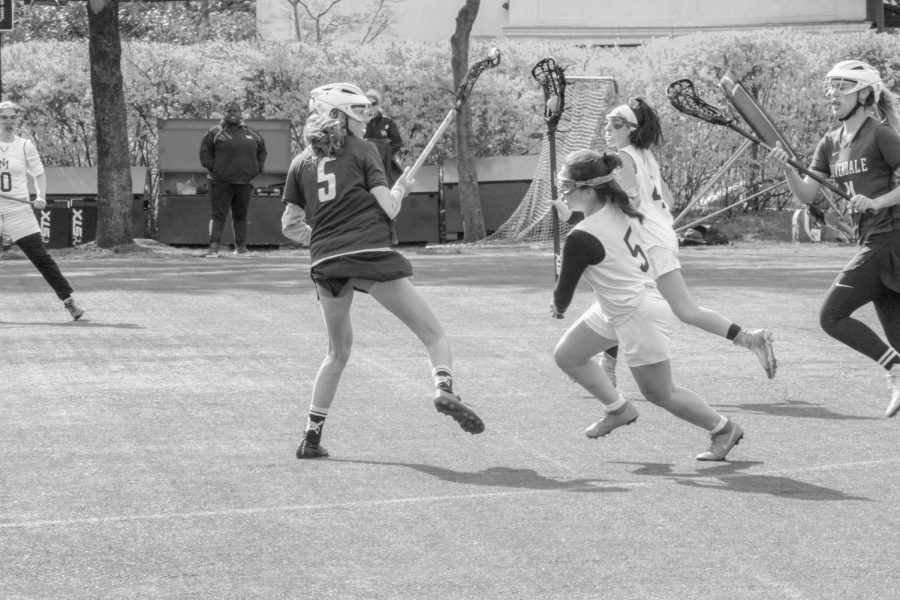 Daniel Green
This year's Girls Varsity Lacrosse team has reached a record of four wins and seven losses, with a win this week against Dalton.
The other three wins occurred against Dalton, Masters, and a 15-7 drubbing of Chapin.
The Lions have also had some close losses, including a 11-13 loss to Riverdale.
"A lot of our losses have been very close games or teams that I definitely think we have a chance in beating the second time we play them," Leyli Granmayeh (10) said.
This year's team consists of 16 members: five seniors, seven juniors, three sophomores, and just one freshman.
The one freshman, Sadie Warshaw (9), has been a huge asset to the team. "Sadie is aggressive, she knows the game like a pro, and she also has the strongest shot on the team," co-Captain of Girls Varsity Lacrosse Noah Goldberg (12) said. "She'll adapt and grow into the player she could be—which is good enough to possibly play in college."
Compared to last year's team, the current roster consists of a much wider spread of contribution throughout different grades.
"Last year we had a lot of good seniors, and the team was more individual, meaning that only a couple players would do most of the work," Kelly Troop (10) said. "Now I think we play more cohesively and allow for everyone to get a chance to do something."
This year's team is strengthened by its consistent effort to work as a collective unit, Girls Varsity Lacrosse Coach Keri Panarelli said.
"We lost five strong seniors who were very fast and mentally tough, and we also had some players who were skilled but played more as individuals instead of playing for the team," Panarelli said. "This year, we are more of a unit, and the senior leadership is very strong in terms of how they lead.  There is no star player, so we must play as a team to be our best."
Last year's freshmen have improved a lot from last year, Goldberg said.
"Kelly and Leyli have totally stepped up this year as leaders on the field, to get the ball to where it needs to be," Goldberg said. "Sofia is also 10 times the player she was last year, as she's faster, more athletic, and more aggressive."
Co-Captain of Girls Varsity Lacrosse Abigail Kraus has also taken on a leadership role with this year's team.
"[Abigail's] passion and motivation does not waiver and personally inspires me to lead this team," Goldberg said. "She's an asset to this team, and she's truly making us better."
The team will keep fighting all the way through the end of the season, Diana Shaari (11) said. "We have definitely improved since the beginning of the season and are still working," Shaari said.
With six more games to play this season, the Girls Varsity Lacrosse team hopes to end the season on a high note, Panarelli said.
The Lions look forward to a rematch against Trinity on Four Acres today.