Ryan Jonas named New Yorker of the Week for service through art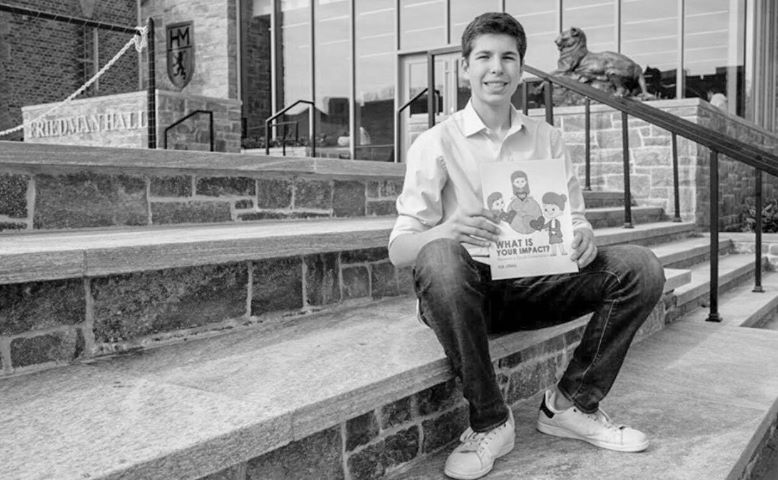 Spectrum News NY1 named Ryan Jonas (11) New Yorker of the Week for his non-profit organization "Bronx Built" that uses crochet to bring communities together and help deal with poverty in the Bronx.
Founded in 2015 by Ryan and Tyler Jonas (12), Bronx Built is a sustainable organization that combines social impact with a retail business. Its main focus is to help eradicate poverty in the United States, starting in the Bronx with partner organization LIFT communities. 
The program teaches individuals to loom so that they can generate additional income for their families, Ryan said. In addition to teaching participants a new skill, the program also takes place in a stress-free, bilingual environment with childcare and meals for the participants and their families, he said.
Participants are paid 15 dollars per hat they complete, which Bronx Built sells to stores in the community. Profits from the hats are reinvested into the organization, Sena Taveras, Operations Associate at LIFT-New York, and Christine Kang, Program Director at LIFT-New York, said.
"Due to the impact of Bronx Built's program, parents continue to return on a weekly basis for the two hour crochet club, allowing them to socialize and increase their savings one hat at a time," Tavernas and Kang said.
The program initially began with crocheting as it is easily teachable to others, Ryan said. After a few classes, they switched to looming in order to make hats at a faster rate and experience a greater sense of accomplishment, he said.
Ryan is also the author of What Is Your Impact: Become a Social Entrepreneur, a book designed to inform people of the impact they can make through social entrepreneurship. All profits from the book are reinvested into Bronx Built, Ryan said.
Spectrum News received word of Bronx Built after a promotor Ryan's book, What Is Your Impact: Become a Social Entrepreneur, reached out via email nominating Ryan as New Yorker of the Week, multimedia journalist at NY1 Leisha Majtan, who shoots, writes, and edits all of the New Yorker of the Week pieces, said.
Spectrum News looks to honor someone who donates time, is passionate about a cause, or makes a difference– no matter how big or small– in someone's life, she said. "Ryan exhibits all of those qualities– and at such a young age," Majtan said.
"The biggest impact of [being named] New Yorker of the Week has been the community outreach. We have been offered yarn donations and other opportunities to partner with organizations to help address poverty," Ryan said.
Ryan and Tyler have been involved in service initiatives both inside and outside of school for most of their lives. Ryan joined the service learning team in ninth grade and has been a leader of the team as Arts Activities Coordinator since his sophomore year, Director of the Center for Community Values & Action (CCVA) Dr. Jeremy Leeds said.
"From Caring in Action days in the Lower Division, HM Lead in Middle School, and the Service Learning Team in the Upper Division, Tyler and Ryan always had an interest in helping other people, in part because Horace Mann infused in them a sense of citizenship and a commitment to others," their mother Bonnie Jonas P'19 P'20 said.
Bonnie Jonas served in the public sector for over 18 years, setting an example for her children in terms of helping their community. "Given my government service, we have had discussions within our family about our civic duty to give back to our country, neighborhood and community," she said.
Ryan and Tyler's devotion to the Bronx community is what led them to create Bronx Built, Tyler said.
The Bronx Built organization has greatly expanded since its creation four years ago. "We started with a weekly class at our first community partner, LIFT Communities, and we have since added a weekly, year-round class at Sanctuary for Families," Ryan said.
Ryan and Tyler also have vested interests in social entrepreneurship, translated not only into Bronx Built but also into the school's Social Impact Investment Club.
"Giving back to my New York community is something I'm incredibly passionate about, and I love that I'm able to spread this message and open young people's minds to the world of social entrepreneurship," Ryan said.