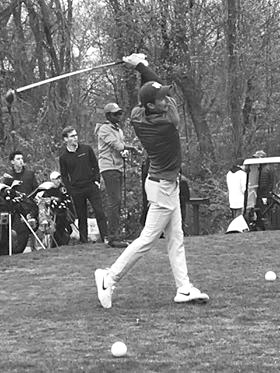 Jack Blackman
The Varsity Golf team has had great success this season winning all nine games played thus far, with six games remaining in the regular season.
One of the nine victories was an 8-1 defeat over Riverdale.
"Our match against Riverdale was big because they were the only other undefeated team, and we beat them on a very tough course at Fresh Meadow," Alexander Cox (10) said.   
The roster is comprised of 13 players: three sophomores, four juniors, and six seniors.
With the exception of two new players, this year's team is identical to last year's but has found much more success due to offseason work, Cox said.
"The team is a lot better than we were last year, mostly due to the improvements most of the players made over the summer and winter," Cox said.
Stephen Sloan (11) has contributed tremendously as the team's top player, Shant Amerkanian (12) said.
"This year, our roster didn't shift too much, with the only exception in the starting lineup being our number one seeded player, Stephen Sloan, who took the spring of his sophomore year of school off to work in Florida on his golf game," Shant Amerkanian (12) said. "He returned this year to the HM team as our best player."
The team's overall improvement since last year is also a product of their commitment to team practices, Garo Amerkanian (10) said.
"We should be practicing more, but it's fine because we are definitely practicing a lot more than we did last year," Garo said. "Overall, we are a lot better than we were last year because we did not have any seniors who graduated, and the entire team has improved a lot."
While the team does not practice every day, many players practice on their own time, Jack Blackman (11) said.
"Having a limited amount of school practices each week allows kids to practice on their own time, which I like a lot because rather than just going and hitting as a team, I am able to work with an instructor on specific skills," Blackman said.   
Even throughout the offseason, the team is always actively focusing on improvement, Varsity Golf Coach Tim Sullivan said.
"The players have worked hard all year, beginning the season practicing on simulators when it was too cold outside," Sullivan said. "The team then traveled to Florida to play seven rounds in five days."
While the team has traveled to Florida in past years, this year is the first year that they have gone with the school, Garo said.
Team co-captains Shant Amerkanian and Johnny Oshrin (12) have led the team both on and off the course, Sullivan said.
"The team dynamic is great, and we are a really close group. We even keep an active group chat all throughout the year," Shant said. The ultimate goal of the team is to win the championship, Oshrin said.
"Beyond that, as a team, we set a goal to lower our aggregate scoring to below 200, and we have accomplished that twice already this year," Oshrin said.
To go along with the undefeated record, the team has managed to set the school record of lowest aggregate score, with a score of 190 against Fieldston and Hackley.