Juniors showcase research at ISEF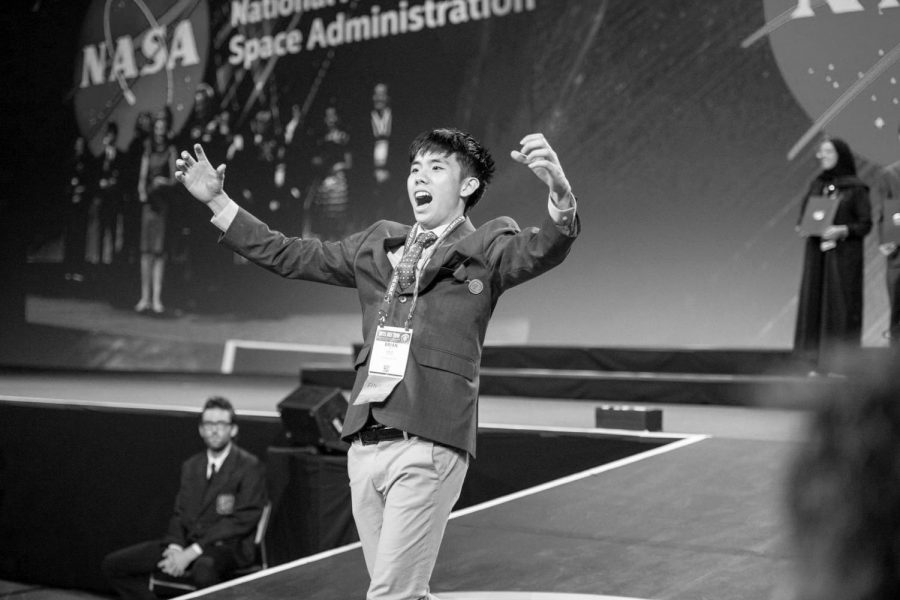 Gabby Chong, Staff Writer
May 29, 2019
Naomi Kenyatta (11), Richard Han (11), Brian Wu (11), and Malhaar Agrawal (11) participated last week in the annual Intel Science and Engineering Fair (ISEF) in Phoenix, Arizona. Wu, Kenyatta and Agarwal each recieved prestigious awards.
Wu received the top grant award from the National Aeronautics and Space Administration (NASA). Wu's project was the only one selected out of the 1,842 finalists to receive the grant award.
Kenyatta won the Oracle Award and the Shanghai Science Technology Engineering and Math (STEM) Company Award, she said.
From winning first prize in his category, Agarwal received $3000 for his project, and will have an asteroid named after him by MIT's Lincoln Laboratory, he said.
Students from about 80 different countries attended the fair, Agarwal said. "The ISEF is one of the top science competitions for high schoolers at the international level."
Students qualify for ISEF by competing in a regional science fair, Wu said. "Richard, Malhaar, and I qualified through the New York City Science and Engineering Fair (NYCSEF),," Wu said. At the NYCSEF, each project is evaluated over a span of four hours before judges decide whether its creator can advance to ISEF or not.
Over 700 projects were presented in the NYC fair, and only 13 were selected to advance to the ISEF.
Kenyatta took a different path to the competition than Han, Wu, and Agrawal. Kenyatta reached the competition by qualifying through the Kentucky State Science and Engineering Fair.
"My partners and I are all from different regions, so we got a special exception to compete in the Kentucky region," Kenyatta said.
Kenyatta, Han, Wu, and Agrawal attended the competition together. "Having other students from the school by my side was really enjoyable," Agrawal said.
The ISEF lasted a whole week, and missing school for so long has been difficult for the four students, they said.
"Seeing other high schoolers that went through a similar process that I went through, putting loads of dedication and work into their projects, was amazing," Kenyatta said.
Kenyatta and her partners presented a software project about surface reconstruction, she said. They developed an app that takes pictures of damaged buildings and creates 3D models to help fix them. Kenyatta's app helps to fix war damaged and natural disaster born areas, she said.
Agrawal presented a new way to diagnose prostate cancer. Agrawal developed an alternative method by using a urine test.
Han investigated the effects of fusobacterium nucleii on the proliferation rate of esophageal cancer, Wu said. He presented how this type of bacteria accelerated the growth rate of esophageal cancer.
Wu utilized the Doppler spectroscopy method to discover one out of the 24 known circumbinary planets. The circumbinary planet he discovered is the first of its kind detected using this method.
Agrawal's Advanced Placement Biology Teacher, Melissa Doellman was proud of his accomplishments at the fair. "I think that it is an amazing accomplishment and well-deserved recognition for the fabulous work Malhaar is doing with his research," she said. "Malhaar is a bright student and it is wonderful that he was able to experience the research competition.
"Ever since I was little, I've been extremely passionate about aerospace engineering as well as astrophysics. I really want to be able to solve major problems the world faces using my extensive skill set," Wu said.
The ISEF wasn't only about competing for awards, Wu said. "At the competition, I met many other people who were extremely passionate about using science and engineering to save the world."