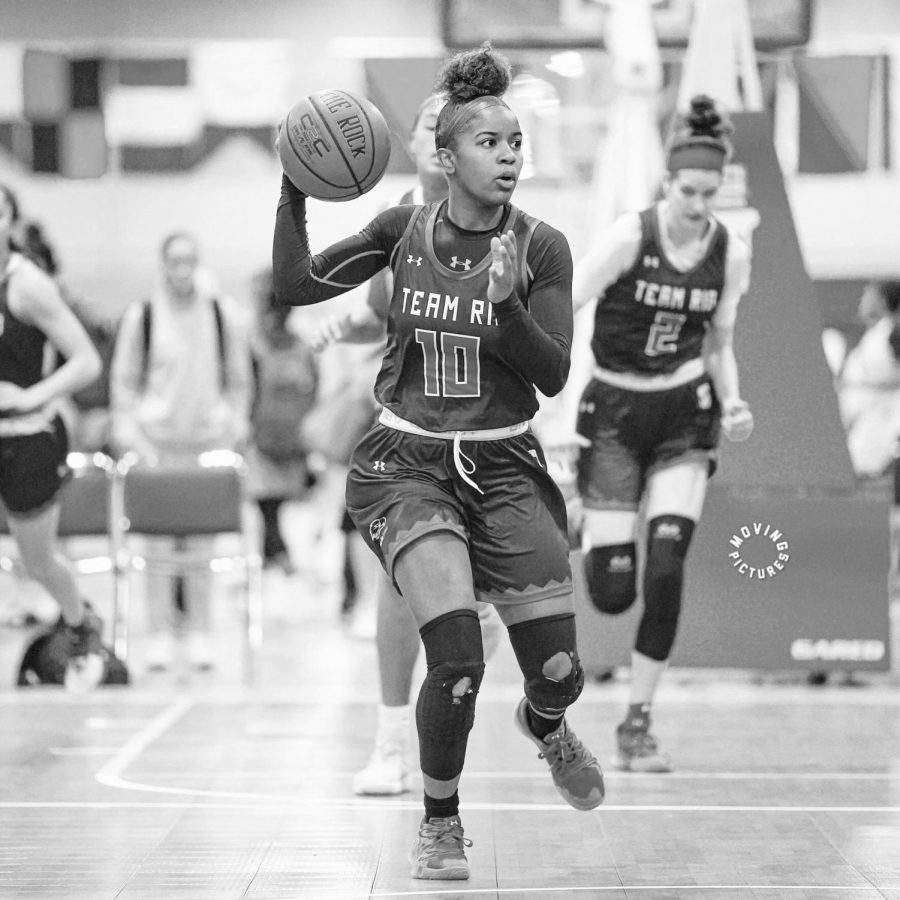 Courtesy of Ella Anthony
Star basketball players Ella Anthony (11) and Kelvin Smith (11) will be attending new high schools next fall in hopes of being recruited to play college basketball.
Smith will attend The Hun School of Princeton, while Anthony will attend Christ the King, located in Queens.
"I wanted to increase my chances to get an offer and basketball scholarship to a good academic school," Smith said. "When you go to Horace Mann not many coaches come to watch us play basketball, so I wanted to go somewhere where I could get more coaches to look at me."
While playing some of the best basketball of his career this year, Smith said he did not receive the college attention that he hoped he would.
"While AAU (Amateur Athletic Union) does get me looks, there are not that many live periods and it can be hard for coaches to find time to come and see me play," Smith said. "By going to a sports focused school, coaches have more time and more of a reason to come and see me play."
Anthony's college basketball aspirations also played a role in her decision to leave the school. "I want to play division one basketball at the highest level, and in order to do so, I need to be playing with and against girls who have the same goals as I do for my last year of high school basketball," Anthony said.
Anthony will have more available time at her new school, and balancing athletics and academics will be significantly easier, she said. "Being a school known for athletics, they are a little more lenient [concerning academics] with serious athletes."
She debated leaving the school with her family for most of high school, but they discussed it much more during sophomore year. "Ultimately, everybody has wanted me to make a decision that I felt was best for myself," Anthony said.
Both Smith and Anthony said that they have received help from the school after they decided to leave, they said.
"I have been able to talk to different teachers and they've all been supportive," Anthony said. "I have chatted briefly with Mr. Caldwell and my advisor Dr. Steiner about the pros and cons of leaving versus staying."
In addition to the school's teachers, Head of School Dr. Tom Kelly has also been supportive of Smith and Anthony's decision to leave the school next year. 
"We made sure that both of the schools involved had a keen understanding of why Ella and Kelvin would be terrific additions to their respective student bodies," Kelly said.
Over the years, Boys Varsity Basketball Head Coach Tim Sullivan and Smith have developed a close relationship. "I have taught Kelvin since kindergarten and I have always considered him to be a wonderful person," Sullivan said. "Kelvin had a tremendous career here, but I will miss Kelvin the person even more than Kelvin the basketball player."
Smith's mother, a teacher, did not initially approve of the idea of her son leaving the school which he has attended for the last 12 years, but she eventually changed her stance, Smith said. "She wanted to see me graduate at HM, where I've been all my life, but she wanted the best for me, and eventually she understood that this would be the best move."
At his new school, Smith will have more opportunities to work on his game. "I'll be able to wake up and go to the gym to get some shots up," he said.
The school day will consist of four to five classes, followed by an hour and a half practice, Smith said. After the practice, players will be able to stay in the gym and practice their skills.
Anthony will seek a similar opportunity next year, as she will compete at a high level, playing at one of the top girls basketball programs in the country.
"I'll be practicing with other high division one recruits," Anthony said. "This new team travels around the country for different tournaments, and I'm very excited to play against some of the top national talent."
Smith will be a significant loss for the school's basketball program, Robert Mantz (11) said. "We are losing arguably the best defender and rebounder in the league, one of our primary ball-handlers, and probably the most dominant force in the league," Mantz said. "He does a really good job of getting his teammates involved, and sometimes he is even too unselfish and likes to dish it out to the wing, which is obviously a great quality for a player to have."
Even with all of his skill, Smith's positive attitude and motivation during practices will be one of the main things missed by Smith's teammates, Ben Chasin (10) said.
Despite Smith's importance, Coach Sullivan is confident that the team is well prepared to move on without Smith's. "There is a lot of talent returning to the team and collectively they will fill the void left by Kelvin," he said.
"Ella is a knowledgeable player of the game and that makes all the players around her better," Girls Varsity Basketball Coach Ray Barile said. "She scored, had the ball most of the time, was a playmaker, and played good defense."
Although Anthony is leaving, there are many players on the team that will help to contribute towards filling her role, Mia Calzolaio (9) said.
"Ella's leadership and the way she has inspired us to play with our hearts is the biggest impact she had on this team," Bella Colacino (9) said. "The way she spreads her knowledge of the game to all of us was amazing, and as a new member of the team I benefited immensely from playing with her as well as watching her play."
"The two other juniors on the team, Halley and Julia, will be the captains next year and their ability to command the court has already had a great impact on our team," Calzolaio said.
Smith will be reclassing as a junior, while Anthony remains undecided on her decision to reclass.
"I plan on just finishing my senior year there, but I'm not opposed to reclassing," Anthony said.
In the long run, Smith looks to pursue a collegiate basketball career at an Ivy League school, he said. His prefered destinations are Princeton, Yale, and University of Pennsylvania.
Anthony is unsure where she wants to play in college and is trying to focus on enjoying her last AAU season, she said. More than 25 colleges have expressed their interest in Ella, including Harvard, UPenn, Columbia, Yale, Villanova, University of Maryland Baltimore County, and Loyola Chicago, she said.
"While most will point to their collective athleticism, I think we're going to miss their huge hearts and affable spirits," Kelly said. "Make no mistake, I hate to see each of them leave HM, but I'm excited for what the future holds for both of them. I have no doubt that wherever they are, they'll be successful – on and off the courts!"