Girls Varsity Soccer puts their best foot forward despite disappointing results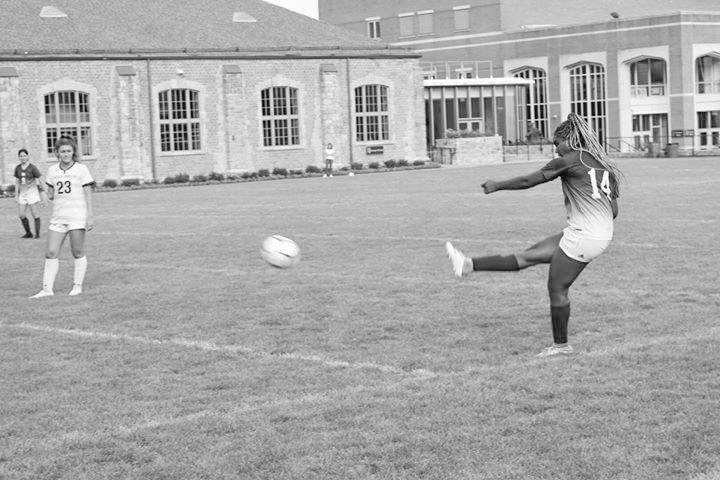 After a disappointing last season, the Girls' Varsity Soccer team hopes to turn a new leaf this season with strong energy, improvement, and teamwork. The team has started off the season with two games, a draw and a loss, but has begun to care less about the results and more about the effort and room to improve, Captain Kiara Royer (12) said.
"In the game against Trinity, we tied, and we were really proud of each other," Rachel Kuhn (10) said. "Not necessarily because of the tie but just because our energy as a team was really good." The team worked really well together, and everybody put in their best effort, she said.
Kuhn also added that the whole defense is made up of returning players, which has proved successful in their recent games, an improvement from last year.
Emma Djogonapoulus (11) had an exciting experience playing forward in the game against Trinity on Friday, her first time playing this position, capping it off with a goal.
"We lost every game last season, so it was really nice to come into the season with a tie, and that was my first time playing forward," Djogonapoulus said. "I scored a goal, which was really exciting."
The team was very excited about their first tie, reflecting their improvement and team chemistry that they've gained since the intense preseason.
There are seven new freshman players this year, adding skills and new faces to the team. Royer believes that an important part of the advancement comes from establishing a relationship throughout the teammates, both old and new, she said.
"I've definitely seen a lot of improvement in the team since preseason," Royer said. "I think we've gotten closer as a team, which helps us on the field. Since we have a lot of freshmen, it's important to get them integrated so that we play well all together."
On Monday, the team suffered a disappointing 0-6 loss to Poly Prep, last year's state champions, but was more concerned about maintaining a good mentality than worrying about the score.
"I think we need to improve our mentality when we're losing," Royer said. "We kind of got down on ourselves when Poly just continued to score, so I think we just have to be more united as a team and stay positive."
"We know what went wrong in the game. We had the right attitude, and we were definitely able to learn from that game and our playing," Ellery Lapin (10) said. "We're building experience that we can apply to our next games."
In the team's most recent game against Riverdale, the heat had a noticeable impact on the players' abilities, but they were still able to work hard and enjoy their time and energy. Their strong defense allowed the team to maintain a tie until the second half, eventually finishing the game in a 0-3 loss.
"The Riverdale game really proved how losing doesn't have to slow us down," Kuhn said. "We came back strong, gave it all we got, and did the best we could considering the tiring weather."
With the current levels of passion and teamwork, the fall has certainly started off on a high note. The team surely knows that by working hard and by learning from past experiences, they'll be able to get a lot out of this season.
"I'm not sure what our goals for the team are right now," Royer stated. "But I hope that we can play the rest of our games with the same intensity as how we played against Trinity."
As the season continues, the team hopes to see their effort and excitement pay off in scores, as to break a streak of losses from last year.