New Teachers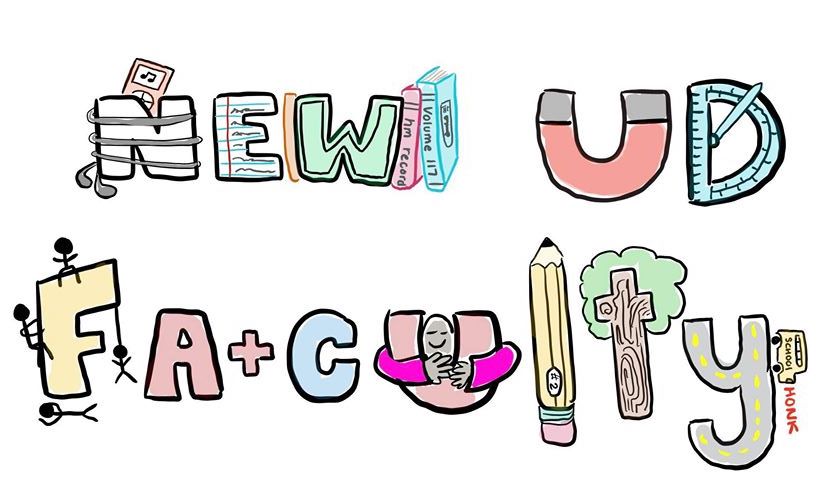 Melisa Morales
History teacher Melissa Morales, a PhD candidate in American Wwill join the Upper Division History Department this year, she said. Morales taught several courses in History and English at Fordham and worked at the Museum of the City of New York with middle and high school students through field trips and in the Saturday Academy program. She has also worked as a judge at History Day, a contest for sixth through twelfth graders where students conduct research on topics related to an annual theme and present their work through papers, exhibits, documentaries, and other methods.
"She has a lot of experience teaching writing and research skills, which will be incredibly helpful to HM students," History Department Chair Dr. Daniel Link said.
Morales enjoys teaching and working with students, and looks forward to the "strong sense of academic purpose and community" at the school, she said. After visiting, it was immediately apparent that the school is a special place that is deeply interested in helping students be their best selves in the classroom and beyond, she said.
"Within the context of an already very strong department, Ms. Morales is going to contribute greatly to our students' love affair with the history of the world," Head of School Dr. Tom Kelly said.
"I am looking forward to working both inside and beyond the classroom with each student to help them meet their individual and collective goals," Morales said.

Stan Lau
After teaching for over a decade at a range of schools, from Phillips Exeter Academy to San Francisco University High School, English teacher Stanley Lau will join the Upper Division English Department, he said.
Lau was drawn to the school by several factors, including its commitment to diversity, dedication to learning, and autonomy that teachers have with the curriculum, he said. "I love that HM values the life of the mind…when I visited HM, I was struck by the caliber of the discussions that I witnessed when I observed a few English classes," he said. It's clear that HM students love to learn, and I'm excited to be a part of this community."
"Wicked smart and uber creative, Lau has a great deal to offer HM, including some over the top courses and research developed at his last school," said Head of School Dr. Tom Kelly. Lau has taught a range of classes, including "electives focused on post-colonial literature" as well as a class where he examined issues including philosophical and moral problems in law as well as bioethics, he said.

Lauren McGinty
While completing a dual masters program in Science Education at Columbia University, Chemistry Lab Manager Lauren McGinty will join the Middle and Upper Division Science Departments this year. McGinty previously taught at Yorkville East Middle School and the Young Women's Leadership School of East Harlem. This summer, she spent time traveling in Australia and taking classes at Teachers College at Columbia University, she said.
Prior to teaching in New York, McGinty worked in San Francisco for the San Francisco Giants, coordinating private events, she said. She also earned a B.S. in Biochemistry from the University of California, Santa Barbara, where beginning her second year. she conducted undergraduate research for the Lipshutz Group that focuses on organometallic synthesis and green chemistry.
McGinty knew that she wanted to contribute to "a learning environment that offers a challenging curriculum to motivated students," and after a brief visit at the school, McGinty already knew that this would be the school for her, she said. "I am grateful for the opportunity to join this community and I am excited to meet you all."

Lester Lee
"Calling all gamers and Artificial Intelligence wonks!" Head of School Dr. Tom Kelly said, referring to Lester Lee, the newest addition to the Computer Science and Robotics Department. After a summer full of travel, friends, reading, and art, Lee will be teaching sections of Computer Science I and Computer Science II and wants them to be similar to a tasting menu of computer science, he said. Having started coding in high school, Lee has worked on a variety of different projects ranging from personal video games to visualizations of museum datasets.
Lee hopes to replicate the energy and passion of the students whom he saw while visiting, he said. "I want the experience to be fun, nourishing, and enjoyable. I want students towwΣwwww walk away with a better sense of what computer science is like."
"Mr. Lee is bringing an appreciation of algorithms to our Computer Science and Robotics Department," Kelly said. "Whether studying Math, Engineering, Robotics, or Computer Science, our students will be better off having had the privilege of learning from Mr. Lee."
Mirrie Choi
After a summer of creating art at the Art Students League, a New York City art school founded by students who broke away from the National Academy of Design, Visual Arts teacher Mirrie Choi will be teaching Upper Division sculpture, printmaking, and drawing/painting, as well as 8th grade sculpture and printmaking, she said.
For the past four years Choi has been teaching sixth through twelfth grade classes where students explored different kinds of media, including stop motion animation, painting murals, and mask making, she said.
Intrigued by the school's community and passion for learning, Choi is excited to be given the opportunity to teach at the school, she said. "I hope students will take away how art can be a catalyst for growth, positive change, and a way to gain appreciation for one another's perspectives. Also, there are opportunities for creativity in absolutely everything we do."
"It will certainly be an amazing year as it's a real treat to be having Ms. Choi join us," Head of School Dr. Tom Kelly said. "Ms. Choi's creativity and enthusiasm will be infectious and I'm jealous of anyone who has Ms. Choi this year!"
"She's an exciting artist and will be able to effectively teach students from both the position of maker and educator," Visual Arts Department Chair Dr. Anna Hetherington said.

Emily Lombardo
An interdisciplinary artist with experience managing university and professional studios, Emily Lombardo is looking forward to using her skills in the Middle and Upper Division Visual Arts Departments as the Visual Arts Technician. Prior to managing studios, Lombardo spent years studying glass blowing, and traveled to Dale Chihuly's school in Washington to further her understanding of the craft, she said.
After she visited the school, toured the studios, and met some of the students, Lombardo was " moved by the school's dedication to fine art," she said. She hopes to "encourage a collaborative spirit, respect for equipment and supplies with a mind towards safety, because in spaces with these shared values art can thrive."
"In a matter of weeks, everyone enrolled in an art course, six through twelve, should know Ms. Lombardo," said Head of School Dr. Tom Kelly "A talented artist in her own right, she's going to bring an interest in public art to Horace Mann School, the likes of which we haven't seen in a while."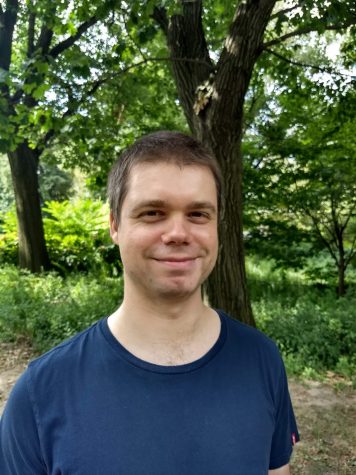 Jerome Hermeline
French teacher Jerome Hermeline had a busy summer visiting friends and family in France, England, and Germany before moving from Pasadena, CA, to New York City, he said. Hermeline, a French teacher at Harvard-Westlake School for the past six years, will be teaching a variety of French classes this year ranging from French 2 Honors to AP French. As a self-proclaimed History nerd, Hermeline loves discussing how the Renaissance was not as great as it seems, how "bad" Roman Emperors may not have been as evil as they seem, and the intricacies of USSR diplomacy, he said.
Excited to work in a new environment with collaborative faculty and sympathetic students, Hermeline hopes to make his students more comfortable with the French language and more knowledgeable about cultural complexities between different French-speaking communities, he said."All-in-all, my overarching goal is that they can use the language beyond the classroom because they enjoy it."
From the minute he met Hermeline, Head of School Dr. Tom Kelly knew that he would be a great fit, he said. "Having him join our World Languages Department adds to the level of teaching excellence and scholarship already there." For his future students, Hermeline wants to make it clear that although learning a language is hard and sometimes messy, he will do his best to accompany and assist everybody, Hermeline said.

Nobuko Weiler
Nobuko Weiler has always had a love for different languages and even spent a year home-staying in Argentina while she was in high school, she said. Excited to share her love of learning languages and some secret tips for learning Japanese, Weiler will be joining the World Languages Department and teaching classes ranging from Japanese 2 to AP Japanese, she said. She is also a baseball and tennis fan and attended the US Open before school started to support her favorite player, Rafael Nadal. With her experience as a translator and a teacher of Japanese and Spanish classes for over twenty years, Weiler is excited to work with students passionate about the Japanese language and culture, she said. "I am always excited to meet new students because they always end up teaching me to be a better teacher."
"Weiler Sensei's scholarship and pedagogical comfort in teaching the language and culture is going to create even more enthusiasm and appreciation for the materials presented," Head of School Dr. Tom Kelly said.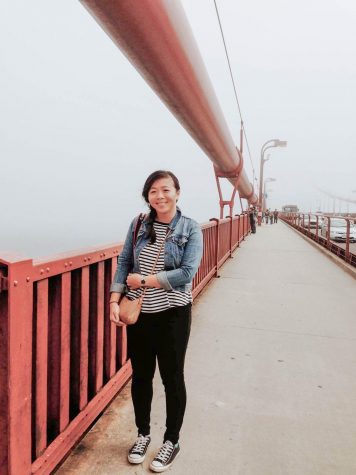 Catherine Gao
Eager to teach students similar to the ones that she encountered while attending the University of Chicago, Catherine Gao will be joining the Mathematics Department and teaching two sections each of Geometry and Algebra II & Trigonometry, she said. While a student at the University of Chicago, she worked as a teaching assistant in the Math Department and helped first-year calculus students prepare for exams and complete their homework. Gao is also an avid outdoor enthusiast and has run marathons in Chicago and New York.
"I hope that my students come to my classes ready to put in work (even if they feel like they aren't 'math people') and come away seeing that the time they invest in the subject, and in building their problem-solving toolkit, pays off in spades," she wrote. "Math certainly didn't come easily to me in college, but I chose to major in it because I could see that the time I spent practicing and working at it directly translated into a better understanding of concepts."
"Ms. Gao is a brilliant scholar and I'm honored that Ms. Gao would choose our Upper Division Mathematics Department as a new intellectual home," Head of School Dr. Tom Kelly said. Gao's thoughtfulness and superb communication skills were tough to match and she brings in a unique experience through her previous work in design, making her an invaluable member of our community, Mathematics Department Chair Meghan Fergusson said.

Ashley Taylor
A proud taco enthusiast, Ashley Taylor will be joining the school's College Counseling Department after working as a college counselor at Lycée Français de New York for two years, she said. Before moving to New York, she lived and worked in North Carolina as an admissions officer at Duke University, and over the past summer she attended multiple weddings which allowed her to travel to London, Chicago, and Pittsburgh.
Excited to work with The College Counseling Department, Taylor wants her future students to know that authenticity is very important in college applications, she said. "I hope students will embrace feeling a little uncomfortable and vulnerable in the college process because being open-minded pays off."
"Ms. Taylor's experience within the field of college admissions, both at the collegiate level and in the private sector, is going to further expand upon the admissions expertise we're fortunate to see in the CoCo," Head of School Dr. Tom Kelly said. "From working with students to find the right fit, to representing HM in an increasingly complex admissions process, Ms. Taylor is going to be an excellent counselor!"