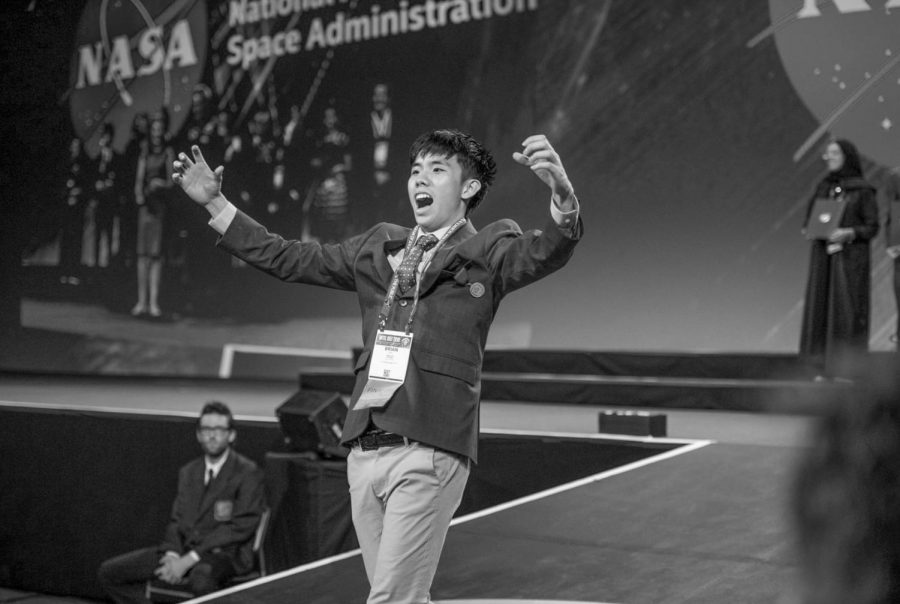 Brian Wu (12) ignored his mom's call one day in July, thinking she would tell him to come home. Only when she called a second time did he pick up to find out the news: he had been awarded a Davidson Fellows Scholarship.
There are only 20 Davidson Fellows selected every year, each of whom underwent an intensive application process to have their projects in STEM, music, literature, or philosophy considered for the award, according the Davidson Institute website. In February, Wu had to submit a 60-page research paper, a PowerPoint presentation outlining his project, two essays, and a 10-minute video, he said. "They want a portfolio that shows how your work is able to change the world," Wu said.
"For something I've been working on since freshman year of high school to be recognized by people who are so high up in the field; that's just an amazing feeling," Wu said.
The title of Wu's project is "Tatooine Found! Discovery and Characterization of the First-Ever Circum-binary Planet Detected Using Doppler Spectroscopy." Fans of Star Wars may be familiar with the famous image of two suns setting over the fictitious Tatooine horizon. A planet, such as Tatooine, that orbits two stars is scientifically known as a circum-binary planet. The first real circum-binary planet was not discovered until 1993, 16 years after the concept was illustrated in Star Wars. Only a handful of these planets have been discovered, most often by looking at them through telescopes.
However, in his research, Wu was the first to discover one of these circum-binary planets by focusing on the stars and searching for "wobbling" due to the gravity of the surrounding planets. According to the Davidson Institute, "Brian's work in advancing the field of radial velocity astronomy will greatly increase the number of stellar companions discovered using this method."
Some of the research Wu did during his junior year overlapped with the astronomy aspect of the Physics Honors curriculum, science teacher Oleg Zvezdin, who taught the course, said. At the end of the year, Wu delivered the TED Talk about his research to his peers in the class. "I think that was really nice, because they had all the background to get an understanding of the sort of research that he did and how he did it," Zvezdin said.
Math teacher Charles Garcia was Wu's teacher for his sophomore and junior years in the honors math program. "He had such enthusiasm about all the extra stuff that he did outside of class," Garcia said. "He would bring it in and inform me— not that I understood everything he was talking about. He's really brilliant."
"[Wu] is a really independent learner, which I commend him for," Zvezdin said. "He's a very creative kid and he's also the type of kid that, if he is interested in something, he will go the extra mile."
Garcia also noted Wu's genuine interest in the projects of the other Davidson Fellows. "He has this infinite curiosity," he said.
Wu is grateful to the science and math departments for helping inspire him in STEM, he said. "I came into high school not knowing what my interests were, or where I would be at the end of senior year, and now I'm here," Wu said. "It's very surreal."
As part of his prize, Wu was awarded a $10,000 scholarship and will be honored at an awards ceremony in Washington DC on September 27th. Each of the 20 Fellows will have a chance to present on their project and its impact on society, Wu said. That weekend, Wu will meet with Congressional representatives and Bob Davidson, a major philanthropist for gifted education and the founder of the Davidson Institute.
"I hope, as a Davidson Fellow, to be using my experience to inspire other students to pursue STEM," Wu said. "STEM is like a toolkit that has the power to solve many of the world's problems. If you can embrace the power of STEM, you have the power to change the world.