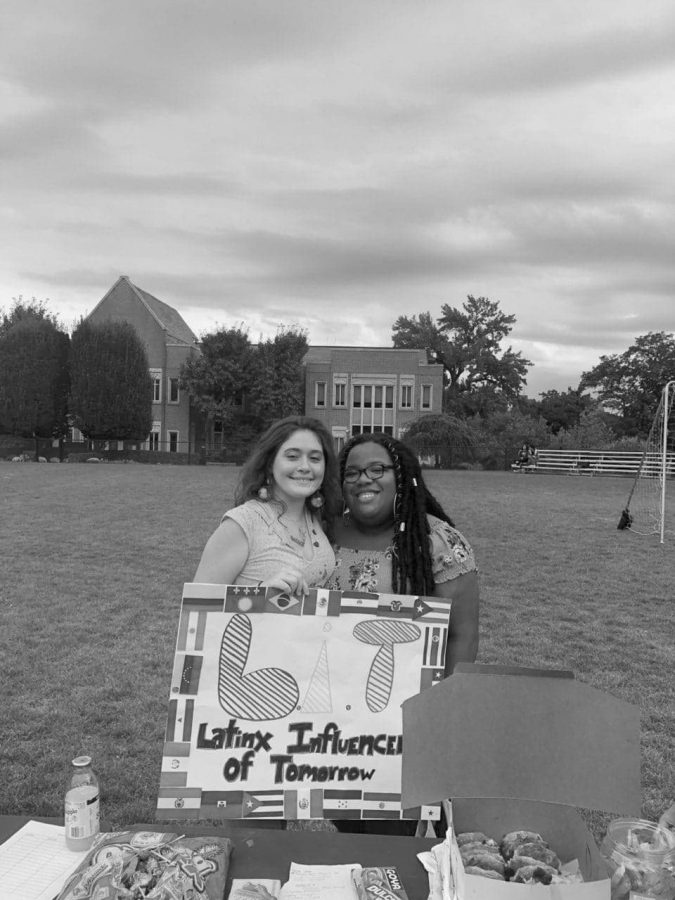 "I hope Hispanic Heritage Month gives people a positive image when they think of LatinX people and their culture. I hope it increases our visibility and unity," Jayla Thomas (12) said.
The school is currently holding its first ever celebration of Hispanic Heritage Month from September 15th to October 15th. Since last spring, the leaders of Latino Influences of Tomorrow club (LIT) have put their heads together to devise a diverse itinerary for the month. The leaders are Thomas, Tiger Lily Moreno (12) and Adriana Hernandez (12).
Faculty advisor Ricardo Alvarez-Pimentel said that the club has three goals in mind for the month: to make the LatinX staff and community as visible as possible, educate the community on the issues facing LatinX cultural, and make an alliance with people who don't identify as LatinX.
LIT has planned an array of events for Hispanic Heritage Month, including workshops, open classrooms, movie screenings, Merengue styled dance workshops, and traditional Latin American snacks, like Flan, during break every Thursday.
"This month is important for Horace Mann because we don't have a large Hispanic student population in the high school, and because of that Hispanic students might not feel as supported," Thomas said.
Alvarez enjoys seeing the leaders of LIT organizing and leading these initiatives. "It's really cool to see them coming into their own and harnessing their own skills and voices to make change happen," he said.
"Faculty and colleagues also have been nothing but supportive of the new Latin American history class and students are hungry for the new clubs and activities," he said.
The leaders also appreciate the commitment that Alvarez has put into the club, Hernandez said. "In my experience teachers are there as secondary help but Alvarez is really there for us and active, helping us plan and create the ideas for the month," she said.
Alvarez held an open classroom workshop called "Indigenous Peoples, 'Whitening', and the Challenges of 'Modernity'" on Tuesday. "The goal was to educate students and faculty about the histories of Latin American societies," he said.
"I thought it was really inspiring to hear Mr. Alvarez's presentation on Indigenous Peoples, and it really helped me patch up a lot of the holes in my knowledge on hispanic culture," Brian Wu (12) said.
"It was interesting to see Mexico's shift to liberalism through native art pieces of the time," Jacob Schorsh (11) said.
On Wednesday LIT held dance workshop for Merengue, a traditional dance from the Dominican Republic which was brought to the US in 1960.
"It was just another way to expose kids to a fun aspect of the culture. The workshop included a little history of the dance too so the people who attended could understand the culture behind the dance moves they were doing," Hernandez said.
Sofia Subramaniam (11) attended the workshop and learned that the form is influenced by jazz, African, and European styles, she said. "It was really eye opening to learn a new form of dance that I was not familiar with," she said.
An important part of the month will be screenings of movies, because they do a good job displaying the subject authentically, said Moreno. Last Friday, LIT held a screening of the movie 'Real Women have Curves.'
"The movie offers humor with LatinX culture just like any coming of age story to really say 'this is who we are,'" Moreno said. The overall vibe of the night was relaxed, and many students and teachers attended.
"I found how relatable the movie was incredibly striking, Gregorio Florentino Sanchez (12) said.
The issues in the movie exist across all the different cultures in the LatinX community, something which I had not thought about before."
IT club leaders also screened the film "Black in Latin America: Haiti and the Dominican Republic, and Island divided" on Thursday. The movie is about a man who identifies as black enduring racism while traveling through Latin America.
"The movie disproves the myth that LatinX people can't be racist because they're also people of color. It's really an undiscussed topic that if you're not LatinX you don't talk about it," Moreno said. "This movie just hits at some of the stuff that's part of our reality as a LatinX people, a reality that we want to expose to the larger school."
In addition, LIT has incorporated traditional Hispanic foods and music into the month during break on Thursdays.
"The food and music have been the only things that people have seen, but I hope that's just the gateway to digging deeper into LatinX history. It should grab their attention, get people talking about LIT, and bring people to the events," Moreno said. "It's just the sugar coated-literally–version of who we are in total."
The school really makes an effort to appreciate minorities, Jaden Picarello (10) said.
"When I first found out that HM was having Hispanic Heritage Month I was excited to see how the community will react to all that Latin culture has to offer."
Chandler Reyes (11) feels like the variety of affinity groups that the school has helped to maintain that support, he said.
"We always recognize the diversity in our community, since we have such a mixed population we have a wide variety of perspectives and it helps us learn about new ideas," Alvarez said."This is definitely an asset and something that is really cool about our community."
"I hope that more people will want to join and know about LIT club because it is the only way we can continue the tradition of celebrating Hispanic Heritage Month and continue to be seen as an important community at the school," Moreno said.