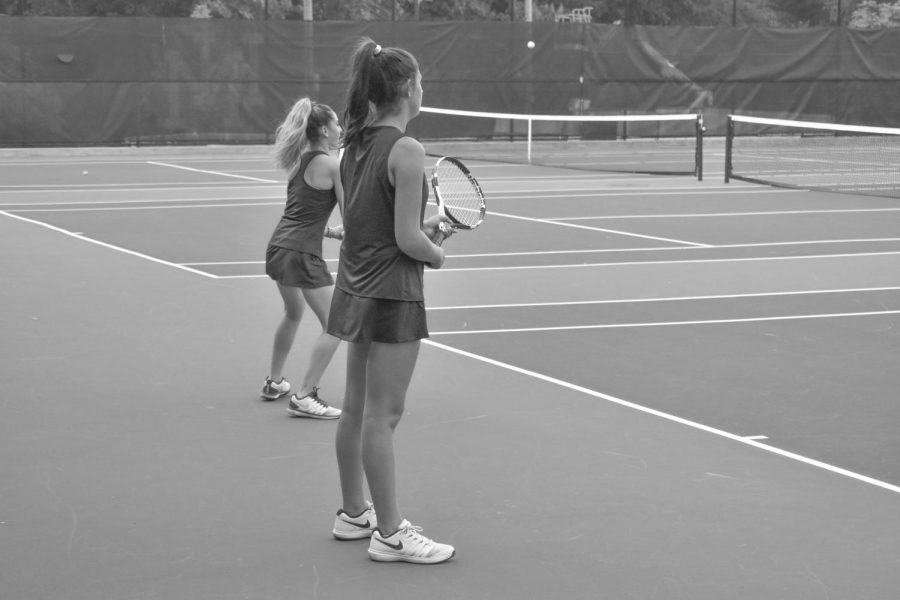 The long awaited tennis courts adjacent to Lutnick Hall made their grand opening last week. The freshly painted lines and bright colors provide a state of the art home court for the Lions. However, while the courts may be new, the culture and success of the Girls' Junior Varsity Tennis team is not, as the Lions have won all six of their matches thus far.
The team's recent success has clearly translated to the confidence of the players themselves. "We are very consistent and all around players who understand the game, and know how to win," co-Captain Jade Ciriello (10) said.
Similarly, when asked how she thought the team could build on its past performances, Purvi Jonnalagadda (10) said, "I'm honestly not sure what we have to improve on, we have some really good servers and just overall good players."
While their confidence may be running high, the team has not let it get in the way of their ambition to constantly improve. "I think we are a very strong team all around, but I think we can always improve on our game," Ciriello said.
It's important for players to have a calm mindset during the matches, Ciriello said. Staying calm helps her play better, and she thinks other players think the same about themselves.
In order to maximize the potential of his team, Coach Olufemi Salako ensures that the players are frequently playing in high intensity matches and are being exposed to different positions.
"During practice, the team mostly plays matches to determine our lineup," co-Captain Amanda Mark (10) said. "Playing games during practice is helpful to work on strategies for when we have matches."
As with any team, chemistry has been a significant factor in the team's success. "In practice we've been working on playing together and learning one another's play styles," Jonnalagadda said.
Jonnalagadda credited Mark and Ciriello, as well as co-Captains Sadie Warshaw (10) and Sammy Blackman (10) for being impactful and spirited leaders. Effective leadership on the Junior Varsity team is especially important, as they are not frequently able to receive advice from some more experienced players on the Varsity team.
"The Varsity and JV teams have separate practices, so they don't mix often," Mark said. With so many "all around players" on the team, tryouts were highly competitive, Ciriello said.
"During tryouts, we played many singles matches to determine the best players," Mark said. "Tryouts were with both JV and Varsity, and we would play singles matches against a lot of different people," Jonnalagadda said.
Each individual team member contributes to the Lions' recent success. "I think, just, everyone has stepped up to be a part of the team, no one person in particular."
Jonnalagadda also acknowledged that the goal of the team is two-fold. "Our goal for this season is to play well and have fun."