(Field)ing optimistic: JV Field Hockey looks to improve on slow start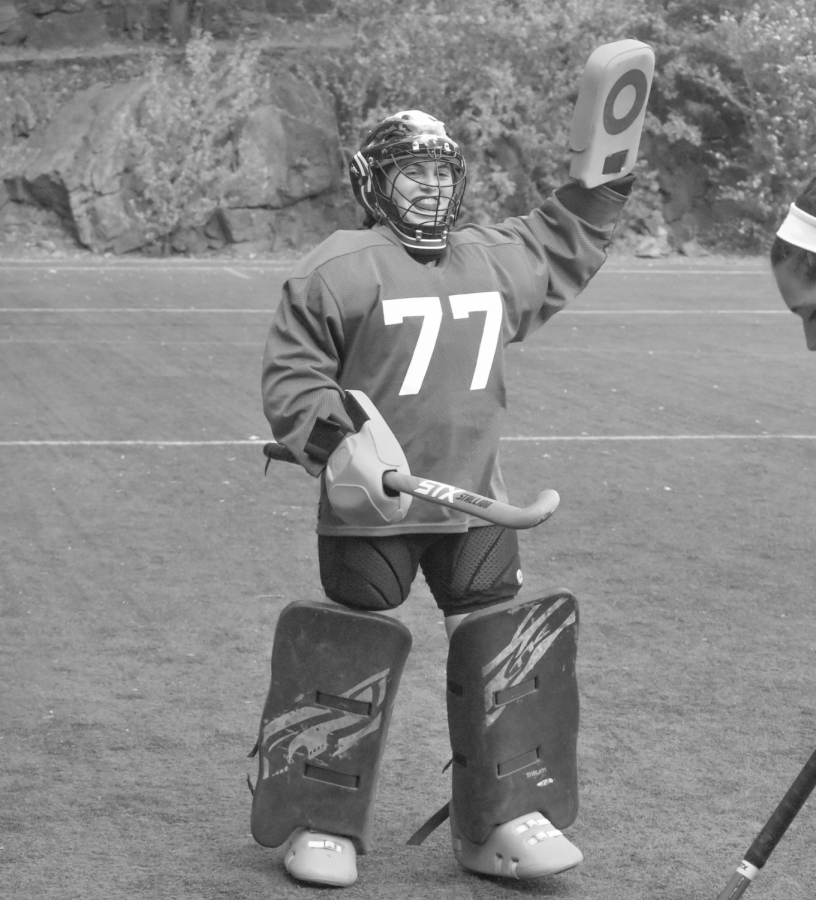 Despite losing 1-5 to Hackley in their second game of the season on Monday, the Junior Varsity Field Hockey team is determined to overcome their small numbers and limited experience.
Last Tuesday, the team defeated Riverdale 2-1 in their first game of the season with a second half goal scored by Maya Westra (9) in the second half. The team only has four games this season, depriving the team of much-needed experience in games, Olivia Dwyer (10) said.
"The Hackley game was definitely a tough one, but when we scored, there was a lot of good energy between us and it made everyone more determined to work even harder in practice so that we win our next game against Fieldston," Hannah Katzke (9) said.
Many of the players played on the Middle School Field Hockey team, but the atmosphere of a Middle School team and a JV team are very different. The environment is more competitive and the practices are much harder, Coach Jozann Jackson said.
"The team needs to work on playing together and passing to others more, rather than playing as individuals dribbling the ball up the field," she said.
"We are working together really well so far, but I think that we are still getting used to playing together as a team," Emily Salzhauer (9) said.
Despite a two-year period without a Junior Varsity team, the players were eager to play and their urgency surprised Coach Jackson, she said.
Since the team has 10 players, nobody gets a break during games and everyone is constantly moving. "The Hackley game was particularly challenging due to their large bench and the 90-degree heat that day, which made playing a full game even tougher," Katzke said.
The team also hopes to improve on their stamina. It's hard to play since the team is so small, and players are unable to sub and tire quickly, Salzhauer said. "I think that if we work on our stamina, we will be much more prepared in games against other teams that have many players, and can win more games," she said.
Tess Goldberg (9) and Maddie Yoon (9), two Varsity Field Hockey players, have practiced with the JV team to help them gain more experience. The Varsity and Junior Varsity teams practice together, allowing less experienced players to learn from Goldberg, Yoon, and other players on the Varsity team.
"We are really emphasizing the basics, because many of the girls haven't played field hockey for very long," Jackson said. They have a lot of room for improvement, so currently their goals are to pass more and get their stick down more, two fundamental aspects of good playing, Team Manager Amelia Resnick (9) said.
"One of the team's strengths is its aggressiveness," Salzhauer said. "Westra, who scored against Riverdale, always runs back and fights for the ball, even if she missed it." Salzhauer said.
Resnick also identified Riya Daga (9) as a strong player on defense who always fought to steal the ball from opponents.
"Daga always pushed really hard in games, and afterwards, she always asked Jackson for advice on how to improve in the future, which I think is a really good thing that everyone should do," Resnick said.
Coach Jackson hopes that the girls are all going to be able to see their work come to fruition next year, she said. "I'm hoping for us to just finish off the last two games with great technique, and I'm really proud of how the girls have played thus far this season."