Pros as role models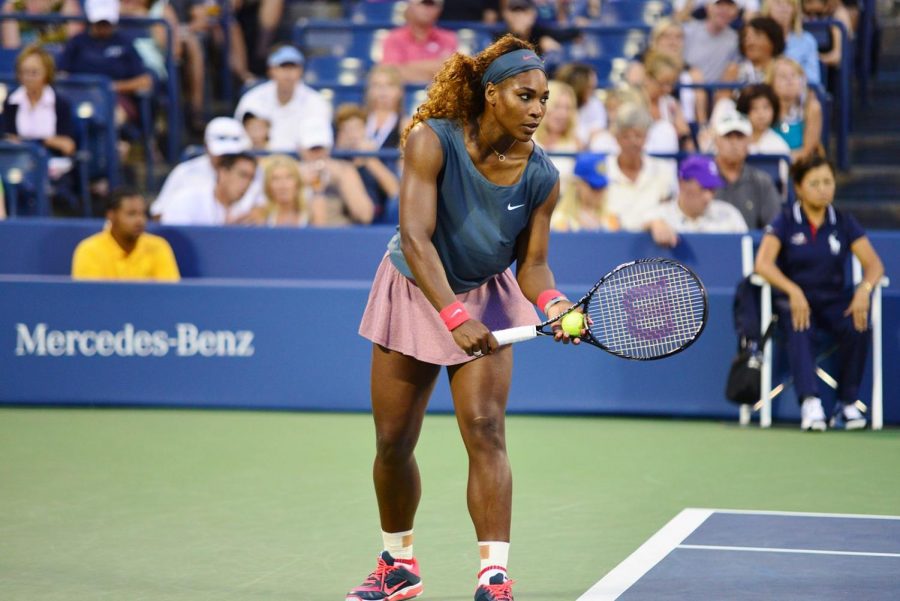 Whether it is through a screen or in person, watching professional athletes and sports teams both inspires school athletes and teaches them how to improve their game.
Catherine Mignone (10), a member of the Girls' Cross Country, Swimming, and Rugby teams, said that knowing Katie Ledecky, an Olympic swimmer with five medals, and attending her Olympic swim races inspired her to go further in her swimming career and work harder.
"We're family friends with Katie Ledecky and her family because my mom is from the same town as her in North Dakota, so they knew each other for a very long time," she said. "She taught me that one of the hardest aspects of swimming as a whole is mental strength, and also helped me make my freestyle stroke more efficient."
Girls' Volleyball Captain Zoë Swift (11) said she frequently watches division one volleyball teams to improve her own game. The Stanford team, one of the highest ranking college teams, has one player, Kathryn Plummer, whose six foot and eight inch height both makes her an exemplary volleyball player and astounds Swift, she said.
"If you're just looking at your position and their footwork, for example, or their transitions, it's really helpful to see how you can improve your game based off of that," Swift said.
JihSu Ryu (12) said that her success on the Girls' Varsity Tennis team cannot be accredited to just one professional athlete. Ryu grew up watching a range of professional tennis players, from Kim Clijsters to Serena Williams to Roger Federer, she said.
Ryu became a fan of the sport as a result of her affinity for playing tennis and finds it interesting to watch how certain players respond to different situations and opponents on the court and overcome obstacles such as being injured, she said.
Mignone also said she learned several rugby skills from observing the Eagles team – the women's rugby team for the United States. She watched them in Ireland during an international rugby tournament, she said. "They taught me even more about how to love rugby and how to dedicate myself to it."
Eagles player Cheta Emba, who plays prop, a defensive position, and wing, an offensive position, has been her primary inspiration, Mignone said. Emba's ability to move the ball and play in different positions have especially inspired Mignone because she is a fly half, a position that also requires a lot of movement in different places on the field, she said.
For Lowell Finster (11) and Jonathan Mong (11) – two members of the Varsity Water Polo team – their role models are not as well known.
"For water polo, in terms of any professional athlete, there aren't too many high profile ones, at least outside of the water polo circles because it's just not one of the big sports," Mong said.
Mong said that though he does learn from watching the techniques of a few other water polo players, he does not feel like he is missing out as a result of the lack of notorious players. "I'm not really great with speed and such, so I just go my own way," he said.
One of Finster's role models has been a teammate on the school team: Lorenzo Hess '19. "He has very good awareness and game sense, so he could predict things before they would happen or as they were unfolding," he said.
Another role model for Finster was five-time water polo Olympian Tony Azevedo, who taught a water polo clinic at the school. "His shooting form was really advanced and his release was very fast and accurate," Finster said.
Outside of school, Mong has attended three-time water polo Olympian, Wolf Wigo's summer camp in Santa Barbara and Princeton University. "I think that the majority of what I know about game strategy and game theory is due to him," he said.
While watching professional athletes win points against their opponents is a great learning opportunity, observing what they do wrong can also help aspiring athletes.
Mignone noticed the detrimental impacts of certain players who try to control the ball and dictate what the team does apart from what the coach says in a rugby match, she said. "Rugby is truly a team sport in its essence because it's all about how you get the ball down the field together."
In a tennis match, Ryu said that one of the most destructive things that players do is get frustrated. "I try to avoid anger on the court, because I know that it's only going to counteract what I'm trying to do on the court." Ryu said.
Similar to Ryu, Mong tries to avoid playing too forcefully or unfairly, which he has seen other school teams do. "Last Friday, somebody from Trinity kicked me out of nowhere and that's an automatic foul, and they just kind of do that stuff on the regular," he said.
On the other hand, Swift said players who are at a higher level and being watched by people all over the world are less likely to act out and play unfairly, as they are serving as an example for others.
Mignone said that observing these players can be a really helpful source of information for other players. "Even if you don't really enjoy it, I think it's important to look at higher levels just so you know what different plays are used," she said.