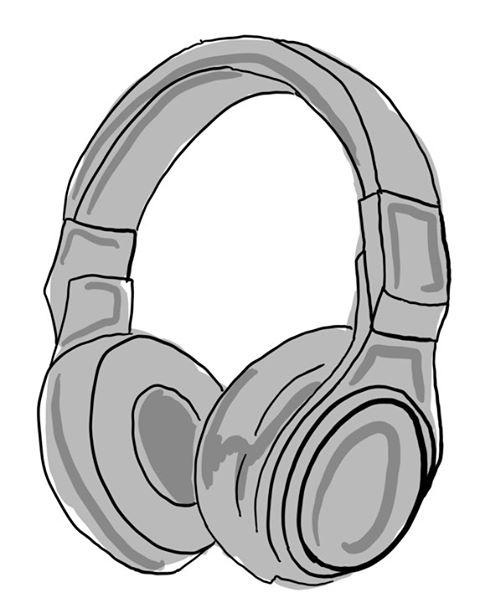 Working in the library during his gap year, Muhaiminul Ashraf '19 can often be found roaming the school as he was known to throughout his high school career: wearing headphones. Ashraf is an avid music fan and producer, and despite graduating last year, he still frequents the HM Music Studio to make original songs and help other musical students.
"Regardless of if he made the beat or if his vocals are on it, [Ashraf] has some sort of hand in every release that you hear coming out of the Horace Mann studio," Rish Sinha (12), another regular visitor to the music studio who raps under the pseudonym Del-N'quent, said. "He'll give some advice, or do some tweaks on it. He always is helping someone out."
Prior to going to the recording studio during his freshman year, Ashraf had very little background with music. "My parents, due to restrictions by religion, always hated music so I didn't listen to music on my own until the fourth grade," he said. "I think the first song I heard was 'I Gotta Feeling by the Black Eyed Peas.'"
Ashraf quickly started experimenting on garageBand, playing with the pre-recorded loops the application offered. However, he didn't like that he was "just recycling someone else's works," so he began making his own chords, melodies, and drum patterns, he said.
Ashraf's music is a mixture of funk, R&B, and hip hop with occasional bits of pop. "He puts an electronic spin on R&B and hip hop," Sinha said.
A wide variety of genres influence Ashraf's music; some of his greatest inspirations include Jon Bellion, Stevie Wonder, UMI, BROCKHAMPTON, Dominic Fike, Aries, 99 Neighbors, and Kanye West.
"Tyler, the Creator is probably one of my biggest influences." Ashraf said. "What struck me about the album is how frankly he speaks about feelings of loneliness and alienation. The instrumentals on 'Flower Boy' introduced me to neo-soul and jazz and I've never thought about music the same."
Other important musical influences in Ashraf's work are the rappers Saba, Smino, and Noname, the three of whom often collaborate. Ashraf was especially influenced by the way Smino adds soul to his songs, Noname uses her songs as vehicles to express her fears of globalization, and Saba deals with loss and trauma through his songs, he said.
"The common thread between all three of those artists is they all have heavy gospel as well as neo-soul and jazz influences which is what I want to make."'
During his time at the school, Ashraf found a mentor in Music Department Chair Doug Epstein. "Epstein was always supporting me throughout my music journey," Ashraf said. "Anytime I had an issue with the track, or I got stuck at some point, he would offer his help and some words of wisdom from his time working in the recording business."
"We had a mentor/mentee relationship while he was a student. He is really curious and really interested and he tries to take everything I say to heart," Epstein said. "From music theory to 'what does this button do' to 'what is compression,' I tried to give him ideas to break out of his boxes."
The recording studio functioned as a safe haven for Ashraf where he would come to manage his workload and express his creativity through song, he said.
"I use the studio to play around with melodies and see what chords and drum patterns fit the vibe I'm going for," he said. "The studio in high school was my own little corner of the world where I always felt at home. Whenever I had a bad day, I'd retreat there and feel a little more at home."
"Muhaiminul is earnestly curious, and he really wants to know more and more. He's never really satisfied with his own work," Epstein said. "He's always looking for something that will meet his own standards which are pretty high."
"Muhaiminul is truly an inspiration to me," Christian Jones (12) said. "I've watched him in the studio and his music is inspiring. Listening to his music made other people want to make music."
Ashraf has not released anything recently, but has many projects which may be released soon.
"I am sitting on a lot of unfinished and unreleased projects right now, but if I were to release something, it would be through a music distributor that would upload it directly to whatever streaming services I want," he said.
Ashraf is not sure whether he will pursue music as a career, but he is certain that he will continue to write and produce songs throughout his life because it helps him forge connections with people and provides him with an emotional outlet, he said.