Historical profiles: Virgil Prettyman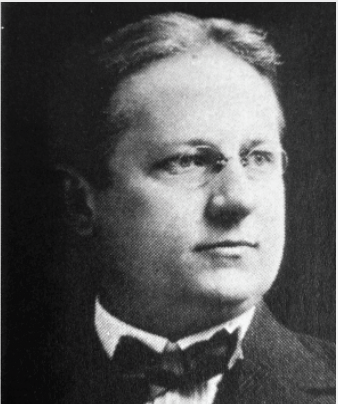 In a fitting dedication, Prettyman Hall, the school's athletic complex, received its name from previous Headmaster from 1894 to 1920 Virgil Prettyman, who had an intense interest in athletics as well as academics.
Prettyman arrived as a young instructor in the year of the school's move to 120th Street, when the school was still associated with the Teachers College. He soon became principal at the age of 20 after only one year of teaching.
To appear older than he was and to "increase his dignity," Prettyman resorted to growing a moustache and goatee during his first years as principal, Prettyman's son Lambert Prettyman Sr. said in an audio recording from the gymnasium dedication in 1955, speaking on behalf of his father.
Virgil Prettyman played a central role in creating what are now the school's core values, Head of School Dr. Tom Kelly wrote in an email. Prettyman is also credited for many of the traditions that lived on for decades after his retirement.
According to the "First Hundred Years," a book by English teacher Harry Bauld and Jerome Kissinger who reflect on the first 100 years of the school, Virgil Prettyman taught Classical Languages, due to his firm belief that students needed to learn Greek and Latin. Moreover, he coached football on a stony playing field on 120th street because of his belief that students needed exercise and fresh air.
Virgil Prettyman led the school with three main principles, Lambert Prettyman Sr. said. First, he wanted to establish a boys' school with top-notch facilities. Second, he hoped to get away from the dependence of another institution like the Teachers' College at Columbia University. Thirdly, he wanted to "get away from crying females. He was very uncomfortable when girls would come into his office and cry on his shoulder because they were having difficulties in their studies," Lambert Prettyman Sr. said.
"The fact that there were people who were once in a position of power at the school who would strongly oppose to me being there is sad to think about," Jordan Ferdman (11) said.
Liliana Greyf (10) doesn't believe that it is productive to even discuss the historical sexism at the school when issues of creating a co-ed school don't apply to students. "Having more conversations about what the sexist leaders of the school once did doesn't bring up anything except what we have moved on from."
However, Mekhala Mantravadi (10) said that she believes in the importance of discussing parts of the school's history that may be uncomfortable. "You have to confront yourself with uncomfortable things to know what they are truly about. You can't listen to things you only want to hear."
From Archivist Hillary Matlin's experience studying how people, governments, and organizations cope with less admirable points in history, the most productive way forward is to acknowledge previous shortcomings, she wrote in an email.
Nonetheless, in the years leading up to the creation of a new boys school, Prettyman argued to keep separate schools for boys and girls during weekly meetings. In 1909, he built a thirteen-acre site above Van Cortlandt Park after being given real estate knowledge and a direction to move there from a passerby, Bauld wrote. Eventually, Volume XXX Issue 1 of The Record celebrated how the school "flourished" once "Horace Mann School for Boys" officially opened in 1914 with Virgil Prettyman as Headmaster.
Chair of the Library Department Caroline Bartels said that reflecting upon moments such as these are important to "put Horace Mann in context to whatever [was] going on in New York" and to contextualize the founding of the school in terms of the entire city.
As stated in "The First Hundred Years," after the founding of the boys' school, Prettyman worked with the headmasters of Gilman Country Day School and Nichols School to form a "Country Day School movement" in 1912. Their union acted as the basis for traditional academic training and discipline. "It is because of Mr. Prettyman's decision to champion the Country Day School movement and the construction of a campus with state of the art facilities that we have our robust athletic and co-curricular programs," Kelly wrote.
"Everything we do historically does even inadvertently influence how we end up where we are," Matlin said. "It is important to know where you came from so you can see the choices we made to get to where we are."
As headmaster, Virgil Prettyman placed emphasis on sports and study, dividing the student body into two teams: "Athenians" and "Corinthians," the First Hundred Years said. According to Volume XVI of the Teachers College Record, which discussed the Horace Mann School for The Boys, each boy at the school became either an Athenian or Corinthian for the duration of their high school experience; the division served as a keen and friendly rivalry for athletic and other types of competitions.
In addition, Prettyman called each grade a "form" and teachers "masters." In terms of athletics, Virgil Prettyman mandated one hour of outdoor exercise a day.
Virgil Prettyman was a leader for the school who had great integrity of character, incredible devotion to trusting others, and loyalty to his co-workers, wrote Volume XXI of The Teachers College Record in 1920 after his resignation announcement from the Headmaster position.
Accounts of Virgil Prettyman's personality differ among alumni. In "The First Hundred Years," it mentioned that some believed his desire to separate the school based on gender stemmed from his ineffectiveness at disciplining girls, while others believed he held a strong command. Malcolm Spence, member of the class of 1918, who taught at the school in the 1920s, said that "with him, you didn't mess around. The rules were the rules."
Despite differing accounts regarding his discipline, Virgil Prettyman was known affectionately as "Prit" by students and faculty alike, and spoke on values and had the boys sing hymns at chapel every day, Bauld wrote.
Virgil Prettyman left the school in 1920 to move onto business, and said to the New York Evening Sun that he felt "pessimistic about the future of education." He did not "believe America [would] realize the desperate situation of the schools in time to prevent the wrecking of the entire system," his obituary in the New York Times stated. New progressive norms at the Teachers College and other administrations challenged Prettyman's conservative approach to education.
On February 5th, 1955, Carl H. Pforzheimer honored Prettyman by naming and dedicating Prettyman Gymnasium after him.
Today, the Prettyman family is quite proud of their lasting involvement with the school, Kelly wrote. "Not a year goes by that we don't hear from one of his relatives."