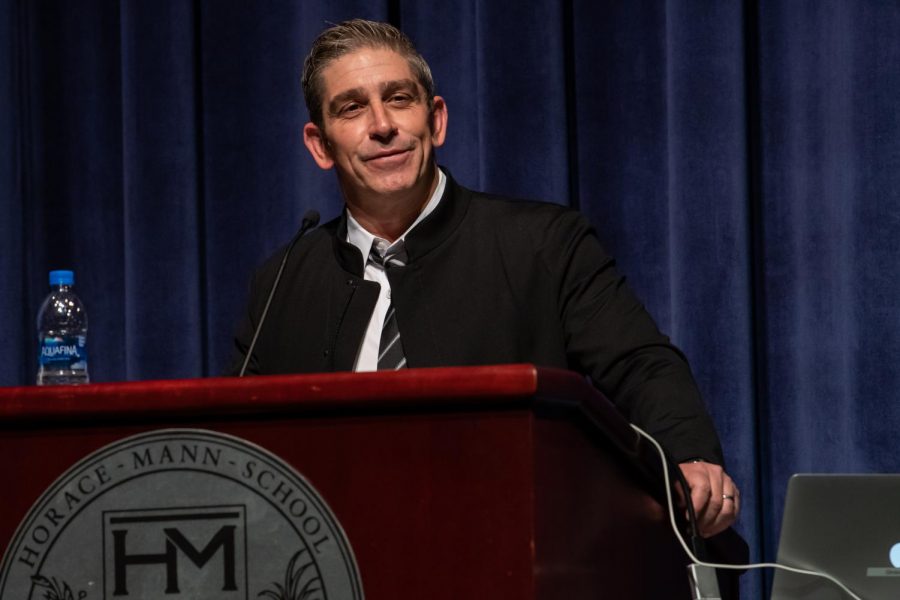 Richard Blanco, Barack Obama's inaugural poet in 2013, spread a resounding call to political action through poetry in Gross Theatre last Tuesday in an Upper Division assembly, as well as English class visitations and a poetry reading for Horace Mann parents that evening.
Blanco performed many of his poems from his newest book How to Love a Country during the assembly, such as "Seventeen Funerals" about the February 2018 shooting at Marjory Stoneman Douglas High School, "Complaint of El Río Grande" to discuss the arbitration of national borders, and "Easy Lynching on Herndon Avenue," about the last recorded lynching in America, which took place in 1981.
Blanco left many people in awe of his poetry-reading skills, Tiger Moreno (12) said. "The way he spoke, every pause he took, and the way he enunciated his words was super captivating, and really relatable to any person in the room."
"In some ways, this book was a departure from his other work, in some ways it was a natural extension of his interest in identity and thinking about America as home and what that means," English teacher Dr. Wendy Steiner said. However, the 2016 election specifically prompted Blanco to start writing more political poetry. Steiner had not read much of his work before, but appreciated the urgency behind his words, she said.
Blanco's powerful poetry evoked feelings of both unity and awareness of the plight of minority groups in this country, Moreno said. "The feelings that I get from his poetry is a great sense of unity in the midst of division, and inspiration to love thy neighbor."
History teacher Ricardo Alvarez-Pimentel felt a personal connection to a few specific poems, he said. "I particularly liked the poem he wrote about his mother and the difficult decision she had to make to leave her home country, not knowing what would happen," he said. Alvarez felt he could empathize with the poem because he immigrated to Miami with his family as a child, and as a parent he understood how difficult it must have been to leave family behind and enter a new society, he said.
Moreno's favorite poem was "The U.S. of US," she said. "I thought it was very impressive for him to write a poem that is so unifying and covers all of Latin America and Latin American people, since being Latino means so many things," she said.
In addition to speaking at the assembly, Moreno hosted Richard Blanco's D-period talkback session, she said. The talkback had a different energy from the assembly since Blanco was able to be more descriptive and show his personality more than he did in the assembly, Moreno said.
"I was honestly really nervous going into it, considering how outstanding his career is, but he was very cool and down-to-Earth, which I was very surprised by. It was one of the most memorable experiences I've had at Horace Mann," she said.
During the talkback, Blanco described his writing process and how he balances poetry with being an engineer, Moreno said. "It was really interesting to see how his brain works when it comes to writing, and how his own identity affects his style."
Blanco also visited Steiner's AP English class and English teacher Rebecca Bahr's twelfth grade Poets of the Moment class during A period. During his class, Blanco held a Q & A session and they got their books autographed, Zachary Brooks (12) said.
"The most compelling thing he talked about was how he became a poet while he was also an engineer," Brooks said.
Blanco discovered his talent for poetry when he wrote a poem about a daffodil having never actually seen one, he said. "He came to realize that his voice as a poet was to answer the question that is essential to him–the question of national identity, culture, and finding belonging." Blanco also discussed his relationship with his parents growing up and added more personal experience about what it was like coming out as gay later in life, Brooks said.
"In our AP class he talked a little more about his life and the fact that he didn't come to poetry until he was about 26 or 27 years old," Steiner said. "He spoke well about leaving yourself open to different possibilities in life, and that you do not need to have everything figured out in high school," Steiner said.
Blanco also attended an event in the evening for parents, faculty, and donors. The event started with a cocktail party, then everyone went to the Recital Hall where Moreno, along with Jaylah Thomas (12) and Adrianna Hernandez (12), introduced Blanco, Moreno said. Blanco did a more in-depth version of his assembly speech, where he focused on the Grab the Torch foundation, a nonprofit meant to enhance youth leadership skills, and signed books for the attendees after, she said. "He gave us big hugs at the end; he was so grateful we spent all that time with him that day."
Alvarez praised Blanco for his efforts in incorporating Latin American culture in his poetry, such as the seamless integration of Spanish words and phrases in his poems, he said. "As he evolved as a poet he learned the struggles of others, not just Cuban-Americans, and how to convey those struggles without speaking for other people," Alvarez said. When he and the students in the Latinx club suggested joining this event to October's Latinx Heritage Month, Caroline Bartels, Upper Division Library Department Chair, and the English department were all very supportive, he said.
Blanco's visit was meaningful for both students and teachers, because not only Latinx students or students with parents or grandparents that were immigrants but almost everyone could feel represented by Blanco's words, Alvarez said.