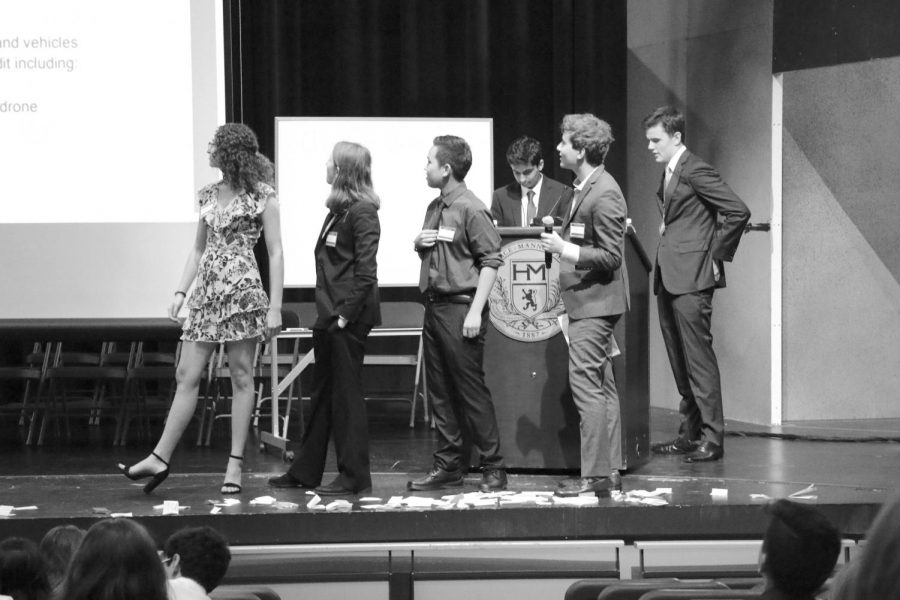 On Saturday, October 14th, the school welcomed over 900 high school students from the tri-state area to debate global issues at the 34th annual Horace Mann Model United Nations Conference (HoMMUNC).
Preparations for the conference began in June, when juniors on the Model United Nations (MUN) team began to draft their background guides, moderator of the Disarmament and International Security Committee (DISEC) Charlie Shapiro (11) said. The working papers, all around 20 to 25 pages, were sent out to all of the participants of the conference to provide them with information on potential topics as well as possible solutions and questions to consider, MUN Secretary General Arman Kumar (12) said.
Once the delegates arrived at the conference, they divided into respective committees which fell under one of three categories: general assemblies, specialized agencies, or crisis committees. In Kumar's committee, DISEC, it did not take long for the delegates to choose to debate on Unmanned Aerial Vehicles (UVAs) as opposed to orbital security, which was the other option, he said.
"I let them set the agenda because, in my opinion, it seemed like 99 percent of the committee wanted to talk about UVAs," Kumar said. "There was no point in wasting time talking about a topic no one wanted to talk about."
After deciding on a topic, the committees typically split their time between moderated caucuses, or formal debates, and unmoderated caucuses, in which delegates work in groups called blocs, Kumar said. Each bloc then collaborates on a set of working papers which states the delegates' approach to the issue at hand. "At the end of the day, we just want to make sure that everyone's ideas are well-represented," Kumar said.
Based on speaking quality, work during unmoderated caucuses, and the final resolutions, delegates are judged and earn awards accordingly, he said.
However, the style of discourse that occurs among the delegates varies based on the type of committee. In HoMMUNC's crisis committees, for example, delegates adopted personas of historical figures from the French Revolution, such as Jean Paul Marat or Maximilian Robespierre, and represented their respectives figures' viewpoints.
Two of HoMMUNNC's crisis committees, French Revolution: The Rebellion and French Revolution: The Estate, worked in tandem with one another, meaning that delegates' actions in one committee could affect delegates' actions in the other.
In the French Revolution: The Estate committee, Diya Mehta, a junior from Riverdale, played the role of John Paul Rabaut, who was French politician and Protestant advocate working to pass propaganda directives to frame French rebels of the church. Due to the spontaneous nature of crisis committees, however, it was difficult to pass motions, which are proposals that delegates vote on, Mehta said. "We haven't had any [directives] that significant because we've been dealing with crisis after crisis."
HoMMUNNC's general assemblies, such as DISEC, which was a double delegation (meaning that all of the delegates were in pairs), operate differently. Audrey Moussazadeh (9), who participated in DISEC, and her partner Maya Nornberg (10) worked together to convince other delegates to join their bloc, which focused on increasing safety regulations on unmanned aerial vehicles. Unlike the crisis committees, DISEC took place in the modern day, and delegates were not interrupted with "crises," random announcements about issues affecting the delegates viewpoints.
Though the upperclassmen are evaluating the delegates, they still serve as resources during the conference. Cebula enjoys giving advice to the younger delegates specifically during HoMMUNC because she knows it's a stressful time for them, she said. "The conference is about teaching people."
United Nations Development Programme – Middle School (UNDP) chair Sonia Shuster (11), for example, was on DISEC when she was a freshman, and had "no idea what [she] was doing" at the time, she said. Once Shuster had participated in her first away conference, though, she was able to understand the nuances of working in committee.
Many of the current chairs and moderators attended the conference as delegates; in fact, this was Shapiro's sixth year in attendance. Shapiro enjoyed charing this year because it took out much of the pre-committee stress that inherently comes with any debate club, he said. "I was also very excited to do this because I've always been on the other side. It's interesting to be on the side of the people chairing now—to see how committees runs and the different tactics people use that I've used in the past."
Charlotte Cebula (12), the chair of the United Nations Commission on the Status of Women committee, said that her role as chair has provided her with new insight into debating. "It helps me in other committees [at other conferences] because now I know what chairs actually care about and what they don't like to hear at all, because I know what I don't like to hear," she said.
"It's totally different being on the other side of things," Ari Salsberg (11), the moderator of Cebula's committee, said. "It's nice to be able to direct the flow of debate to what you think is the most interesting. It's about what delegates and the people that are debating want, but at the same time, it's about making sure we're getting done what needs to be done."
None of the upperclassmen from the school's MUN team participate in committees in part because HoMUNCC's focus is on high schoolers from other schools who have little to no previous experience as well as the team's underclassmen. For instance, a handful of delegates from York Prep were able to work with their bloc in the UNEP Committee to try to figure out how to clean up marine debris, despite HoMUNCC being their first conference.
Even though Myra Malik (9) had never been to a conference before, she made two speeches in the Economic and Financial Affair Council, one specifically about the capacity that certain places can hold economic migrants based on that region's development, Malik said.
"I actually thought [HoMMUNC] would be really boring because [I knew I would] be at school for 9 hours, but I [had] a lot of fun," Malik said. Similar to the other two general assemblies, DISEC and Special Political and Decolonization Committee, her committee was relatively large, consisting of 79 delegations and around 140 delegates.
Though the conference is modelled for inexperienced delegates, its impact is nevertheless significant. "HoMMUNC holds direct responsibility for our personal delegation success," Vincent Gao, a junior at Stuyvesant, said. Many members of Stuyvesant's team enjoyed the experience so much last year that they decided to stay on the team, leading to an exponential growth in membership, Gao said.
The school's MUN team raised over $40,000 in the process of planning HoMMUNC, primarily through the fees that were required of participants. However, according to Fawer, the money raised in delegate and school fees from HoMMUNC doesn't actually go to the funds needed to run HoMMUNC's. The school covers the funds for the food and the Flik staff, the transportation which the school's MUN team provides for some schools, the maintenance staff, and the faculty chaperones.
At the conference, the school's MUN team raised another $600 by passing around an envelope among the delegates in each committee for a charity called Solar Sister, which provides women in Sub-Saharan Africa with economic opportunities, training, and technology to essentially distribute clean energy throughout communities, Fawer said.
"We're going to donate a portion of the leftover HoMMUNC funds to that organization, which depends on how much we spend throughout the year," Fawer said. The school's MUN team's expenses include hotel rooms, transportation to and from conferences, dinners, and conference fees.
Although the team's Secretary Generals are in charge of tracking the funds raised for HoMMUNC, the team's advisor, biology lab manager Alison Woolford, and the administration are the only ones involved in allocating the $40,000 after HoMMUNC.
The $40,000 specifically came a collection of fees from the schools and from delegates: each school had to pay $80, and each student that attended had to pay a $45 delegate fee. However, this fee was waived for the South Bronx Preparatory School.
"That's one of the benefits of raising so much money for HoMMUNC," Fawer said. "It's can be expensive to attend these conferences for some people; there's always enough money throughout the year to cover financial aid when needed."
And for these schools, HoMMUNC is an essential conference. "If HoMMUNC weren't around, there would be quite a lot of local public schools that would not have an opportunity to do any Model UN conferences at all," Head of Upper Division Jessica Levenstein said. The school understands the significance of HoMMUNC in the larger community, and as such it is currently the only exception to school policy, which states that no club may host an event on campus more frequently than biannually, she said.