Teachers' diversity through the ages
"I am a product of independent schools; I know how it feels to be isolated," former English teacher Deborah Stanford said.
The process of creating a body of educators who looked different from the traditional white, male demographic involved a gradual shift in the school's attitude towards diversity. As Head of Upper Division (UD) Dr. Jessica Levenstein, who began teaching at the school in 2000, said, "It's not like a switch was flipped, and all of a sudden we care about diversity."
The only female member of the History Department left after history teacher Barry Bienstock's first year of teaching at the school in 1982. That year, there were only four teachers of color, all male, out of the school's 79 faculty members. Historical issues of gender, race, and class were often not stressed, and few of the materials taught were written by female authors or authors of color, Bienstock said.
Since he was a young member of the department, Bienstock was instructed by the older, tenured history teachers to not deviate from the provided curriculum, he said. In his classes, however, Bienstock did incorporate issues of gender, race, and class as he saw fit, and he required students to purchase different texts than the standard list.
However, when Bienstock became History Department chair in 1988, he took steps to diversify the curriculum, which involved switching the textbooks and adding electives specifically covering non-Eurocentric topics, Bienstock said. In the early 1990s, the department offered a women's history course for the first time, and Bienstock himself taught the school's first African American history course.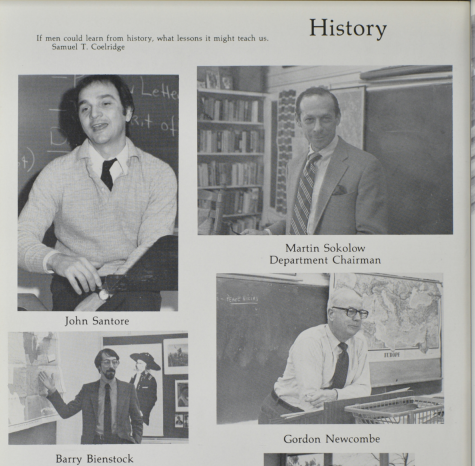 The older male history teachers were not receptive to Bienstock's changes to diversify the curriculum as department head — a few insisted on using the old, less gender and race-inclusive materials — but Bienstock and his younger colleagues were resilient, he said. "The younger people of the department brought us into the late 20th century."
Under Bienstock's tenure as department chair, the History Department's process of hiring new faculty also changed, he said. Today, the procedure is democratic: the department chair creates a hiring committee, and the entire department collectively discusses potential hirees. However, when Bienstock first joined the department, he was not consulted during the hiring process of fellow history teachers; rather, he "would come back in September and suddenly find that another one or two people were hired," Bienstock said.
During the latter half of the 1980s, part of the student body pushed to increase racial and gender diversity in both the history curriculum and educators, Bienstock said. "Students voiced their dissent and became actively involved in some way by appealing to the heads of school."



Similarly, the student body was very active in diversifying the English Department, English teacher Harry Bauld, who began teaching at the school in 1981, said, citing a "variety of channels of students pushing for wider representation among the writers that we taught."
Unlike the open curriculum style that the English Department has currently adopted, the 1980s curriculum required that every grade have their own set list of books that did not vary depending on the teacher. Very few pieces of literature by authors of color were taught, and the only female writers that were taught were Jane Austen, the Bronte sisters, and Virginia Woolf — the most prominent white female novelists of the 20th century.
"As with any core or canonic curriculum, it functions to marginalize writers of color, because all you have to do is to say, 'What we're teaching is the classics, [which] implies at a certain period,'" Bauld said. "If your focus is on this period up to the 1930s, you're just not going to find many writers of color."
However, Bauld acknowledged that the school's attitude towards diversity was heavily affected by the cultural currents of the time, he said. "Even in the aftermath of the 1960s, where a more progressive idea of representation started to be taken more seriously at predominantly traditional schools, it took a while for representation to occur, both among the faculty and the students."
In light of these societal changes, the school had just become coeducational in 1975 after a push to diversify the student body by former Head of School Russell Inslee Clark Jr., who was also the driving force behind opening Yale University to both female and male students.
"It was fine and fun because there were so few of us [girls]; we were so special," science teacher Dr. Susan Delanty '79, one of the 30 girls out of the 150 students in the first co-educational class of 1975, said.
A few girls were accepted as 10th and 11th graders in 1975, but Delanty's class was the first to go through the high school from 9th grade. The downside though was that certain resources, such as sports teams were initially unavailable to the female students, she said.
Although The Union, a club that focuses on equity and inclusivity, existed in 1975, there were very few students of color. Delanty said that the issue of diversity was not discussed in classes, nor was it really acknowledged among the students. "I'm sure that the students of color felt it because they were in a serious minority, but they were just my friends, my classmates," Delanty said.
When Delanty returned to the school to teach in 1990, the conversation surrounding racial diversity was still close to nonexistent, though the school had accepted more students of color, she said.
Stanford was an advisor for East Wind West Wind (EWWW), the school's Asian culture appreciation club, and was quick to connect with these students of color, especially on issues of racial and economic inequity, when she first began teaching at the school in 1990.
Stanford recalled one particular incident early on in her career at the school where she noticed that certain students were not annotating in their English books and was curious as to why. She was told by fellow faculty members that those students were on financial aid, and consequently had to return their books at the end of the school year.
"The right of a high school student — no matter the financial circumstance — to own a book and have it as the beginnings of [their] personal library should be accorded to everyone in the community," Stanford said.
Stanford and other teachers created a petition arguing that students receiving aid should not have a different set of rules applied to them and brought the issue to then Head of Admissions Gary Miller and other UD administrators. Due to the efforts of many faculty members who backed the discontinuation of renting books to students on financial aid, the practice changed.
Unlike the 1980s English curriculum that Bauld was familiar with, which focused on the study of literature by white, male authors, the English department in the 1990's "made a concerted effort to include a variety of voices in the curriculum," Stanford said. Under the leadership of former English Department Chair Dr. David Schiller, the department sought to teach works by Southeast Asian writers, Latin American writers, and other writers of color such as Toni Morrison.
Former English teacher Gerri Woods, who taught Morrison's Beloved as a supplemental text for English 11, prompted Stanford to reread Morrison's novel, which alerted Stanford to the importance of the book. Inspired by Beloved, Stanford created a senior English elective based on the study of Morrison's works in 1992, which remained an elective up until Stanford's retirement in 2018.
In 1990, Stanford also joined a faculty ad hoc committee, which is a temporary group formed to accomplish a specific task, called Valuing Difference, which included Woods, former photography teacher Karen Johnson, and science and theater teacher Joseph Timko. The cohort of teachers sought to address issues of racial and gender inequality, and they paved the foundations for the Office for Identity, Culture and Institutional Equity (ICIE), Stanford said.
In 2000, when Head of Upper School and English teacher Dr. Jessica Levenstein was hired, she felt as if the student body was hardly passive in terms of pushing for diversity within the school. "The school has always been, to me, a place where students have felt pretty empowered," she said.
The lack of racially-driven issues voiced by students of color could be attributed to the fact that student body was notably less diverse in 2000 than it is today, Levenstein said. "They were a smaller minority than they are now, so there would be a different comfort level in voicing these things."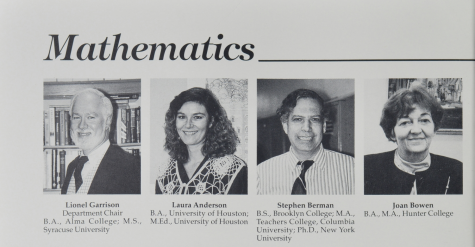 Although much has been done since the 1980s to diversify both the English and history curriculum and faculty of the school, science teacher Dr. Rachel Mohammed believes much of the school's initiatives to promote diversity are "opt-in," thus mostly supported by "people who are affected by it, [and] the people who care about the people who are affected by it," they said.
On campus, faculty can engage in a handful of opportunities for diversity training. For instance, since 2011, the school has participated in a nationwide program called Seeking Educational Equity and Diversity (SEED), which "partners with schools, organizations, and communities to develop leaders who guide their peers in conversational communities to drive personal, organizational, and societal change toward social justice," according to SEED's website.
Former Director of ICIE Patricia Zuroski and Associate Director of Admissions Markell Parker started the SEED cohort at the school, and Stanford and dance teacher Denise DiRenzo, among others, have been discussion facilitators in past years. This year, the 36 participants from the school's faculty attend one workshop per month, during which they are paid a stipend for their time.
"With having a school as large as this, with that many faculty and employees and staff across these four divisions, which don't necessarily have the opportunity for conversation, it's been really nice to be able to — for those three hours once a month — be able to come together to then interrogate, explore, [and] talk about areas around identity," co-Director of the ICIE Candice Powell-Caldwell said.
As part of the school's mandatory diversity training, this year, all faculty members were required to read White Fragility by Robin DiAngelo, which examines why white individuals find it so difficult to talk about racism. The administration is also hosting discussions scattered throughout the year about the book, which teachers are obligated to attend.
Early on in their career at the school, Mohammed felt as though a lot of the faculty, not fully understanding why it is important, were hesitant towards diversity work, primarily because many teachers did not associate themselves with racism, they said. "People equated being aware of racism and not doing overtly racist acts as not participating in a racist system."
When Mohammed first came to the school in 2010, they were the only UD science teacher of color. Similar to Mohammed, Stanford stood out among her white male peers in her field of study. She noted that during her time in graduate school prior to coming to Horace Mann, being a woman of color in an institution where she was surrounded primarily by white men was stressful.
"If you're the only one, it's wrong for people to ask you to speak on behalf of [people of color], but they don't have anyone else," Mohammed said. "Also, there's pressure to represent all of these people."
To Mohammed, a racially diverse faculty is crucial and necessary to show predominantly white students that people of color are not "inherently inferior" to their white counterparts, especially in STEM occupations, they said.
"The thing about having to point out, 'This is the best black scientist' or 'This is the best Asian doctor,' [is that] you're saying that out of all the Asians, this is best — not that this is a very competent, great doctor," Mohammed said.
English Department Chair Vernon Wilson, who began teaching at the school in 2011, maintains that the forefront determining factor when hiring an English teacher is the applicant's ability to effectively teach and connect to the students. He and the department tend to keep an eye out for candidates who can fill the gaps in what the department offers students, whether it be an area of literature or an author that is not covered in the range of materials taught, Wilson said.
"You want someone who is going to be willing to learn how to have certain conversations with students, regardless of their race or gender," Wilson said. "[Someone] who's open to conversations around empathy and identity."
This year, a diverse spread of English electives were offered to the seniors, including a course called "Literature of the Levant: Israeli and Palestinian Literature" taught by English teacher Dr. Deborah Kassel '84 and a literary theory course discussing gender and sexuality taught by English teacher Jennifer Little.
In 2018, 9th Grade Dean and English teacher Chidi Asoluka began teaching a senior English elective called New Community Project (NewComm), which is a "year-long social justice course that uses the study of literature as the foundation for understanding, analyzing, and making meaningful impact for our local communities," as described in the school's program of studies.
The first year the course was offered, more than 75 percent of the class was comprised of students of color. NewComm, like every other English class, is also very much centered around the close reading of texts with an eye toward understanding how those texts represent and shape lived experience; alongside the usual close reading, however, NewComm offers students the special opportunity to engage constructively and critically with a community outside the school, Wilson said.
It is this duality — close literary study paired with impactful human interaction beyond HM—that makes the class unique, Wilson said. "It's important for kids in that class to see the broader Bronx community, but also [to] share in that class a worldview that allows them to see that many people in the Bronx don't look like [them]," UD Library Department Chair Caroline Bartels said.
Having a diverse range of English teachers and electives, Bauld said, is fundamental in how the department approaches issues that come in literature they teach. "No doubt the issues raised and discussed in classes might differ with either female teachers or teachers of color," Bienstock said.
The administration works with multiple recruiting agencies, including one organization whose only mission is to place people of color in teaching positions, and it has recently established more relationships with graduate programs.
"It's important for students to recognize aspects of themselves in their teachers," Levenstein said. "Those kinds of visible identifiers are important to have an eye on when we hire so that our students can find members of the faculty they can connect with over shared concerns."
Additionally, all of the department chairs have been trained in making sure that they are aware of their own implicit bias while reading resumes.
To have an implicit bias means to carry around a prejudice without being aware of the implications of it, Powell-Caldwell said.
This can be detrimental to the hiring process by limiting the scope of candidates who appear to "fit" the position that a particular individual is offering, co-Director of the ICIE John Gentile said. He believes that people naturally tend to favor candidates who are similar to them.
"As our school continues to recruit a diverse faculty in great ways, we continue to search for new opportunities," Gentile said. One idea that has been utilized at different institutions is visiting more historically black colleges and universities and going to career fairs in parts of the country other than the Northeast.
"We can't define success by the colleges and universities [that] we have gone to or we feel like we have [the] most knowledge of because there are a lot of people who are graduates of all types of different educational institutions that are phenomenal educators," Gentile said.