Snow much fun: Ski team travels to Stratton for training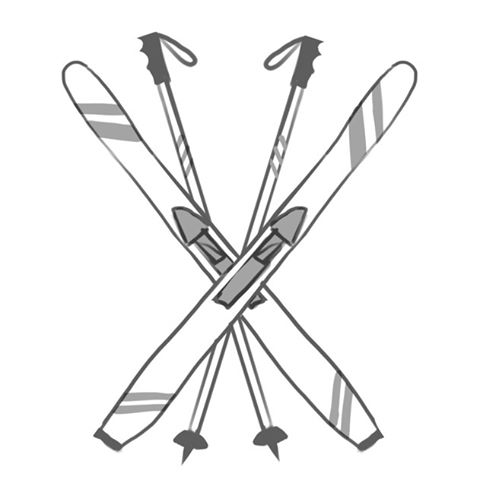 While the Varsity Ski Team has not had any races so far, the group has a lot of potential, especially with several kids, including the new freshmen, skiing outside of school, Varsity Ski Team Coach Rawlins Troop said. "I think we can win every race we're in," he said.
To gain additional experience, the team went on a trip to Stratton, Vermont this past weekend, from Thursday to Saturday. The purpose of the trip was to get the members on slopes to practice their techniques, while also working on team building, Nelson Gaillard (12), captain of the ski team, said. "It was the first time we spent a solid chunk of time together as a team."
"This year, the team as a whole has made it a collective goal to become close," Emma Djoganopoulos (11) said. "So far I think I've been successful in both my personal and team goals, through getting on skis for the first time this season during the trip and becoming friends with other members of the team, including underclassmen who I would not have had the opportunity to bond with had it not been for this trip."
The team has only been exercising on dry land, which is part of the reason why going on the trip was such a useful experience, Gaillard said.
"Unlike other teams we are unable to actually train on a mountain everyday but I think that we do a great job of supporting one another and maintaining positivity despite our obstacles," Djoganopoulos said.
"A big part of sports is muscle memory, and not being able to use and practice our positioning and turning everyday does pose as a challenge," Kelly Troop (11) said.
A typical day on the trip entailed waking up at around 7:30 AM for breakfast, getting on the hill at 9:00 AM when it opened, skiing for four hours with a couple of breaks, eating lunch at 1:00 PM, and then skiing until 4:00 PM, when the mountain closes, Kelly said. "The weekend of course was for training, but mostly it was just to get on skis again and sort of a little try out to see how good everyone is and what we still need to improve on," she said. "After we were done skiing, we would hang out in our rooms or with the team."
Part of what makes the annual trip different each year is the new places and people, Djoganopoulos said. Some key differences this year was that the team stayed at a hotel this year instead of condos since there were fewer people, the snow accumulation this year was perfect for skiing, and they chose to go to Stratton over places such as Killington in Vermont, which is where they have gone in the past, Rawlins said.
As for the bonding aspect of the trip, the trip helped bring members closer together, a key goal for Gaillard as both captain and a member of the group, he said. "Since freshman year, I've always wanted the ski team to be the kind of thing where you could say 'hi' to another team member in the hallway no matter what grade they're in," he said.
"The ski team seems to be a very close knit team every year, and maybe it's because you're on a bus for a long time with the races and things like that," Rawlins said. The students talk and have a great time together, he said.
Some of the highlights of the trip included playing Cards Against Humanity and laughing a lot with the team, Gaillard said.
"I feel like the team has become a positive influence for everyone and we all support each other on and off the hill," Djoganopoulos said.
"I have met some of my very best friends on this team," Kelly said. Going on the trip and spending late nights at the mountain are some of the traditions that make skiing different from any other sport at the school, she said.