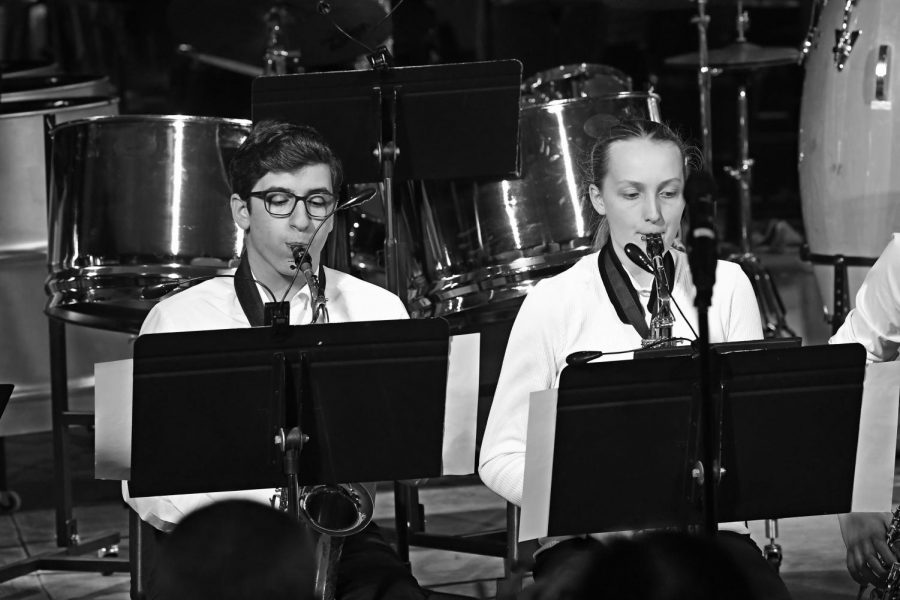 Though a typical holiday concert might consist of ensemble classics such as "Jingle Bells," "The Chanukah Song," and "Let It Snow," this year's Winter Bands Holiday Concert dazzled the audience with a less-than-traditional collection of Caribbean songs, modern pop hits, and even a Spanish Carol, to name a few.
Cheery tunes echoed throughout the cafeteria on December 10th as the Winter Bands Holiday Concert featured performances by the steel drums ensembles, Wind Ensemble, Chamber Winds group, and Jazz Combo.
The concert kicked off with Jazz Combo's performance of three groovy pieces: "Tune up" by Miles Davis, "Don't Blame Me" by Jimmy McHugh and Dorothy Fields, and "Doxy" by Sonny Rollins. Each member of the quintet, which consisted of a guitarist, two pianists, a drummer, and a saxophonist, played a solo during the pieces, sparking many rounds of applause from the audience.
"I think we played very well, so it was good to see all of our practice pay off," Oliver Steinman (11), a member of Jazz Combo, said. Steinman's favorite piece was "Doxy," which he described as "fast and upbeat, [and] it helped set the mood for the rest of the concert."
Music teacher and director of the steel drum bands Alan Bates planned a similar program for his three groups, in which each class first played a traditional calypso song from the islands, and then a pop song.
Two of the groups requested to play specific songs, including "Passionfruit" by Drake, a suggestion of Teyonce Allison (11). Allison, who in Bates' advanced B period class, believes that Bates chooses songs that will "fit the vibe of the concert," she said.
Music teacher and director of Wind Ensemble, Jazz Combo, and Chamber Winds Michael Bomwell arranged the Chamber Winds' piece, "Molly by the Shore" by Percy Aldridge Grainger. Though the composer included soprano saxophone in his original arrangement, none of the students learned how to play that particular type of saxophone, so Bomwell stepped in to play the part.
"I wanted to translate that voice into the group," Bomwell said. "It seemed like a good opportunity for me to get a chance to play with the students, which I always enjoy."
Wind Ensemble was the concert's final act, closing out the show with the traditional Spanish carol "Fum, Fum, Fum," "Harvest Hymn" by Percy Aldridge Grainger, and "In the Forest of the King" by Pierre La Plante.
Bomwell's three ensembles had been preparing in a similar manner for the concert. Rehearsals take place every other day, and students are generally expected to practice over the weekends, Wind Ensemble member Lucas Alexander (10) said. Bomwell also held one extra rehearsal for the groups the night before the concert, which lasted until about 8 P.M.
The steel drums groups learn their songs in small bites, and they began the year by "practicing techniques to get back into playing," Bates said. Eventually, the steel drummers are able to produce the entire song using a combination of steel drums and other percussion instruments, such as conga drums.
Bates believes that the steel drums groups' dynamics center around the fact that everyone is there because they want to be, he said. "We are all very friendly and outgoing with each other," said Hunter Willoughby-Spera (11), a member of the F period steel drums group. "It's a very open environment, so no one is afraid to make mistakes."
Similarly, in Wind Ensemble, Chamber Winds, and Jazz Combo, the ensemble members get along very well and are supportive of one other, which is clearly shown by the groups' ability to play well together, Bomwell said.
According to Steinman, there is a great sense of teamwork in Jazz Combo. "Everyone is very flexible and unselfish," he said. "We care more about the group as a whole than us as individuals."
Though they pulled together strong performances, the ensembles still had to overcome challenges to adequately prepare for the concert. Bates said the lack of time to practice the pieces can sometimes hold the steel groups back from playing at their highest potential, he said.
"We meet every other day and then we have holidays and special events that supersede class. Then some students have to go off and do debate or model congress; there's always something that comes up," Bates said.
One of Bomwell's main struggles when preparing his ensembles' songs for the concert was translating the pieces into instrumentation that the various groups possess, he said. As the conductor, Bomwell also has to work around the limitations on an individual's playing range or ability.
However, Wind Ensemble member Rhys Sheperd (11) attributed the "disjointed" nature of Wind Ensemble leading up to the concert to fact that a handful of ensemble members simply aren't fully comfortable with the pieces, he said. "Individual sections haven't practiced the music; that's the overarching struggle of the band."
Still, some sections, such as the percussionists in Wind Ensemble, and a few seniors in the brass, saxophone, flute, and oboe sections are quite experienced and very strong, Bomwell said.
Spera is confident that the steel drum groups possess a variety of strengths that have allowed them to overcome their obstacles and prepare for the concert, he said. "We learn the songs pretty quickly and have a good time doing it," Suraj Khakee (12), another member of the steel drums ensemble, said.