FTC teams win prizes at Dewey Qualifier, including first place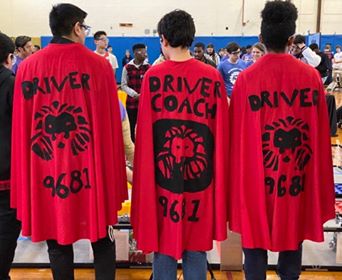 Peek into B48 on a Monday, Wednesday, or Friday evening, and you may catch Abigail Morse (11) tightening the screws of her robot while Anthony White (11) discusses his design with Matthew Aponte (10)—or any other member of the FIRST Tech Challenge (FTC) team working to perfect their robots for the coming season.
To kick off their season, FTC attended the John Dewey Qualifier 2 on Sunday, December 8th, landing one of their four teams in first place overall. "It felt validating that all of the amazing programs we have made and all the hard work we have put into the robot actually paid off for the first time," said Co-Captain of FTC Robotics Reha Mathur (12). "I think this year has been our strongest year yet."
The school's four teams, 7890, 9681, 4326, and 16586, the rookie team, have been preparing since the start of the school year and all performed well at the competition. The teams have grown rather organically, and although they usually occupy their own space within meetings, they're always there to help one other, Mathur said.
At Dewey, 7890 and 9681 won Innovate and Design Awards, respectively, and 4326 earned the FIRST Inspire Award, placing first overall. According to FTC's website, the Inspire Award is granted to the team that "act[s] with gracious professionalism both on and off the playing field."
Shrey Sahgal (12) said that for the past few years, the school has performed well in the competition, and that this year, they're continuing their streak. "It's nice, as a senior, to put my final mark on John Dewey," Sahgal said.
The 4326 team secured its spot in the next level of competition, the Super-Qualifiers, by ranking within the top eight teams of the tournament. Each NYC team has two opportunities to attend a city-wide competition, and if they place within the top eight either time, they are eligible to attend Super-Qualifiers. Although 7890, 9681, and 16586 did not rank, they all will have their second and final opportunity to qualify for the Super-Qualifiers later in the season.
FIRST releases the design challenge for its competitions every year in September, and this year, the challenge is to use robots to pick up small, plastic stones and stack them on a platform, Morse said. Along with its main component, the challenge involves smaller tasks such as parking the robot and pushing blocks into specific areas.
The main task of stacking the stones involves far more collaboration amongst teams than has been required in the past, said Danah Screen, Computer Science and Robotics Department Chair. During the competition, teams from different schools are randomly paired in temporary alliances to complete tasks, and this year, the school's four teams have learned the importance of refining and specializing in certain skills, Screen said.
"It really is not about trying to have a robot that does everything, but really being the best at either delivering the stones to the other side for the build robot, or being the best build robot and building up the towers," Screen said. "What we saw [at Dewey] was some of the best teams were just working really well with one another."
Initially, FTC teams such as 9681 struggled to even pick up the stones because of their smooth surface. "This is the first year we've had to have some serious friction and rubber on our clamps," Morse said. In years past, the mission has been to pick up a foam cube or a wiffle ball, which teams could scoop up in a cup.
Morse's team worked hard on their design before the competition, and created a product that lifted the stones up much like a human arm. However, even prior to the competition, the members of 9681 were aware that they hadn't performed enough testing to feel confident in their design. "We knew we weren't going to have all of our kinks worked out," Morse said. "We kind of expected some things to go wrong."
As Morse predicted, due to technical malfunctions, the team could not utilize all of the functions of their robot. Nevertheless, Morse noticed how well 9681 collaborated, and has high hopes for the rest of the season.
"We don't just want Super-Qualifiers; we want to get beyond that, to Champions, and then to Worlds," Morse said. The four teams all currently have high expectations, as five years ago, FTC was comprised of just 10 freshmen. Now, the team has 14 freshmen and 55 members total.
"I've seen such a huge shift from when the program started with me five years ago," Screen said. "Everyone knows that there's going to be a Horace Mann team in the semifinals, at the very least."
Five years ago, the team only met for two hours a week on Fridays, but now they meet Mondays, Wednesdays, Fridays, and Sundays during their season, which spans from September until some point in winter, depending on the success of the team. "It is a relatively big commitment, but anyone who's on robotics understands why that time is necessary and how little that time feels, especially when you have a robot to make," Sahgal said.
By this point in the year, each of the teams and their members are experienced enough to essentially run practices on their own, which is beneficial for the team, Screen said. "Students learn best when they're doing the work themselves—especially for competition days, because on comp days, I can't fix your robot."
Screen refers to the four teams as the "FTC family," an analogy which can be used to describe both the relationship amongst the four teams as well as their individual personalities, Screen said. The numbers of these teams are assigned upon registration and are often used in place of a name; however, each team does also have its own name: 4326 is the Basement Lions, 7890, the Space Lions, 16568, the Cybernetic Lions, and 9681, the Parallel Lions.
"We're always going to cheer each other on, even if we're against each other—then we just cheer 'HM,'" Mathur said. "It's a good mix of having that support, but also, because the teams are small, getting to work on your own individual robot."
Within Screen's analogy, each of the four teams are referred to as a sibling team. "We would say 4326 is the older sibling; they're really focused, have a little bit more life experience, and always try to take it to the next level," she said. "9861 is the really well adapted younger sibling who watches everything the older siblings do and takes the best parts of it. They learn from the mistakes of others and then they don't make those mistakes. They just keep on growing."
Justin Burrell (10) said that he has noticed the different dynamics—as well as strengths and weaknesses—within each team. His team, 9861, prides themselves on their communication and teamwork skills. "We always work together to tackle certain problems," Burrell said.
9681 also prides themselves on both the intricacy of their mechanisms and the designs of their robots, Morse said. "In addition, we, team 9681, like to make our robot look good and represent our teams with drawings of lions."
In her familial analogy, Screen described 7890 as the middle child. "When you look at them during the season, you're like, 'I don't know how this is going to end,' and then they come out on top, out of nowhere, and you're just like, 'How?!' It's inspiring, really."
White said that in comparison to the other three, 7890 is much more laid back. "We understand that life happens," White said. "We find a balance between life and our love for robotics."
The newest team is 16568, and is described as the youngest child of the family. Though Screen did not pressure them to qualify during their first competition, she has high expectations for their second. "They're a quirky bunch, but they're inspiring," she said.
Despite their individuality, each team requires a certain combination of skills. At competitions, there must not only be drivers in control of the robots, but members of the team who can watch other teams and record the results of their games, and others who can answer the judges' questions regarding the different mechanisms of the robot, Burrell said.
The best teams, however, do not assign one member of the team to a task, but rather switch from practice to practice, Screen said. "That way, everyone is learning, so in case anyone's out sick or can't make it to comp, you don't feel like you have a deficit; you just need to fill in," she said.
This year, the teams are also expanding their expertise by shifting away from prefabricated parts. "In the past, we would buy parts from these companies, and of course the screws would fit in the pre-drilled holes, but that really limited your ability to create," Screen said. This year, to explore more design options, both 4326 and 7890 used medium-density fibreboard in the construction of their robot for either the entire robot or a component. As a result, the teams have free reign over their blueprint and design, and can create almost any mechanism they dream up,but they also have no guide or manual to follow. "It's risky," Screen said. "It also requires more work outside of the team, but the payoff is huge."
Both inside and outside of their competitions, along with continuing to improve the design of their robots, the team will continue outreach, which is work done within the NYC robotics community in hopes of spreading the core values of the FIRST robotics competition, Morse said.
Outreach is a critical element of FIRST's environment, Screen said. "If you don't do outreach, everyone in the FIRST community is looking at you like, 'How selfish can you be?'"
The outreach program includes sending mentors to introductory robotics and engineering classes in all divisions of the school, volunteering at championships which the teams are not competing in, and inviting engineers or math and science teachers to practices, Morse said.
The program also focuses on sustainability by brainstorming new ways to reduce waste and ensure that all unused parts of the robot are properly recycled, Sahgal said.
One new aspect of the program, proposed by members of the FTC teams themselves, is the student run company HM Bridge Apparel, which customizes and prints T-shirts for other robotics teams. According to Sahgal, the team already has 50 orders from teams across NYC. "[Apparel] is a huge part of FIRST atmosphere," Screen said. "You can tell when teams aren't dressed uniformly together the morale is low."
The team sells the shirts for under $3, making them an affordable way for other teams to acquire custom apparel, boosting their spirits. "HM is beast at outreach," Screen said.
As the team continues into their season, potentially as far as Worlds, they will continue to improve specific elements of their robots. Currently, the teams are still tweaking the code as well as finding shortcuts with their design, Burrell said.
As well as future competitions, the team is also looking forwards to bonding more through group activities such as an upcoming FTC family movie night, Morse said.
Screen hopes that from FIRST, students will learn now only how to build robots, but also how to engage with others and grow a community. "We say it's not about kids building robots, it's about robots building kids," Screen said.