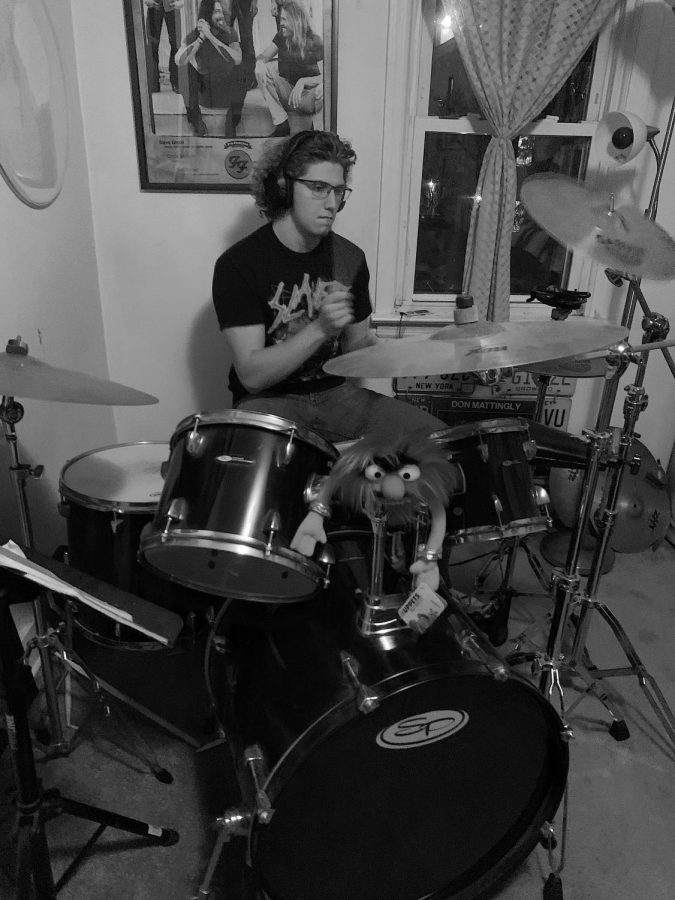 Donny Howard's (12) love for music began the day his parents played songs from classic rock artists such as Neil Young and Bruce Springsteen. As he grew older, they played louder and more intense music, like heavy metal band Iron Maiden and Grunge performers Pearl Jam, he said. Once he got access to the internet, Howard discovered more bands on his own, and his interest has only grown, he said.
When applying to the school in fifth grade, Howard was interviewed by Coach Rawlins Troop P'18, P '21 who asked him what he hoped to receive for Christmas, Howard said. Howard told Troop that he wished for a drum set, and Troop told Howard's parents, he said. Howard said he was overjoyed to unwrap a drumset for Christmas and soon began taking lessons.
While in the Middle Division, Howard was unsure of what he wanted to do in the future, though he always dreamed of being a professional athlete, he said. Once Howard entered high school, sports practice began to occupy more of Howard's time, forcing him to fall behind on his lessons, he said. However, Howard didn't quit music; he kept playing on his own for recreational purposes.
Howard wasn't always able to play the drums when he got home at night, so he decided to learn how to play the guitar. Playing an acoustic guitar set enabled him to play quietly, and not wake up the neighbors, he said. Unlike how he learned the drums, Howard learned how to play by watching YouTube tutorials. "After like two or three songs I kind of had a decent enough familiarity with the fretboard and built enough dexterity which allowed me to do whatever I wanted to," Howard said.
Howard began playing his own solos on his guitar and improvising pieces as he went along to pursue his interest in Rock and Heavy Metal, he said. His background in playing the drums has helped him improvise well, he said, and he plays for his own entertainment or for his friends. Howard said that he still plays the guitar almost every night, including the songs that he already knows, learning new ones, or even improvising his own solos. While he's not playing his music in front of an audience, Howard said that he sometimes records a voice memo of a riff or lick that he likes so that he can play it again in the future or insert the clip into a song he is producing.
However, Howard hasn't given up playing the drums—he sometimes plays for the steel drums ensemble at assemblies and concerts, he said. He doesn't play at every concert; Howard said that he switches off to allow other members of his class a chance to play the drums.
Occasionally, Howard collaborates with his friends and even helped teach Jake Shapiro (12) to play the guitar, he said. "I loved watching him play and wanted to try," Shapiro said; Howard introduced him to the music that he liked and it stuck. Although Howard no longer teaches Shapiro to play the guitar, the pair still play together in a casual setting or at larger events, such as the Relay for Life.
Howard has expanded his musical dexterity thanks to courses offered by the school. In tenth grade, Howard took a Music Technology class taught by Music Teacher Doug Epstein, which served as an introduction to musical production, he said. In the class, students learn how to to use the program Pro Tools, the industry-standard digital audio workspace used to record, produce, and create music.
Epstein has known Howard for the majority of his high school career and has been with Howard at every step of his musical journey. Howard's confidence in his musical abilities has never been an issue, said Epstein. "He's just gotten better at [playing], and his vocabulary is just getting bigger," Epstein said. "Playing drums, steel pan, and guitar, and engineering his own and other's sessions, he is hungry for any opportunity to make and create music."
Howard will be attending Belmont University in Nashville, Tennessee in the fall to further his music career and obtain an Audio Engineering Technology degree, he said. Belmont University's Audio Engineering Technology program is the only program in the world that adheres to the Accreditation Board for Engineering and Technology (ABET) standards.
After obtaining an Audio Engineering Technology Degree, Howard believes that he will be able to forge his own musical path. "I can end up just working at a recording studio, being kind of like a studio tech, who like helps set up the microphones just does that sort of technician type work on a record," he said. "I could be the guy who actually does the recording on it. I can be the guy who mixes it, produces it."
In addition to working in a recording studio, Howard would also be able to work in live sound at venues ranging from local restaurants to Madison Square Garden, he said. Facing this plethora of choices, Howard remains open to any possible career within music. "Whatever opportunity comes first," he said.